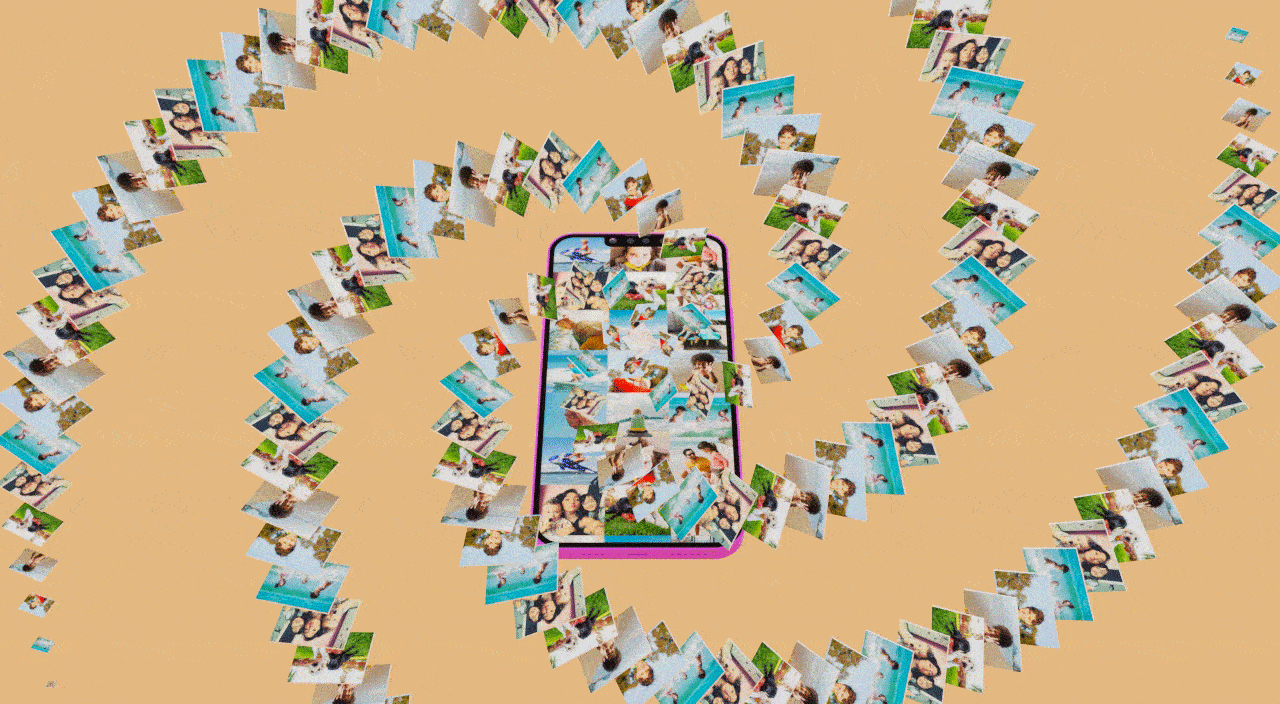 As grandparents, or grand anything (in my case, it's aunt), we know the precious moments we capture with pictures may never come again. Every shy half smile we catch of our young ones — or even their perfect faces covered in pasta sauce — makes us feel truly connected, no matter where we live.

As heady as those connected moments are, we also know that as soon as we take those photos, they're likely going to neverland in the backs of our phones. We also share our photos on social media almost immediately, so there's no savoring them. I'm guilty of ignoring my phone pics. I never take them off my phone, but now I want to start. After all, those minutes you'll never see again are just that — moments that came and went.

With today's apps, though, you can do more than that, and it doesn't matter whether you've got an iPhone, a Jitterbug or an Android. Storing pictures is like joining the army — it's easy to get in and hard to get out. Still, with a little digging and some extra time, you'll find there are myriad ways to manage your photos.

First of all, the most important thing you can do is back up the photos on your computer or smartphone. That way, you'll always be able to enjoy them. Luckily, there's a painless way to do this, and that's to set up automatic backups by going to settings and clicking on the phone carriers' cloud services backup. In the long term, you'll be glad you did. People who don't will tell you they wish they had.

After you've backed up your precious pics, it matters what device you've used to take your pictures. Some people use actual cameras such as the Canon, Nikon and Sony. Canons are a little easier to deal with because you most likely store your photos on disks. But, if you use your Android smartphone or iPhone camera as your only camera, it's so easy to snap a photo and forget it.

Recently, my sister-in-law sent me the cutest picture of me with her puppy. I never even realized I was in any photos with her dog. Now I'm obsessed with a photo I never even knew about — and there could be thousands more like it. (I should also mention that I rarely take a good picture.)

Some people look at their photos all the time. If you're one of them, I've compiled a guide to things you can do to save your pictures until you want to take them out and look at them again.

"Collecting photos over time is like a digital diary," says camera phone enthusiast Brooke Pospychala. "I love that I can look at a photograph and be transported to that moment in time that I may have forgotten about otherwise."

Apart from iCloud, you can choose from among a number of often free, options for backing up your photos. With free solutions, its best to have lots of backups without the money spent on subscription fees. You can set up automatic backups with Google Photos for Android or iOS and with Amazon Photos app for Android or iOS. Options with small subscription fees include Dropbox for Android or iOS, or Apple's iCloud.

I'm doing this with you, so no fear. Yes, you'll have questions, but the answers will be found in the best apps for pictures and their related tasks.

After everything is backed up, you'll want to learn how to manage your photos. Can you find your pictures where they're located on your camera app? Do they all get saved to a photo file? That's great, but then you'll want to go to that file and delete the photos you don't like, or that are grainy or don't show you in the fabulous light you want. It's like cleaning up your junk drawer. You're going to feel like a new, well-organized human being. If you've taken photos of, say, a birthday party or a graduation, you might want to keep just a few of those shots.

For those of you who are afraid to try new things: Just do it, and then you can brag about it. For example, downloading apps. This is the dirty secret of many of us in our 60s, including my 66-year-old sister, who works in tech but is afraid to download an app.

"I don't know how to do that," she always says.

I know her knowledge is limited, because the Google Nest I bought her to listen to music and hear the weather still sits in the box. It only requires an app, but she won't download it.

Here's how anyone can download an app. On an Android phone, first open Google Play, or use the Play Store app. Then find the name of the app you want. Select the app and click install. (Some apps cost money and others are free.) With an iPhone, downloading an app is much the same process. You can search for the name of the app or click on the App Store icon. Then download the app and click install.

If you want to have a little fun while deleting your photos, try an app called Flickr, which lets you store and share hundreds of your photos. Best of all, it's free.

With another app, called Purrge, you can delete lots of photos in no time at all. It's faster and has way fewer steps, but it does have a fee.

Now you're really ready to save your precious pics — for all time or for the next family group text. Tops for many people is ThePhotoStick. This device — basically a USB flash drive that costs about $35 — is popular because it works with any type of phone and because it can save up to 60,000 photos and videos (it comes in 8GB, 64GB and 128 GB). Best for us grands, it's easy to use, and there's no software or app to install. It also automatically backs up thousands of photos and organizes them for you. ThePhotoStick is compatible with MacOS, Windows, iPhone and Android.

My brother commemorates birthdays by sending each member of the family a collage of photos he has taken of them through the years. At first I thought, What a lot of work. Now I realize it's a lovely way to pay tribute to those you love, including those chubby-cheeked grandkids who are now teenagers.

Now that you've got a handle on saving and collecting your photos, you can start thinking about creating albums or archives of pictures you can share with others. There's a device called Bevy (by Lineage Labs) that can collect and organize digital photos for the whole family and store them in one place.

Last, if you just want to store your photos on your computer because it's easier, you can connect your smartphone to your PC with a lightning connector or a mini USB cord.

This is all a lot to learn, and it could mean several trips to the computer store, but it's worth it. For some photo collectors, it's a labor of love.