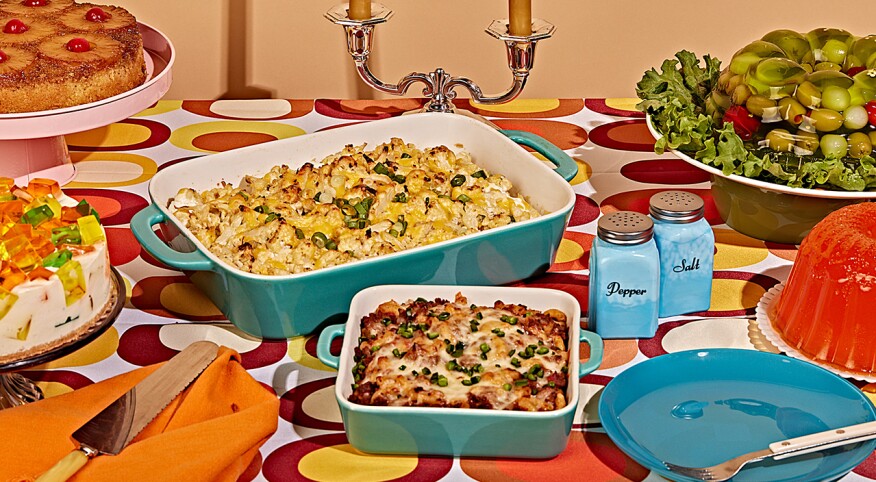 Molded gelatin salads, pineapple upside-down cake, tuna noodle casserole, mac and cheese with Velveeta — are we living in the '50s again? Nope, just cooking like it.

The stress and uncertainty of the pandemic, not to mention a lot more time spent at home, has sparked a comfort food comeback, a recent national survey conducted by OnePoll found. No surprise, then, that the comforting foods of the '50s and '60s are having a resurgence as well.

You can see it on some of the most popular food shows and recipe sites. Tuna noodle casserole topped with potato chips — with a frightening 1,061 mg of sodium per serving — was among the top 10 most popular dinner recipes this past September on the behemoth Allrecipes site. And in June readers were urged, "Time to Bring Back the Jell-O Mold."

Even The New York Times' second most popular recipe of 2021 was a do-it-yourself version of Stouffer's creamy macaroni and cheese using that '50s favorite, Velveeta. "These dishes are reassuring and an outlet for creativity without having to be a skilled cook," says food historian Ken Albala, professor of history at the University of the Pacific, and the author or editor of some 25 books on food history. Even Albala can't escape the retro foods trend.

Last year he created dozens of inventive molded gelatin-encased food creations as research for his upcoming book, The Great Gelatin Revival. Gelatin salads and desserts have been popping up everywhere lately. Even Martha Stewart bragged on Instagram recently about the creamy grape-and-pomegranate gelatin mold (she called it blancmange, because she's Martha), that her daughter and granddaughter made for Thanksgiving.

But 2021 also offers a new twist on those jiggly molds: the stunning edible art of jelly cakes. Check out #jellycakes on Instagram to see the amazingly detailed 3-D gelatin top cake layers. Places like Nunchi in Los Angeles (on Instagram @eatnunchi) and Honey Flower Sweets Boutique in Houston (@honeyflowersweets) take yesteryear's wiggly treats to a whole new level.

The popularity of '50s casseroles is also on the rise. Although they have their roots in traditional hearty, slow-cooked European dishes, in the '50s in the United States, casseroles were restyled using recipes developed for new convenience foods, such as Velveeta and Campbell's cream soups.

Pineapple upside-down cake, which also reached its heyday in the '50s, is getting new attention too — and not just in the U.S. The British newspaper The Guardian recently published a tutorial, "How to make the perfect pineapple upside-down cake." The dessert is fondly remembered in the United Kingdom as a favorite childhood school treat.

The filling-and-caloric foodie trend that rose in popularity during the pandemic with so much home cooking is not expected to die down any time soon. Nearly 70 percent of Americans responding to the OnePoll survey said they will continue to enjoy the same amount of comfort foods post-pandemic as they did during the height of COVID-19. That means our comfy, stretchy-waistband pants are here to stay.

Here are two easy, popular casserole dishes that manage to keep sodium and fat to fairly healthy levels.

Southwestern Casserole

This highly rated recipe adapted from the Taste of Home website is a good, all-in-one Tex-Mex dish that leaves enough leftovers for another night's meal. You can always add some canned beans for more plant protein and fiber.

Makes 2 2-quart casseroles, three to four servings each

Ingredients:

2 cups (8 ounces) uncooked elbow macaroni

2 pounds lean ground beef (or substitute ground chicken or turkey)

1 large onion, chopped

2 large garlic cloves, minced

2 cans (14 1/2 ounces each) diced tomatoes, undrained, low-sodium preferred

1 can (6 ounces) tomato paste

1 can (4 ounces) chopped green chilies, drained

1 1/2 teaspoons salt

1 teaspoon chili powder

1/2 teaspoon ground cumin

1/2 teaspoon pepper

2 cups shredded Monterey Jack cheese

2 jalapeño peppers, seeded and chopped, optional

Directions:

Cook macaroni according to package directions. Meanwhile, in a large saucepan, cook beef and onion over medium heat, crumbling beef until meat is no longer pink. Add garlic; cook 1 minute longer. Drain. Stir in next eight ingredients and mix thoroughly. Bring to a boil. Reduce heat, simmer, uncovered, for 10 minutes. Drain macaroni; stir into beef mixture. Preheat oven to 375 degrees F. Divide macaroni mixture evenly between two greased two-quart baking dishes. Top each with cheese and chopped jalapeño, if using. Cover and bake at 375 for 30 minutes. Uncover, bake until tops are bubbly and heated through, about 10 minutes longer. Serve one casserole. Cool the second one; cover, wrap thoroughly and freeze up to three months.

Loaded Cauliflower Casserole

This recipe, adapted from the website Eating Well, is like a loaded baked potato, but more nutritious. Ranked a solid five stars, it includes judicious amounts of bacon, sour cream and sharp cheddar cheese that coats the cauliflower for an easy recipe that is surprisingly low in calories.

Serves 8

Ingredients:

3 slices bacon

1 head cauliflower, about 2 pounds, cut into bite-size pieces

1/2 teaspoon ground pepper

1/4 teaspoon salt

1 1/4 cups shredded sharp cheddar cheese, divided

2/3 cup sour cream

4 scallions, sliced, divided

Directions:

Preheat oven to 425 degrees F. Place bacon in a large nonstick skillet over medium heat; cook until crisp, 6 to 8 minutes. Transfer to a paper-towel-lined plate and let cool. Reserve the drippings in the pan. Season cauliflower with salt and pepper, then add to drippings in pan and mix well to coat. With rubber spatula, scrape all of the mixture into a 9x13-inch baking dish. Roast at 425, stirring twice, until tender and slightly browned, about 35 minutes. While cauliflower bakes, combine 1 cup cheese, sour cream and half the scallions in a small bowl. When the cauliflower is done, stir the cheese mixture into the cauliflower in the baking dish. Sprinkle the top with the remaining 1/4 cup cheese. Bake until hot and cheese is melted, about 4 to 7 minutes more. Meanwhile, chop the cooled bacon. Sprinkle the hot casserole with the bacon and the remaining scallions before serving.