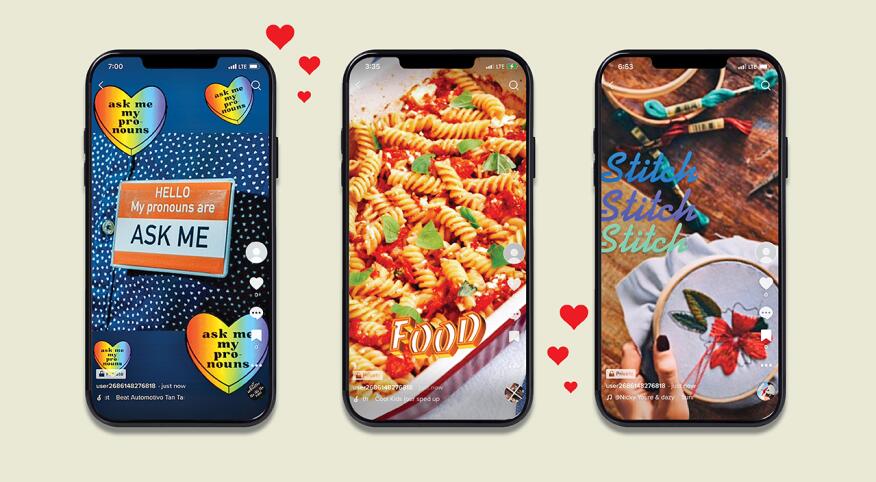 Staying culturally in the know has always been important to me. My mother, who was born in 1933, was my role model in this regard. In the mid-1960s, when all the other moms only wore skirts and dresses, she would pick me up from school wearing Levi's. My cousins always said she was the cool aunt.

Sorting through her papers after she died, I came across an article on "How to Make a Viral YouTube Video." I don't think she was planning a new career. Her interest, I am sure, was to stay current on the world of her teenage grandkids.

I click on Facebook to wish friends happy birthday and keep up with high school friends. Instagram is great for seeing photos of my adult kids, my friends' grandkids and the like. But TikTok is where I keep up with all things youth culture — dance moves, gender-bending, the hippest music and intergenerational conversations that can be both hysterically funny and life-changing.

Although it is a relative latecomer to social media, TikTok has transformed popular culture. Available worldwide since September 2017, the TikTok app has been downloaded more than 130 million times in the United States alone.

It has been credited with creating a global feta cheese shortage by turning an unknown 50-something Brit, Louis Theroux, into a hip-hop sensation. It even played a significant role in solving the mystery of the disappearance of Gabby Petito, a young woman killed by her fiancé while traveling together.

What sets TikTok apart is that most of what we view is posted by complete strangers. It is like an old-fashioned TV variety show reimagined for the digital age, but even better, because if something isn't of interest, a quick swipe up gets you to the next video.

Thanks to sophisticated machine learning, TikTok takes note of the types of videos you lingered on and those you swiped away, enabling the app to pretty accurately offer you more of what you like. Very quickly, TikTok learned that I have no interest in makeup tutorials but love comedy and dance videos (especially those set to '70s R&B).

Unlike Instagram, you don't need to have a lot of followers for a video to go viral. With few followers and no aspirations of stardom, my Gen Z daughter posted a few videos of herself making jewelry from pressed flowers. A simple video of her taking dried flowers out of her presses set to an indie country song quickly went viral (over 5 million views!).

That feta cheese shortage? It all started with a TikTok recipe video posted in Finland for baked feta and cherry tomato pasta. It was then shared in the U.S. by a creator who now has more than 3.4 million views of her video. Next it was shared by many others using the hashtag #bakedfetapasta, which has amassed more than 180 million views. (Just ask any Gen Z'er if they have seen the feta pasta TikTok and you'll see what I mean.) The 52-year-old Brit turned hip-hop sensation? He had written an undiscovered little ditty called "Jiggle Jiggle" many years prior. But when two adorable, unknown young women took a break from cooking dinner to film a simple dance set to his song, the video attracted millions of views.

To get started on TikTok, you can take it for a test drive without setting up an account by going to TikTok.com from your computer — just start watching and scrolling. Most users view TikTok from a smartphone. It is worth considering taking the time to set up an account either on your smartphone or computer to get the full benefit of videos tailored to your likes.

If you have a smartphone, you can find TikTok on the App Store or on Google Play. The TikTok app and all viewing are free, just like Facebook and Instagram. Be sure to review the privacy and security settings!

While it has been Gen Z that is the force behind the TikTok sensation, this baby boomer has benefited greatly from their creation. Here are some of my best takeaways.


Enlightenment and deeper empathy for all things modern gender-related. Yes, I am one of those people who has trouble remembering the meaning of evolving gender terms and fears that I will forget someone's pronouns. Listening to TikTokers explain firsthand their gender and sexuality journeys has taught me so much, not to mention being a critical reminder of the importance of living life with curiosity and without judgment.

You can teach an old dog new moves. My dance moves were horribly stuck in the '70s. I no longer wanted to be that wedding guest waiting in my seat to dance until the DJ plays "oldies." It was time to get current. With a quick search on TikTok for "dance tutorials," I had a flood of young people showing me the latest and greatest dance moves. And with some practice, I can now ease onto the dance floor early on and have a few moves that surprise my own children.

If baked feta cheese pasta is actually delicious, what else might I be missing? I love feta cheese, but never in a million years would I have thought about baking it. This got me looking to TikTok to expand my cooking repertoire. I love that the videos are short (I have the attention span of a flea). And I am confident enough in the kitchen to not need cookbook precision. Next in my TikTok-inspired culinary lineup: Indian butter chicken and Middle Eastern shakshuka.

Just do it. This is the most important thing I've learned from TikTok. These young TikTokers have embraced vulnerability. So many creators are jumping in with less-than-perfect yet wonderful content. Videos are filmed with average smartphones in messy kitchens, the family minivan and school hallways with fluorescent lighting. It is a valuable reminder to try new things — and to remember that perfection isn't everything.
In TikTok's sprawling world, you can find videos on any topic imaginable, from the cutest animals to plucking eyebrows to mastering pickleball. If you have the guts to post, you may be headed to superstardom. Check out the TikTok videos created by random people of all ages who are now known to millions for their singing or dancing or for just being really funny. (By the way, some of the most popular posts feature hilarious grandmothers.)