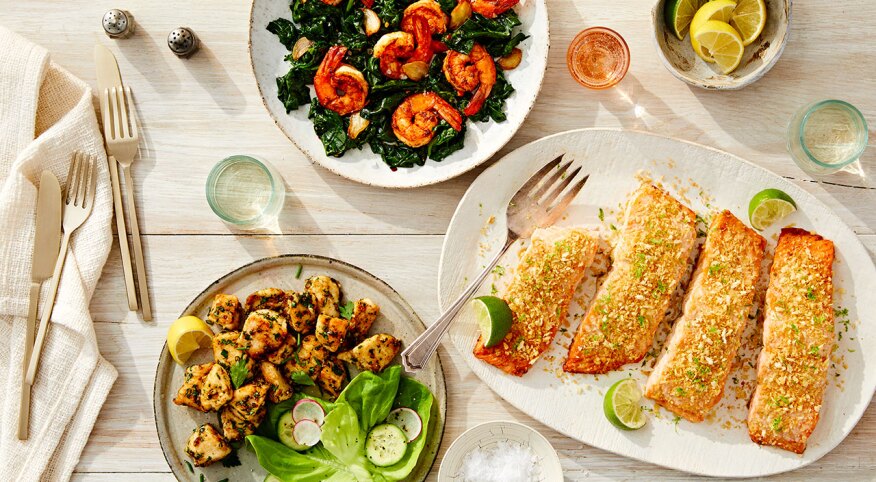 "What's for dinner?" my husband asks.

"Anything I don't have to cook," I answer.

What the heck is wrong with me? I'm a woman who devoted a large part of her career to writing about food and cooking. I spent most of the pandemic lockdown in the kitchen, making homemade bread every week, trying new recipes (hello, chicken shawarma) and conscientiously freezing dinner portions of our favorite soups and stews.

But lately, I'm just not feeling it. Call it cooking fatigue, but for many of us meal prep has become just one more chore. A 2021 survey of 2,000 Americans conducted by OnePoll found that more than a third of those responding felt the pandemic lockdown had drained their love for cooking.

A current wave of "lethargy in the kitchen" is how FMI, The Food Industry Association's 2022 report on grocery shopper trends described Americans' apparent lack of culinary enthusiasm these days. On the bright side, the enforced at-home cooking during the pandemic seems to have made many of us more efficient cooks. About 75 percent of adults surveyed said they can now turn out a meal in less than an hour, and 30 percent said they can do it in less than 30 minutes — much faster than in previous years, the report noted.

I used to cook Instagram-worthy meals. Now I suggest to my husband that we just warm up last night's takeout food. If I'm feeling particularly energetic, I do set the table with actual plates, put out two glasses and pull out a good wine to go with our leftovers.

The cartoonist and author Roz Chast and her husband call this style of eating "fending" — as in, everyone fends for themselves. In a humorous 2021 New Yorker essay, she described it as "picking around the kitchen, seeing what's there, and making a meal of it."

When she asked her Instagram followers what they called this lazy dinner activity, more than 1,700 replied with a generous helping of clever terms, including "getcheroni" (say it out loud to hear the meaning) and "OYO" (on your own).

My cooking mojo is slowly returning, as I ease back into the kitchen to create dishes that call for few ingredients and minimal effort, yet produce maximum flavor. The other night I resurrected a two-ingredient chicken my mother used to make: chicken thighs marinated in bottled vinaigrette blended with some plain yogurt, then thrown onto the grill.

Here are three more easy and delicious get-your-mojo-back dishes.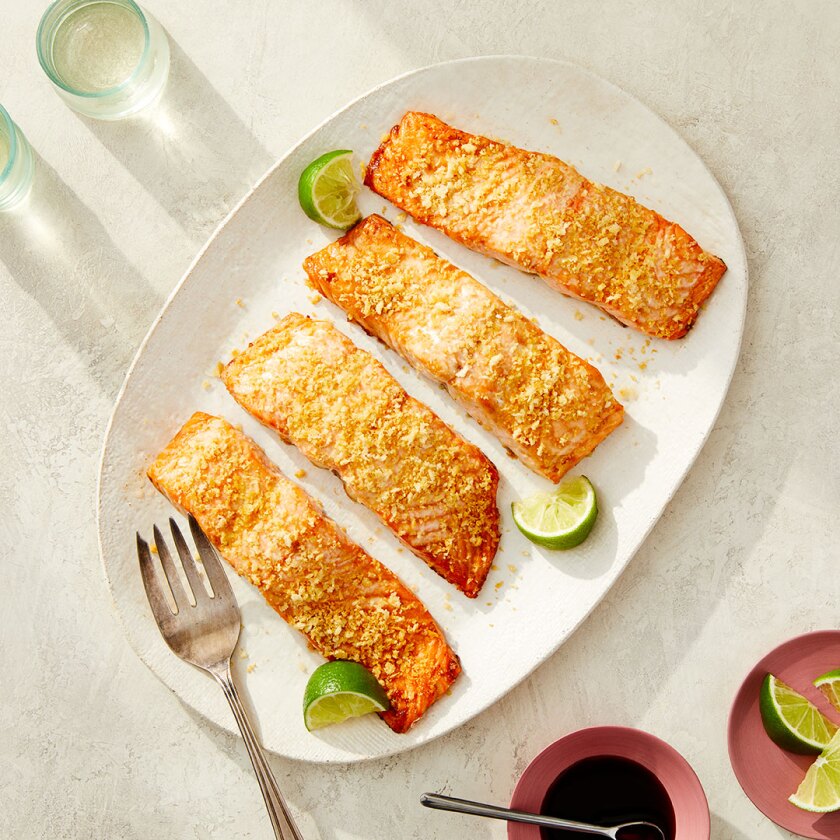 Iris' Two-Ingredient Salmon

I got the idea for this recipe from my friend Iris. Instead of soy sauce, she likes to use Soy Vay Hoisin Garlic Marinade & Sauce, for its added seasonings. This recipe is flexible and nearly foolproof.

Serves 4

4 6-ounce salmon fillets

3 to 4 tablespoons mayonnaise

3 to 4 tablespoons soy sauce

Preheat oven to 400 degrees.

Place filets in a shallow, ovenproof dish. Combine mayo and soy sauce. Taste and adjust measurements to your liking. Brush mixture on top of each fillet. Place dish in the oven and bake about 15 minutes, until salmon flakes easily and topping has begun to brown. (For a crustier finish, sprinkle on panko crumbs before baking.) If you're unsure about doneness, test the thickest part of a fillet with a probe thermometer — it should read at least 145 degrees.

Chicken Persillade

A short YouTube video from well-known chef and cookbook author Jacques Pepin showed me how to easily transform a skinless, boneless chicken breast into something special for two with a simple sauce of parsley and garlic. The sauce is also delicious on fish, shrimp and vegetables.

Adapted from Jacques Pepin Cooking at Home

Serves 2

1 boneless, skinless chicken breast, about 3/4 to 1 pound

Salt and pepper, to taste

2 to 3 cloves garlic, minced

About 1/2 cup fresh parsley, finely chopped

2 tablespoons minced chives, optional

2 tablespoons butter

2 tablespoons olive oil

2 to 3 tablespoons all-purpose flour

Cut chicken breast into 1 1/2-inch chunks; season with salt and pepper to taste. In a small bowl, combine minced garlic, parsley and the chives, if using. (To save time and effort, you can pulse the ingredients together in a food processor instead of mincing them by hand with a knife.) Add butter and olive oil to a nonstick skillet over medium heat. When butter and oil are sizzling, lightly coat chicken chunks with flour and immediately add to pan. Sauté for 3 to 3 1/2 minutes, turning pieces until they're lightly browned and cooked through. Add parsley-garlic mixture to pan, toss with chicken to evenly coat, then remove from heat and serve.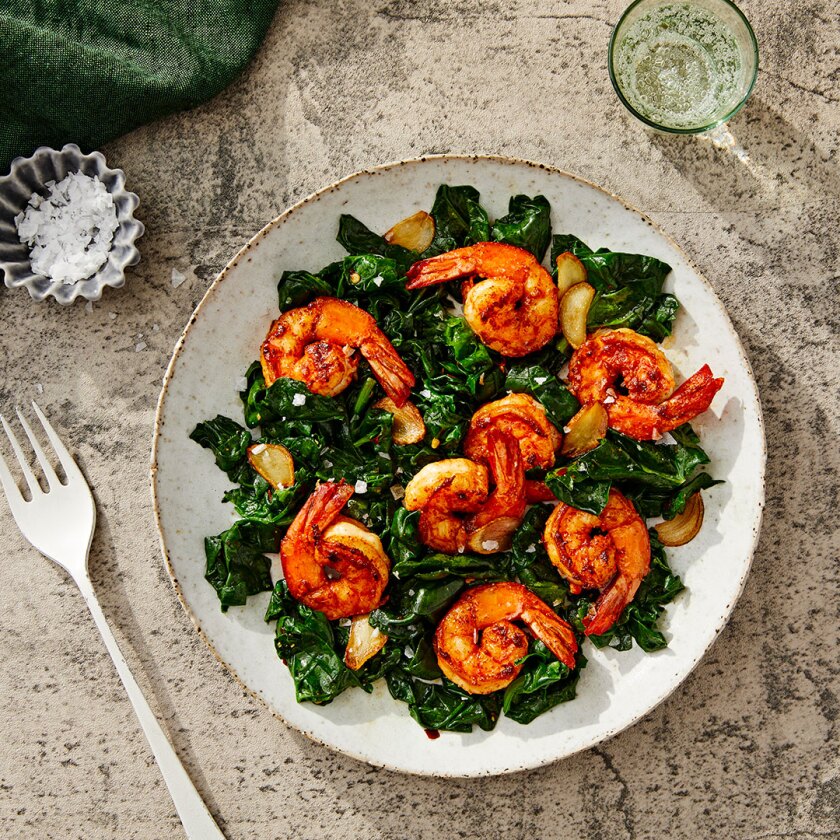 Shrimp With Spinach and Smoked Paprika

This super-easy dish is why I always have a bag of shrimp in the freezer and a bag of fresh spinach in the fridge. The recipe is based on one from dietitian and cookbook author Ellie Krieger, with my own tweaks.

Note: Smoked paprika, found in the spice section of many supermarkets, is a delicious way of adding subtle smokiness and color to a variety of foods.

Serves 2

About 3/4 pound fresh or frozen, raw or precooked, large or jumbo shrimp, peeled

2 medium cloves garlic

2 1/2 cups lightly packed fresh spinach leaves

1 teaspoon smoked paprika

1/4 teaspoon salt

1 or 2 pinches cayenne pepper, hot paprika or crushed red pepper flakes

2 tablespoons olive oil

If using frozen shrimp, rinse with warm water to thaw, then pat dry with paper towel. Thinly slice the garlic and set aside. Coarsely chop the spinach. Combine smoked paprika, salt and cayenne and set aside. Heat oil in a nonstick skillet over medium heat. Reduce heat to low and add garlic. Stir frequently as slices turn golden, but don't let them brown, about 2 minutes. With a slotted spoon, remove garlic and set aside, leaving oil in skillet. Raise heat to medium-high. Add shrimp and sprinkle with smoked paprika, salt and cayenne mixture. Cook, stirring constantly, until shrimp are nearly done — about 3 minutes for raw shrimp or about 1 minute for precooked shrimp. Return garlic slices to pan and add chopped spinach, stirring until spinach is wilted and shrimp are done. (If using raw shrimp, they should be opaque when completely cooked.) Serve immediately.