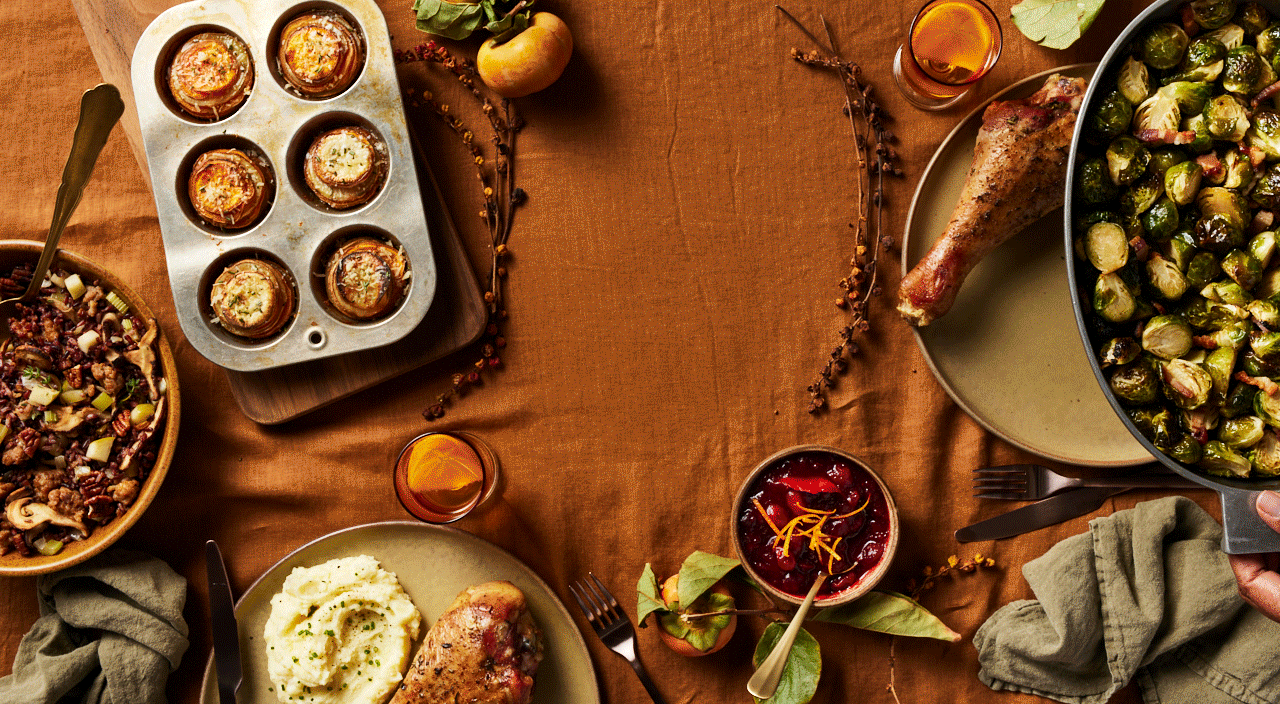 Thanksgiving is just around the corner, and I couldn't be more excited! It's that time of year when cooks shine in the kitchen and express their love of family and friends through the festive dishes they prepare. It's also a reminder to be grateful for what we have, especially the people sitting next to us at the dining room table.

There is much debate over the best way to prepare the turkey, and you can find dozens of recipes for roasting, brining, smoking and basting. I keep it simple — I coat my bird with herb butter and a little oil, then bake it according to the directions on the wrapper. I also baste it twice and use a thermometer to avoid overcooking the meat. The result is a golden, juicy turkey with tender meat that practically falls off the bone. I whisk the pan drippings with a little flour and seasonings for the gravy.

Although the turkey is considered the centerpiece, the side dishes deserve their share of attention, too. Here are some dishes that add a new twist to typical Thanksgiving dinner.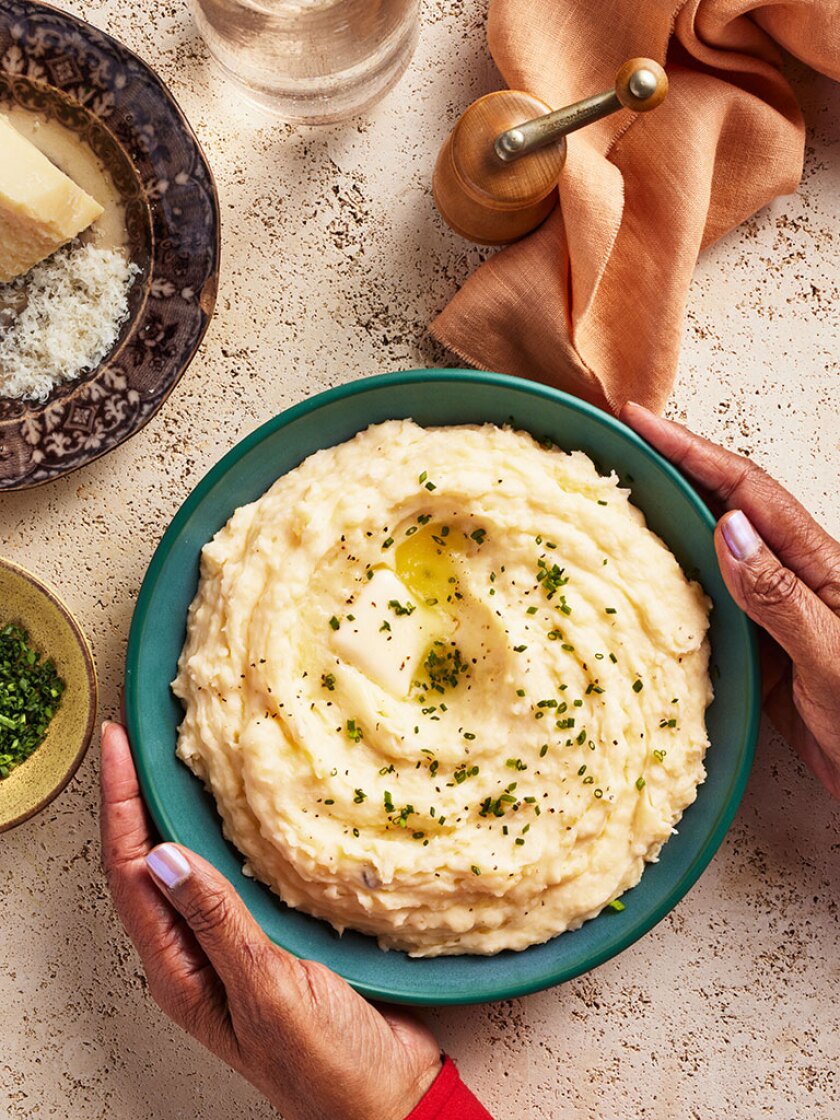 Creamy Mascarpone Mashed Potatoes

What would Thanksgiving dinner be without mashed potatoes to soak up all that turkey gravy? Adding mascarpone cheese and sour cream to this recipe makes it decadent and delicious. If you want mashed potatoes that are even smoother, add a little extra cream and butter while mixing.

Serves 6

4 pounds Yukon Gold potatoes

1/2 cup mascarpone cheese

1/2 cup whole milk

1/2 cup half-and-half

1/2 cup sour cream

3/4 cup softened butter

2 tablespoons freshly grated parmesan cheese

Salt and pepper to taste

Chopped chives for the top

Optional: 2 teaspoons minced garlic

Wash, peel and slice potatoes in half. Place in pot and bring to boil. Reduce heat to medium and cook for 15-20 minutes until tender. Drain water, put potatoes into a large bowl. Using a hand mixer, mash potatoes until smooth. Add all other ingredients except chives. Blend until creamy. Serve with chives sprinkled over the top.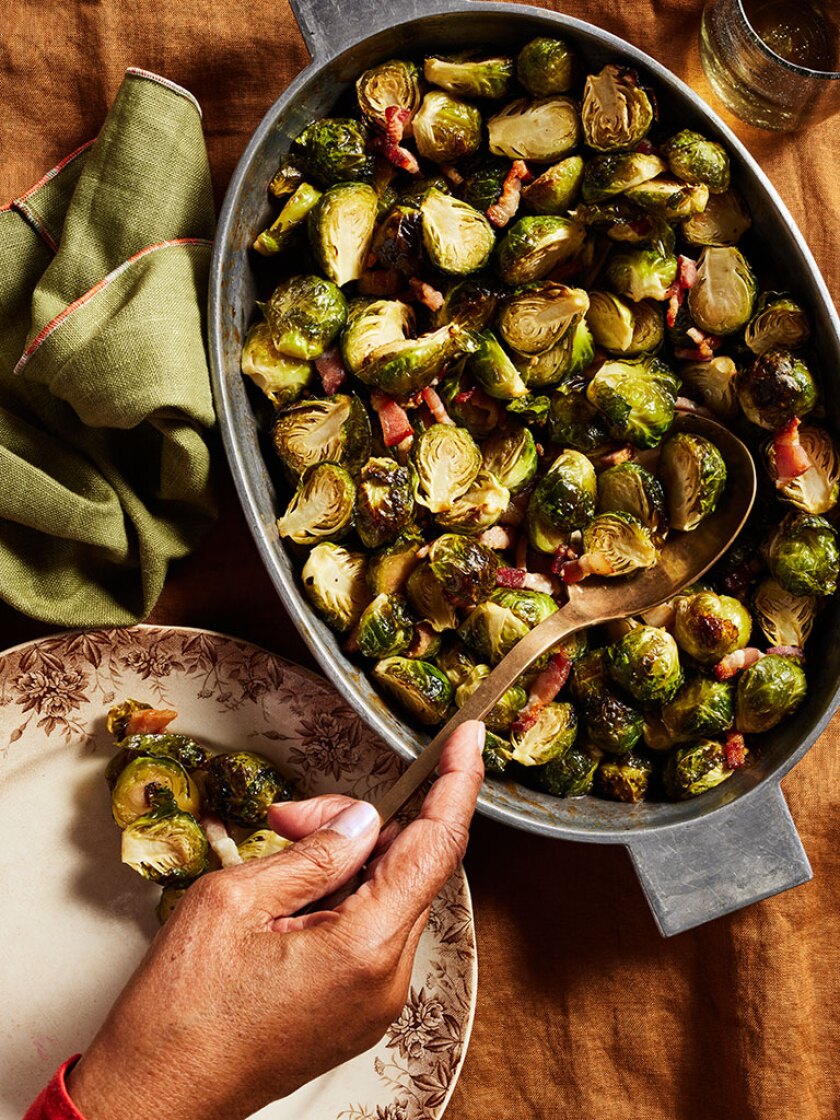 Bacon and Maple Glazed Brussels Sprouts

Skip the traditional green bean casserole this year and try these crispy brussels sprouts caramelized in bacon drippings and maple syrup. Not a low-cal addition, though this recipe is so good you'll want to make it well beyond the holidays.

Serves 8

12 strips raw bacon, cut into 1/4-inch pieces

3 pounds brussels sprouts, washed and halved

1/2 cup extra virgin olive oil

1/2 cup maple syrup

1 1/4 teaspoons kosher salt

1 teaspoon black pepper

In a bowl, mix all ingredients together except for the bacon. Grease a shallow baking dish and spread brussels sprouts evenly over the bottom (make sure they are well-coated with oil and syrup). Sprinkle raw bacon pieces over the top. Bake at 400 for 20-30 minutes until sprouts are tender, stirring halfway through the cooking process.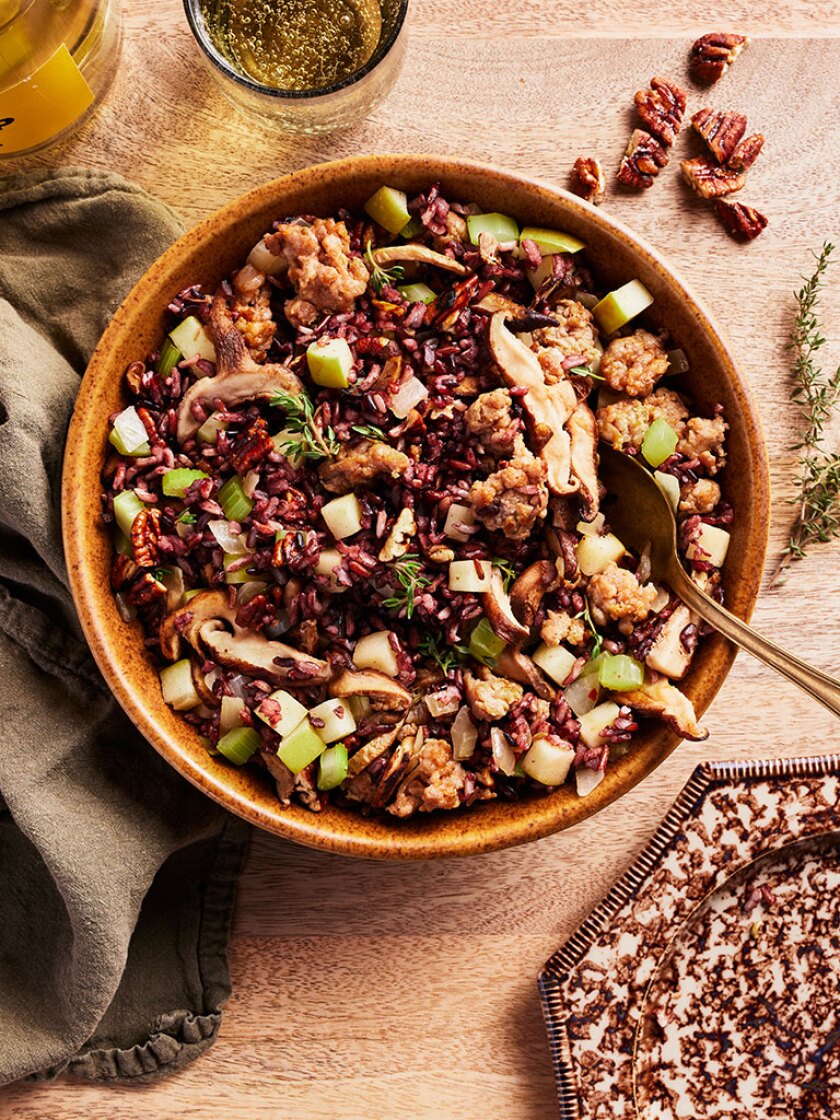 Wild Rice, Sausage, Mushroom and Apple Stuffing

This stuffing recipe is a nice detour from the typical bread stuffing served on Thanksgiving. What makes it unique is the blend of savory (sausage) and sweet (apple), along with the added crunch of chopped pecans.

Serves 8-10

4 cups chicken broth

2 cups uncooked wild rice

1 pound Italian sausage

2 tablespoons butter

1 onion, chopped fine

3/4 cup diced celery

1 lb. shiitake mushrooms, cleaned, chopped into small pieces

1 Granny Smith apple, peeled, seeded, cored, diced into small pieces

1 cup chopped pecans

1 tablespoons. fennel seeds

1 tablespoons chopped fresh thyme

Salt and pepper, to taste

Bring broth to boil. Add rice, turn heat down to medium-low and cook 40-45 minutes until rice is tender. Add extra water if needed. In skillet, brown sausage until it is no longer pink. Drain off grease, reserving 2 tablespoons in the pan. Remove meat and set aside. In the same skillet, melt butter and sauté celery, mushrooms and onions for 6 minutes. Add apples, pecans, fennel and thyme. Sauté another 3 minutes. Pour into a bowl and mix with sausage and rice. Mix in salt and pepper to taste. Pour this into a deep baking dish, cover with foil and bake at 350 for 25-30 minutes.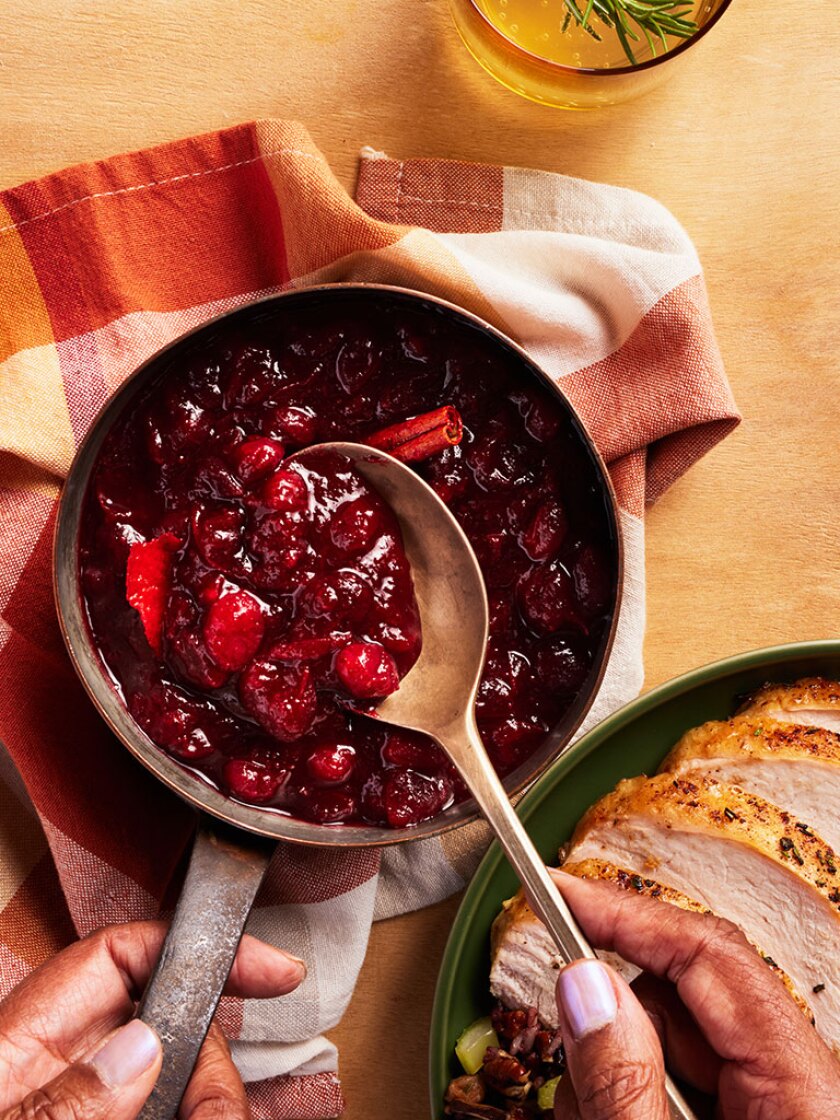 Boozy Cranberry Sauce With Orange

This boozy cranberry sauce adds the perfect tangy, sweet touch to your bird. You can forgo the rum and add extra water if desired. The recipe is so easy and tasty that you won't want the canned stuff anymore!

Serves 6-8

12 ounces fresh cranberries, washed and drained

3/4 cup brown sugar

1/2 cup water

1/4 cup orange juice

2 teaspoons orange zest

1/4 teaspoon cinnamon

1/4 cup rum

1 teaspoon vanilla extract

In a saucepan, bring water and orange juice to boil. Add sugar, stirring until dissolved. Add all other ingredients except vanilla and cook on medium heat, frequently stirring, until cranberries have popped and softened (20-30 minutes). Remove from heat, stir in vanilla, then cool to room temperature. Place in a container in the refrigerator until ready to use.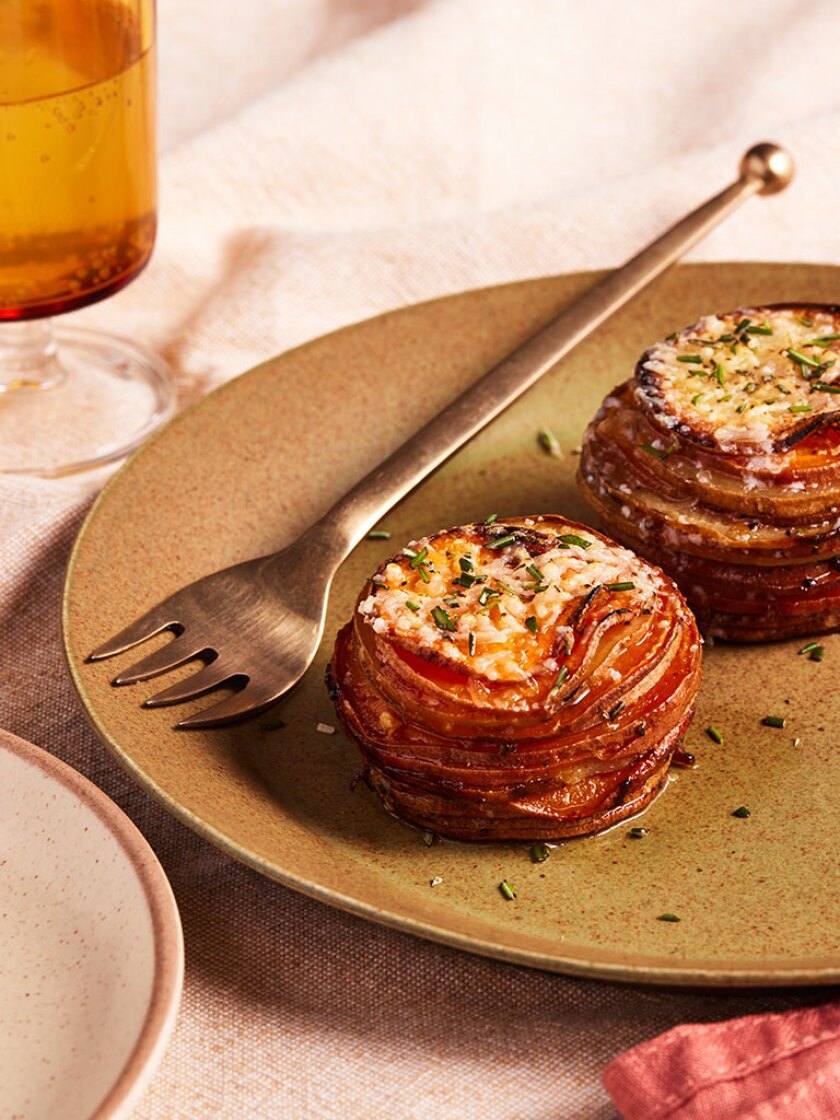 Parmesan Sweet Potato Stacks

These savory sweet potatoes are far less filling than the traditional casserole recipe loaded with sugar, oil and marshmallows. Instead, this one is crispy and cheesy, served in individual stacks with a dusting of fresh rosemary.

Makes 12 stacks or 6-8 servings

6 pounds sweet potatoes, sliced into thin rounds

1/2 cup melted butter

2 cloves minced garlic

2 tablespoons fresh rosemary, plus extra for garnish

Salt and pepper to taste

1/2 cup grated Parmesan cheese

1/4 cup shredded Parmesan cheese

In a bowl, mix all ingredients together except for the cheese. Once potatoes are coated, stir in the 1/2 cup grated Parmesan. In a greased muffin tin, stack sweet potato slices in each muffin well. Pour whatever butter is left in the bowl over the potatoes. Top each with 1/4 cup shredded Parmesan and sprinkle some rosemary over all. Bake at 375 for 60 minutes until potatoes are lightly brown, with tender centers. Let cool for 5 minutes, then scoop out each stack with a spoon. Drizzle whatever butter is left in the pan and serve.

Have a happy and delicious Thanksgiving with loved ones. So much to be grateful for!