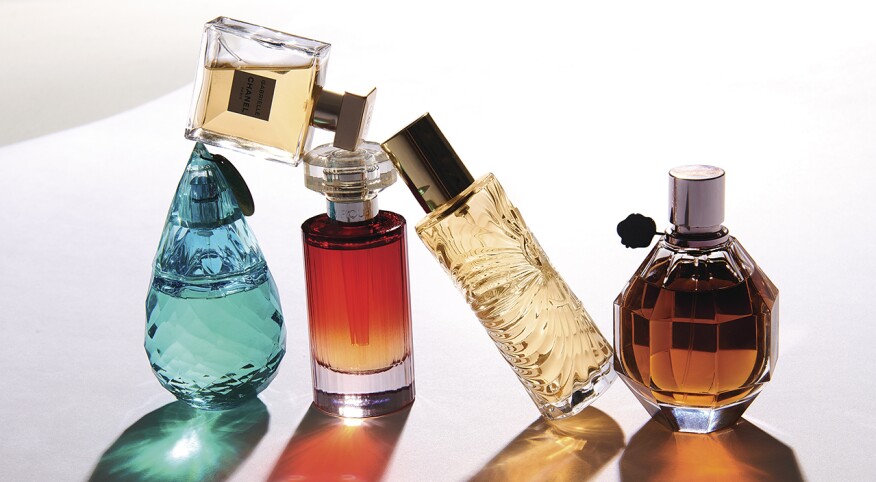 Christian Dior once said, "A woman's perfume tells more about her than her handwriting." In my mother's case that was certainly true. She had beautiful cursive handwriting. But so did most of her contemporaries, who were also schooled in the same precise, rhythmic Palmer Method.

What set my mom apart from the other moms, at least for me, was her flame-red hair, the turquoise leather jacket that matched her two-tone Ford Fairlane, and the trail of L'Air du Temps perfume that wafted through the air as she entered a room. To this day, whenever I'm near anyone wearing the famous scent, I'm stopped in my tracks.

According to Linda G. Levy, president of The Fragrance Foundation, a resource for innovation and education in the fragrance industry, I'm not alone.

"Our sense of smell is directly connected to the limbic system, the emotional part of the brain, closely linked to memories," says Levy. "That's why classic scents continue to resonate today; they transport us to cherished times with mothers, grandmothers and family."

A scent smells slightly different on each wearer. Things like whether you shower or apply lotion just before putting on your perfume and whether you live in a cold or warm climate will influence how a fragrance smells on you.

Perfumes can also affect your emotions, just as some foods do, like the famous tea-soaked madeleine in Marcel Proust's Remembrance of Things Past that evokes a vivid childhood memory. It's why we speak of a "Proustian moment" when a taste or a particular scent — like your mother's perfume — conjures up a specific time, place or person.

L'Air du Temps was released by fashion designer Nina Ricci after World War II, and the bottle features two doves on top, a symbol of peace. My mother's love for the fragrance was shared by actresses of the time, such as Ingrid Bergman and Lana Turner. More recently, Top Chef host Padma Lakshmi has said she favors L'Air du Temps for summer.

A creepy reference to the perfume's simple floral scent appears in the movie Silence of the Lambs, when Hannibal Lecter identifies L'Air du Temps as a perfume sometimes worn by neophyte FBI agent Clarice Starling. I'm glad my mother never knew about this.

When a reporter asked Marilyn Monroe what she wore to bed, she famously purred, "Chanel No. 5," forever linking her name to the iconic scent. Nonetheless, Monroe "cheated" on the fragrance by having a perfume called Floris Rose Geranium surreptitiously delivered in bulk to her Hollywood hotel while she was filming Some Like It Hot.

Chanel No. 5 was created in response to Coco Chanel's demand that her chemists develop a scent that "smells like a woman, not a flowerbed." She chose a mixture of 80-plus ingredients, including patchouli, which added an earthy undertone. It was the fifth sample she tried, hence Chanel No. 5 was born, back in 1921. And while Monroe's other favorite, Floris Rose Geranium, no longer exists, Chanel No. 5 is still going strong, with Eva Longoria, Victoria Beckham and Marion Cotillard among its fans.

It was the Roaring '20s and flappers had a "bad girl" reputation when the house of Guerlain introduced the exotic, amber-scented Shalimar. Inspired by the story of an emperor who loved his wife so much that he created the Shalimar Gardens for her (and after her death, the Taj Mahal), the intense fragrance has notes of vanilla. Rita Hayworth and Bridgette Bardot wore Shalimar, and as recently as 2016, it was selling at the whopping rate of 108 bottles an hour.

It's also the only scent I've found that has inspired so many different cultural references: in song (lyrics on the Van Morrison album Astral Weeks and in the musical La Cage Aux Folles mention Shalimar), books (the heroine of the novel Angel of Baker Street always pictures her mother when she gets a hint of the perfume), art (Louis Bourgeois' installation Cell II incorporates multiple empty Shalimar bottles), film (the urbane boss Katharine asks Working Girl Tess to get her a bottle of the classy scent), and almost too many TV shows to mention (including Mad Men, The Sopranos, The Nanny and even Orange Is the New Black).

Before there was My Sin, Obsession or Opium, there was Joy, from fashion designer Jean Patou, which was worn by Audrey Hepburn, Jane Seymour and, perhaps most famously, Jackie Kennedy. When Clark Gable met Vivien Leigh before they started filming Gone With the Wind, she was wearing Joy. He was said to have commented that "she smells like violets," although the scent is made mostly from jasmine and roses.

At $40 an ounce, Joy was marketed as "the world's most expensive perfume," which might have seemed foolish in light of its introduction during the Great Depression. Luxatic and other luxury brand websites describe Joy as one of the most expensive perfumes in the world. In fact, the high price of the alluring scent helped it sell. Even if some women could no longer afford Patou's dresses, the thinking went, they could still shell out for a bottle of perfume.

Its uber-luxurious image helped make Joy a best seller — until, that is, earlier this century, when the house of Patou changed hands and the luxurious formula was reconceived, most recently as a cheaper brand sold under the Dior label.

What scent are we wearing now that our daughters will remember? Will it be one of Tom Ford's rose fragrances? How about a scent featuring lavender, which is promoted as comforting by the modern wellness industry? Or will it be Air Company's sci-fi-sounding Air Eau de Parfum, which captures and repurposes carbon emissions to help save the planet, according to The New York Times? The one thing you can count on is that Chanel No. 5 will be among the frontrunners. Even 100 years after its launch, the classic fragrance is still one of the world's most famous perfumes.

Padma wears Neroli in winter/Nina Ricci in summer.