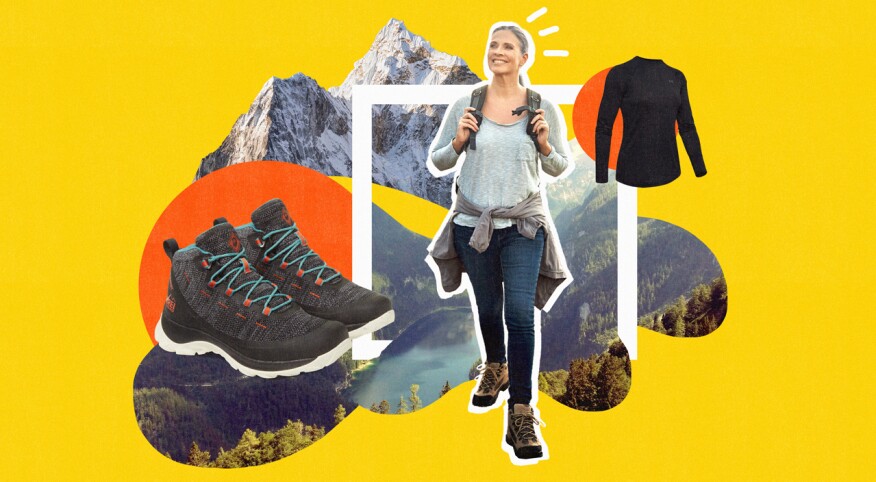 Nothing spoils a good hike like the wrong clothes. Trust me. The last time I went hiking (okay, it was actually my first time) with a group of girlfriends, I didn't know the importance of layering. Or, frankly, to wear hiking boots. I figured jeans and sneakers would be okay for the five-mile rocky trail.

Within an hour, I was slipping all over the place, my jeans pinched when I had to clamber over rocks, and I was so hot I felt like going topless. I learned a valuable lesson. When you are enjoying the outdoors, whether it's hiking or biking, it is more important to dress for comfort and safety than style.

"The key to staying safe and having fun exercising outdoors during the summer months is to be aware of the obstacles and potential hazards that the elements pose, and how to avoid them," says Tina Vindum, certified trainer and founder of the Outdoor Fitness Institute. "Many of us are excited to get out and enjoy the warm weather and scenery. However, there are risks. The most dangerous element is heat, so be prepared! Hydrate and dress appropriately."

Here are a few must-haves when braving the outdoors and the elements.

Start from the ground up

"All-terrain shoes are great for rural environments and off-road running," Vindum advises. "This type of shoe supports climbing, descending and traversing uneven ground, and will help you hold on to wet rocks and roots." Sneakers and even open-toed sandals are okay for urban settings or paved roads if they have a sturdy sole to protect your feet and a firm grip. Vindum offers this shopping tip: "Be sure to try on shoes and hiking boots after taking a walk, exercising or at the end of the day when your feet have swelled from activity."

To try: Adidas Terrex AX4 Mid Gore-Tex Hiking Shoes are waterproof and grippy enough for muddy trails; Outdoor Afro + REI Co-op Flash Hiking Boots come in wide widths with a roomy toe box to accommodate end-of-day swelling; for extra-cushioning, try Salomon's Outpulse. For hiking sandals with great support, try Teva Women's W Hurricane Xlt2 Sport Sandal; Bedrock's Cairn Geo Sandals, available with a flat or molded surface; or Hoka's super-sturdy option Hopara, with a rubberized toe cap for protection.

All-weather parka

You know how the sunniest day can suddenly turn into a downpour? Or how when you start out in the morning it's cool, and within an hour it's baking? Yeah, me too. For summer, an uninsulated nylon jacket that is loose enough to allow you to wear layers underneath and still move around comfortably is the way to go. Look for one that is water-resistant and, if you are in a hot climate, back vents that will allow perspiration to escape. You know what else is a thing? Pit vents, or zippers, in the armpits of the jacket that let body heat and moisture out.

To try: REI Co-op Rainier Rain Jacket is waterproof, breathable and has, yes, pit vents; Outdoor Research's fan-favorite waterproof Aspire II Gore-Tex® Jacket; or L.L. Bean's wind- and water-resistant VentureStretch Anorak.

Layer up

The number of layers you need depends on the weather but start with a simple base layer. I opt for inexpensive sleeveless cotton tank tops for both indoor and outdoor workouts. They are easy to wash and offer enough coverage that I won't embarrass myself if I get hot enough to remove everything else. Next up, a long-sleeve layer.

"I suggest you wear light- or white-colored, breathable fabrics to maximize sweat evaporation," says Vindum. "Cottons and silks work, as do many synthetic blends. My favorites include ones that have vents and UPF [ultraviolet protection factor]."

To try: Under Armour Women's UA Base 2.0 Crew is moisture-wicking, stretchy and has scent-control technology; L.L. Bean's Simple Soft Base Layer (the name says it all!); or Athleta's Speedlight Seamless Top with built-in sun protection.

Hiking pants

I learned the hard way that jeans are definitely not the best option for hikes. Look for loose pants that allow you to move freely, in breathable, water-resistant fabric like nylon. For summer, opt for bottoms that have built-in UVB sun protection and consider models with zippers at the knees to instantly transform long pants into shorts. I like models with lots of pockets, the better to hold goodies like trail mix or dark chocolate bars.

To try: L.L. Bean's Tropicwear Zip-Off Pants feature multiple pockets, moisture-wicking fabric and zippers at the knees to convert into shorts; the North Face's Bridgeway Zip-Off Pants convert into shorts or capris; or Columbia's stain-repellent Saturday Trail Pant with an adjustable waist band and roll-up legs.

Get a topper

I pull out one of my many baseball caps for most days outdoors. When I'm heading outdoors for a long day, though, I opt for better sun protection — and you should too. "I am a fan of a large-brim visor hat," Vindum says. "They offer great sun protection, allow breathability, and they roll up, making them a perfect travel companion."

To try: Eddie Bauer's Women's Exploration UPF Wide Brim Hat has an adjustable chin strap and UVB protection; Outdoor Research's Women's Oasis Sun Hat offers sun protection and an absorbent headband; or San Diego Hat Company's Signature Women's Ultrabraid Large Brim Visor, which has a mega-brim and rolls up neatly for easy packing

Backpack

Whether you are going for a short stroll or an all-day hike will determine the size of backpack you need. Either way, I always think the lighter it is the better, which usually means water-resistant nylon. Don't forget to pack extra sunblock (be sure to first put it on before you leave the house), lip balm with sun protection and a water bottle. (I like to keep a dark chocolate bar in there too!)

To try: For a day hike, I like Eddie Bauer's Stowaway Packable 20L Backpack with adjustable shoulder straps and plenty of pockets. Other options include L.L. Bean's Stowaway Pack, made from recycled bottles; or Osprey's Tempest 20 with an attachment for hiking poles.

Before you go

Now that you're dressed for fitness success, some other life lessons from the trails: Be sure to download a trail map onto your phone in case you don't have cell service and/or get disoriented. And always tell someone where you are headed. Then slather up with sunblock, hydrate, and you are ready to hit the road, trails or hills.

Anyone plan to spend a lot of time outdoors this summer? Where will you go? Let us know in the comments below.