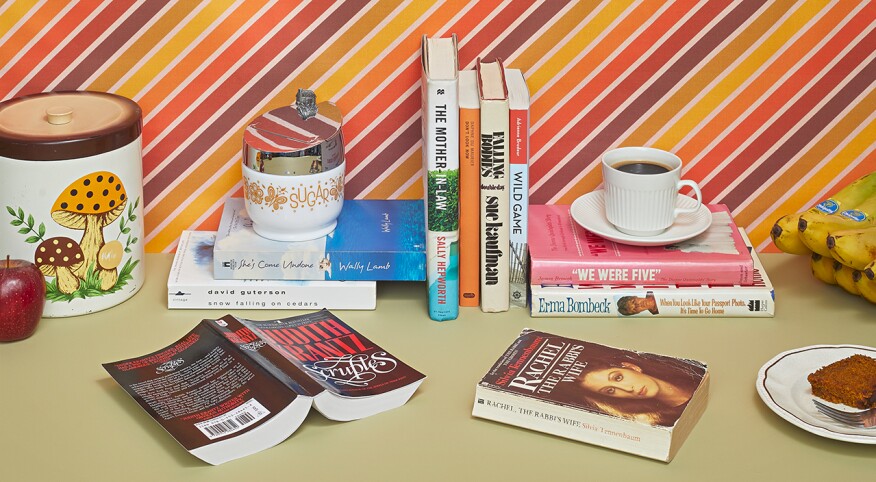 My mother was a reader. She'd get lost in a story, in her thoughts. It was something she did for herself, in solitude.

My sisters and I all remember her reading at the kitchen table. And there were always books on her nightstand, so presumably she also read in bed. Though with our early childhood bedtimes, this isn't anything we would have witnessed.

My own love of reading, which went on to inspire my career as an interviewer of authors in broadcast and live events, is directly passed down by my mother. My rule about never going anywhere without a book is also a credit to my mother's modeling.

Her love of reading began early in her childhood, growing up in Amityville, Long Island. She would share stories of how she'd sit below a tree with her beloved Nancy Drew or Cherry Ames. These old books I have found would have my mother's beautiful signature in them, leaving no doubt as to who the proud owner was. Signing her books was a tradition she carried forward with her into her adult collection, as well. The dozens of books in my childhood home would line shelves in a way that was as comforting as our family photos. I would sometimes sit mesmerized, taking in the way the spines morphed into a piece of artwork.

The books I selected below as a representation of my mom's literary taste span the late '60s and '70s, and a few from the '90s that I enjoyed reading as well.

Erma Bombeck, When You Look Like Your Passport Photo—It's Time to Go Home

This book is filled with humor and heart. Anything from Erma is always a thoughtful and hilarious read. These short stories revolved around travel, and they are so relatable you'd think Erma was standing over your shoulder, watching you pack up for your own adventure.

Judith Krantz, Scruples

Krantz was the queen of her genre and made publishing history with her fast-paced soap-opera-like story about Billy and her rise to Rodeo royalty. Sex, revenge and scandal. This book has it all!

Sue Kaufman, Falling Bodies

From the author who brought us Diary Of A Mad Housewife and for fans of Jennifer Weiner comes a story about family that's both disturbing and funny—as the best books are.

Daphne du Maurier, Don't Look Now

This is a collection of five short stories that contain mystery, horror, grief and a cast of characters that will remain imprinted in your memory.

James Brough, We Were Five: The Dionne Quintuplets' Story

The Dionne sisters were born in Canada in 1934 and had the distinction of being the world's first surviving quintuplets. When they were just days old, their father offered the babies to the Chicago World's Fair as an exhibit. The Canadian government was horrified and made them wards of the Crown. The father regained control of the children seven years later and made their home a profitable tourist attraction.

I was so moved by this story that I went down the proverbial rabbit hole and learned that there are two remaining sisters and that they celebrated their 87th birthday this past May.

Silvia Tennenbaum, Rachel, the Rabbi's Wife

Set in suburbia over the course of a year, this family drama includes Rachel, her husband the rabbi and their son. Incredibly frustrated with dreams of her own, Rachel finds satisfaction in the New York art world. Despite the Long Island clichés, I'd say this complex book holds up.

Wally Lamb, She's Come Undone

If you haven't had a chance to read this one, you are in for a treat. Lamb's coming-of-age debut novel is unforgettable and was also an early Oprah pick. I read this book almost 30 years ago and vividly recall the heroine, Delores Price, her pain, humor and hopefulness.

David Guterson, Snow Falling on Cedars

This beautiful and haunting story follows the trial of Kabuo Miyamoto, a Japanese American who is accused of murder when a local fisherman is found drowned. Of the hundreds of books I have read, this has got to be one of the most heart wrenching, poignant and tragic stories ever told. If you want to get to know a person, take a look at his or her bookshelves or nightstand.

The books my mother loved were thought-provoking, funny, relatable and a bit disconcerting with complicated characters. I am so connected to my mother's taste in books that I am confident that—if I were lucky enough to still be chatting with her—there are some new books she'd be enjoying today, like these two picks.

Sally Hepworth, The Mother-in-Law

A book filled with family secrets, twists, turns and a mother-in-law who winds up dead under suspicious conditions. Classic Hepworth.

Adrienne Brodeur, Wild Game

This is one of the most engrossing memoirs I have ever read, chronicling relationships gone amuck, and a mother-daughter duo you will never forget. This book is filled with passion, food and lots of heart.

I often think about how my mother would love that I created a talk radio show in which I speak to my favorite authors weekly. She would love that I have interviewed thousands of authors, online and in live events, during these past 19 years. Every time I sit down with a book, it's as if we're sitting together, lost in the story.

The cozy winter reading season is upon us. I hope you get a chance during the holidays to snuggle up with some of these books loved by my mom and me.