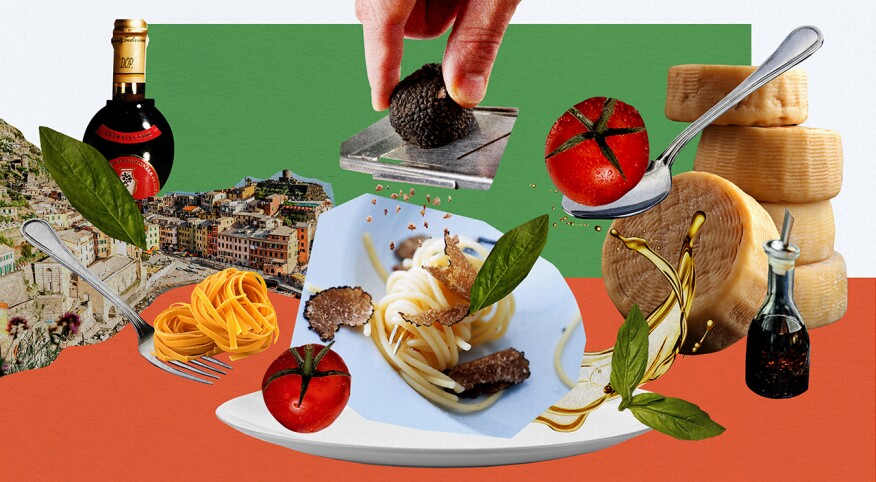 On my first few trips to Italy, I ate pizza and gelato. Every day. Then I banned gluten and sugar from my diet. Even in the land of pasta, panini, panna cotta and biscotti. Gastronomic adventures didn't diminish one iota. In addition to the breadth of gluten-free options available, there are even celiac-friendly pizzerias.

In Rome, Voglia di (a craving for) Pizza features an extensive gluten-free pasta and pizza menu, while Mama Eat offers gluten- and lactose-free pizzas, pastas and desserts in three cities. For all diners, with all tastes, food porn permeates from the tip of the boot to the cuff. Tourists can savor a myriad of mouthwatering regional specialties senza glutine or zucchero. With dishes including Ligurian chickpea farinata, Roman carciofi alla giudia, Tuscan fagioli, Umbrian lentil soup, Venetian risotto with porcini mushrooms, and many wild greens, there's no chance of going hungry. One hotel served a small dome of black rice with vegetables topped with a towering crown of long copper-colored saffron strands from Abruzzo.

Blown away by the subtle flavor and texture of the world's most expensive spice, I foraged for more Italian delectable delights: Parmigiano-Reggiano, Traditional Balsamic Vinegar of Modena, and truffles. Each, used in scant amounts, brings nirvana to the tastebuds.

Golden wheels

When I was a child, our refrigerator door housed a green-and-yellow cardboard can of Parmesan we called "shaky cheese" that we passed around at spaghetti time. Almost 60 years later, I discovered the real deal: huge wheels of Parmigiano-Reggiano that looked like they could crush our fridge. I hit the cheese jackpot at Al Regno Della Forma. The tiny shop in Bologna showcases shelves of 88-pound wheels of two- and three-year-old DOP cheese. The storekeeper told me the famed all-natural formaggio is a regional treasure from Parma, Reggio Emilia, Modena and a tiny part of Mantova.

It's made from milk, salt and rennet. Nothing else. Barbara Piccinini leads both Parmigiano-Reggiano and traditional balsamic vinegar workshops. She pointed out that blending the cows' morning and evening milks yields the perfect blend of fat. At first, the milk is kept at 100 degrees, the same temperature as a healthy cow. As the temperature increases, the liquid thickens and is shaped into discs. Next, the wheels float in salty water for 20 days before they "sleep" and condense for two to three years.

Black gold

Likewise, I didn't discover Traditional Balsamic Vinegar of Modena DOP until I was carrying an AARP card. All "black gold" is sold in the same short, rounded designer bottles. "DOP" and the word "traditional" are the points of differentiation from the industrial IGP balsamic salad variety. Small families handcraft DOP vinegar from only cooked grape juice. They store the dark liquid in their attics for at least 12 years. Meanwhile, factories often formulate IGP vinegar with fillers and ship to retailers after just 90 days of aging.

Black gold has been a lifeline of Barbara Piccinini's family for five generations. Her dowry included 40 vinegar barrels. Her husband planned a special gift to welcome their first baby girl. Barbara wanted bling. She got 300 kegs.

Today, Barbara cares for 836 wooden "babies" from which she crafts Acetaia Malagoli's Traditional Balsamic Vinegar of Modena DOP. The "gold" is also available online, at acetaiamalagoli.com. DOP, or PDO, are the initials for Protected Designation of Origin, which assures the highest quality authentic food product. IGP, or PGI, is a more lenient designation assigned to products from a Protected Geographical Indication.

Ancient aphrodisiacs

In the 1600s, palace dignitaries delighted in truffle hunting. Today, anyone can. I headed to the Semboloni organic farm. Virginia Sarti is part of the small Semboloni team that sells their own wine, oil, honey and truffles. Rounding out the Semboloni family is a daddy, son and daughter trio of truffle-hunting dogs. Virginia says the female pups learn the ropes far faster than the males. Of course!

Historically, pigs sniffed out the rare fungi. But Porky scarfed down too many precious mushrooms. Nowadays, Lagotto Romagnolo water dogs lead the search near rivers and streams. Their snouts are so precise that they gently dig up only ripe bulbs.

The Sembolonis say these fleshy tubers are "a humble product of nature wrapped in mystery." Myths trace their origin to a thunderbolt from Zeus, or Jupiter, which led to the belief that these underground treasures are powerful aphrodisiacs. According to the Sembolonis, the costly white truffle, with a strong woody scent, is "the forbidden dream of gourmets." The largest, weighing more than 2 pounds, can sell at auctions for $100,000. Genuine truffle oil can cost upwards of $1,000 for just a few ounces.

With truffles' intense odor and flavor, the tiniest of shavings is all you need. While there's nothing like going on the hunt with a cuddly pooch, you can buy less expensive treats online. Order truffle potato chips or gnocchi from La Bottega del Tartufo. Splurge, and fill up your cart for free shipping. And Semboloni sends fresh truffles to the States in refrigerated cases.

If you want to satisfy your cravings without a boarding pass, you can find some of Italy's treasures back home. Even better, this Italian gold will not break the bank. Costco sells aged Parmigiano-Reggiano and plenty of IGP balsamic vinegars. Eataly and Williams Sonoma sell fresh truffles starting at $34 an ounce and climbing upwards depending on the variety. Trader Joe's and other major retailers sell truffle-infused oil for about $10 that you can use liberally with no second thoughts — except for the aftertaste of dreaming about a trip across the ocean. Following are simple ways to incorporate Italy's finest in your own kitchens.

Semboloni's Truffle Tagliatelle

Lightly brush clean about 3 ounces of (black summer) truffles. Cut into thin slices. Lightly heat 10 tablespoons of extra-virgin olive oil along with 1 clove of garlic. Remove the garlic and add most of the truffles. Lightly salt. Turn off heat after a few seconds and immediately pour over 4 portions of freshly cooked pasta. Top with remaining uncooked truffle shavings.

Barbara's Shrimp

Cook peeled, cleaned shrimp until they turn pink. Take off burner. Add a few drops of DOP vinegar. Cover. Allow the steam to infuse for a few seconds before serving. Note: DOP vinegar should never be heated.

Semboloni's Eggs Extraordinaire

Place 8 eggs in a container with 2.5 ounces of (white) truffles. Store for 2 days to allow the scent to permeate the eggshells. Fry eggs. Dab with butter. Add grated Parmigiano-Reggiano, a dash of pepper and slices of the fresh truffles.