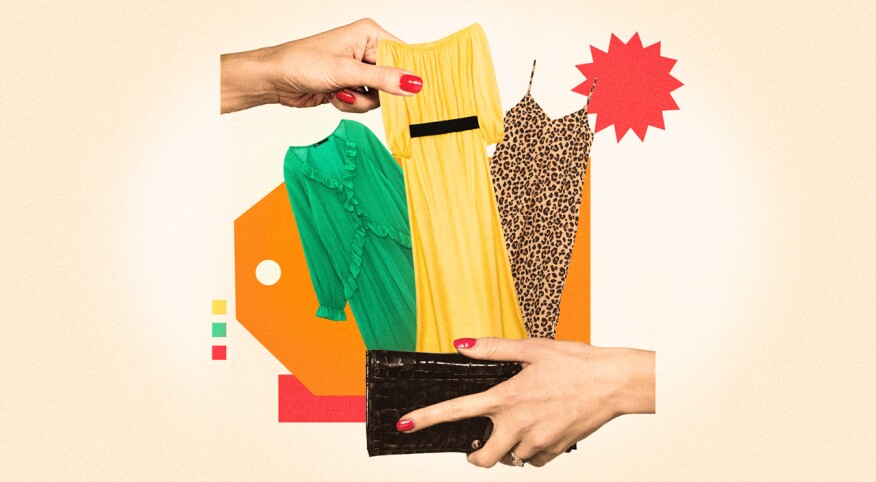 Earlier this year, I had the pleasure of attending the New York City Ballet spring gala — a $10,000-a-plate affair that, let me quickly add, I was invited to on someone else's dime.

Did I fret about what to wear among the likes of ballet company Chair Diana Taylor (the longtime paramour of Michael Bloomberg), actress Rosie Perez or ABC TV's Robin Roberts, or the other glitterati who had coughed up that $10K apiece for their tickets? No. I reached into my closet for the midi-length, black-lace A-line skirt that I'd bought nearly 30 years ago from Anthropologie for $60; a sequined top that I'd picked up in the teenage department of Bloomingdale's; and the trusty pair of satin Prada shoes that I've had for over a dozen years — the exact same outfit I'd worn two years before when I was the mother of the bride.

And frankly, folks, I looked stunning. With summer weddings, garden parties and other elegant events on the horizon, here are some tips for "tuxedo dressing," or putting together some fabulous yet frugal outfits and looking like a million bucks.



With apologies to Marie Kondo, do not throw out everything in your closet just because it's "not sparking joy" at a particular moment. Over a dozen years ago, I had tired of that lace Anthropologie skirt that's recently become my go-to — but I thought that someday it might come in handy. So, instead of giving it away, I stored it at the top of my closet in a box with various other pieces I might someday want to recycle. This summer I've also pulled out a pair of inexpensive Pucci-inspired flared pants from the '70s. not to mention a frilly $12 white blouse from H&M that's right on trend.

How to know what to save? Does it still fit? Is it in good condition — no rips in the fabric or frayed edges? Did you once love it? Like the stories of those couples who met in high school and reconnect 40 years later, you may very well fall in love with a frilly shirt all over again.

Look at online fashion magazines and photos of what favorite celebrities are wearing to find inspiration for online bargains. Last summer I bought a breezy, boho summer dress (the Long-Sleeve Floral-Print Retro V-Neck Tassel by R. Vivimos) in three different colors on Amazon for $30 each. Everywhere I went, people asked where I'd gotten it. Another cheap find that looks expensive is the flower-splashed bell-bottoms my friend scored at CVS for $9.99! My CVS doesn't sell clothes, but this makes me wish it did! So, turn to Walmart's black Time and Tru dress pant, straight leg, flat front and pockets — for $15.96. Pair them with a pretty top — such as LAPA's Sexy Deep V-Neck Flowy T-Shirt Blouse, also at Walmart for $18.95 — and you're set for summer soiree. At $79, H&M's beautiful blue mid-length V-neck lace dress might seem pricier than other choices, but it's the perfect outfit for a summer wedding and one that you'll wear time after time. And Lane Bryant's ruched midi-dress with a sexy, plunging neckline is striped — and this is a looker at $48.

If you love it, wear it again and again! Actress-comedian Tiffany Haddish wore the same white Alexander McQueen dress on at least eight public occasions, among them to host Saturday Night Live, a movie premiere and the Oscars — one of fashion's biggest nights. "It was, like, wow, I'm having these huge moments in this dress," she said. "I spent so much money, and every time I wear it, it's like another huge moment. Maybe next time I wear it, it will be at my wedding."

When I used to cover all the awards shows for the fashion column I wrote for TV Guide, I wore the same long black dress flecked with gold threads to the Emmys, the Tonys, the Grammys — and always felt terrific. Why not wear something that looks and make you feel fabulous over and over? On election night in 2012, Michelle Obama re-wore a gorgeous red brocade Michael Kors dress that she'd worn several times before. Her black-and-pink sleeveless shift from Target is another favorite that she'd not only worn a dozen years ago, but again recently when she arrived in Hawaii, and again on the trip home. If it's good enough for Michelle Obama and Tiffany Haddish — and Jane Fonda and Kate Middleton, who both wear their high- and low-end fashion finds on repeat — it's good enough for me.

An expensive purchase, like an Alexander McQueen dress or the Prada shoes I wear to complete my bargain outfits are worth it in the long run if you wear them again and again. I calculate that over the dozen years I've had my Pradas, I've worn them about four times a year — 48 wearings — which brings the average cost per wearing down to about $7.30. So, if you're going to wear something pricey and spectacular often, you can pretty much justify it as a bargain. My Emmys' slinky black dress was a $250 Cynthia Rowley design. Not cheap, though with multiple repeat performances, I've gotten more than my money's worth.

Tips for jazzing up a bargain buy? Replace the buttons. It's simple to switch out plastic buttons for metal, bone or mother-of-pearl, and it will instantly elevate your outfit. Match your metals — if you're wearing a gold buckle on your belt or shoes, for example, accessorize with gold earrings and jewelry.

Finally, consider a tailor and a home garment-steamer your two new best friends. Tailoring an outfit to give it a new lift doesn't have to be expensive — often your local dry cleaner can nip in a waist or let down a hem for as little as $15 or $20. Whether an outfit costs $12 or $1,200, wrinkles are going to ruin the look. Steaming is an effective way to smooth out almost any fabric — and it takes less time and effort than ironing. The Conair Complete Steam 1,100-Watt Handheld Fabric Steamer, $19.99 on various online sites, is my favorite. It's portable and packable and perfect for sticking in your carry-on bound for a destination wedding. And if we happen to run into each other at that wedding, you'll know how to spot me: I'll be the one wearing a black lace midi skirt, sequined top and Prada shoes.