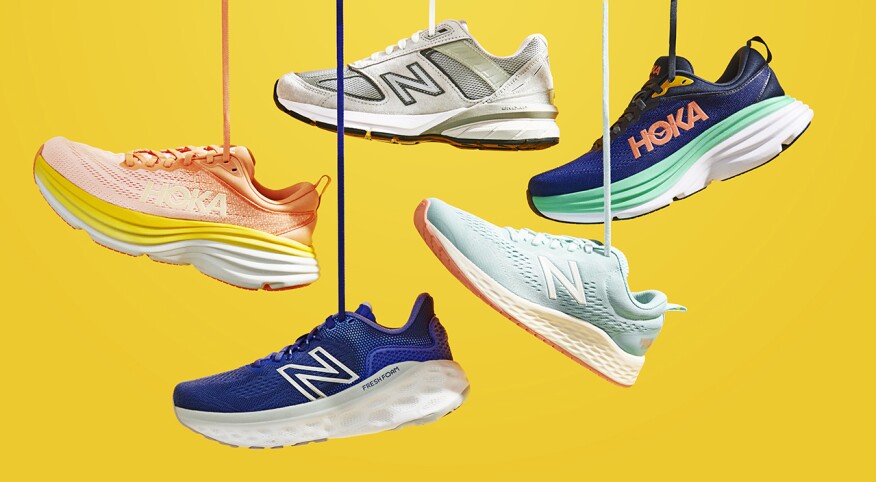 If Zappos ever decides to end its free return policy, you'll probably have me to blame. In the past few months, I have sent back five pairs of sneakers. Not because of style. Or color. Or even price. (Though, let's face it, good sneakers are not exactly cheap.) Like Goldilocks, nothing quite fit.

It turns out, according to experts, that most of us are shopping for sneakers all wrong. This not only leads to frustration but may keep us from enjoying favorite activities and potentially lead to injuries.

"If you notice that your sneakers seem to be exacerbating your pain or that your feet hurt after activity, your sneakers may be part of the problem," says Elizabeth A. Cody, M.D., foot and ankle surgeon at the Hospital for Special Surgery in New York. "The right sneakers can help reduce pain, improve the ability to walk or spend time on your feet, and prevent certain problems from worsening."

Finding the perfect fit begins with facing up to some (not so pretty) foot facts. Not only do brands revamp models frequently so that a pair you loved a year ago is suddenly not available, but our feet change as well.

"Women's feet change for a number of reasons as we get older," says Babak Baravarian, board-certified podiatric foot and ankle specialist in Santa Monica, California, and diplomate of the American Board of Podiatric Surgery. "If you have had a previous pregnancy, the same hormones that relax your muscles to give birth also relax the muscles in your feet, which may cause the arch to fall and add a length to your feet. Gaining weight will put additional weight on your feet and may cause the arch to collapse further."

Bunions, those bony protrusions that can form at the base of your big toe, can make finding the right fit hard. And then there are tendonitis, plantar fasciitis and neuroma, a painful condition that affects nerves in the ball of your foot and can make it feel like you are standing on a rock.

If you have one or a combination of the above, finding the right sneaker can make the difference between saying "Argh" or "Ahhhh."

The trick is to know what to look for. "Most people think getting a sneaker with softer cushioning will reduce pain, but the opposite is true," Baravarian says. "Ninety percent of my patients need a sneaker with more structure, so the foot is less able to sway side to side. If you have a neuroma, for example, and wear a sneaker with a soft, mushy sole, your foot will move all over the place, which irritates the nerve between the bones. A firm sole with some structure to it will also absorb shock."

That doesn't mean you have to opt for a hard leather sole. There are options that build stability through multiple layers of foam.

"For most people with foot problems, a sneaker with a thicker, stiffer sole is better," Cody agrees. She suggests doing a simple test when shopping. "Try to bend the sneaker from heel to toe to get an idea of how stiff the sole is. A good sneaker should be very difficult to bend." She also recommends looking for sneakers with a rounded, "rocker-style" bottom, which helps decrease stress on your foot when you walk. "This is especially good for people with plantar fasciitis," Cody adds.

If you wear orthotics, be sure to take them with you when you try on sneakers. Since orthotics give additional structure to the shoe, you need to look for styles that are comfortable with those add-ons. Orthotics or not, it's a good idea to take along the socks you plan on wearing with the sneakers, as that also affects the fit.

While a structured sole is preferable for most people, when it comes to the upper part of a sneaker, the opposite is true. Anything too rigid can squeeze your foot and cause pain, particularly if you have bunions. "A wider shoe with soft uppers will be more accommodating," Cody says. It's a good idea to steer clear of uppers that have Velcro straps that can rub and irritate your skin.

Different activities call for different types of sneakers. Models designed for walking and running tend to have the same basic structure. If you play any racquet sports, such as pickleball, shop for tennis sneakers, which are designed to provide stability for lateral movements and have a lower heel to allow for side-stepping.

No single brand is perfect for all feet, but podiatric and ankle specialist Baravarian has a few recommendations. "Hokas have strong soles while still being comfortable," he says. "I also really like New Balance, including the 990, 2002 and 1500 models." Both brands offer a range of widths in most styles. "For tennis, the Adidas Barricade is a great choice," he adds. "One thing to also keep in mind when looking for the best fit is that ASICS tends to run wider, while Nikes usually run a little narrow and long."

Finding the right sneakers can take some trial and error, but it's worth it if it keeps you active. Admittedly, some of the boutique brands tend to be pricey, but because sneaker styles change so frequently, it's possible to score some good deals on older models.

One last (very personal) tip: If you are returning sneakers, you bought online do not, under any circumstances, make the mistake of sending back your custom-made orthotics along with them. Trust me on this. It does not end well.

Where do you buy your sneakers? Let us know in the comments below.