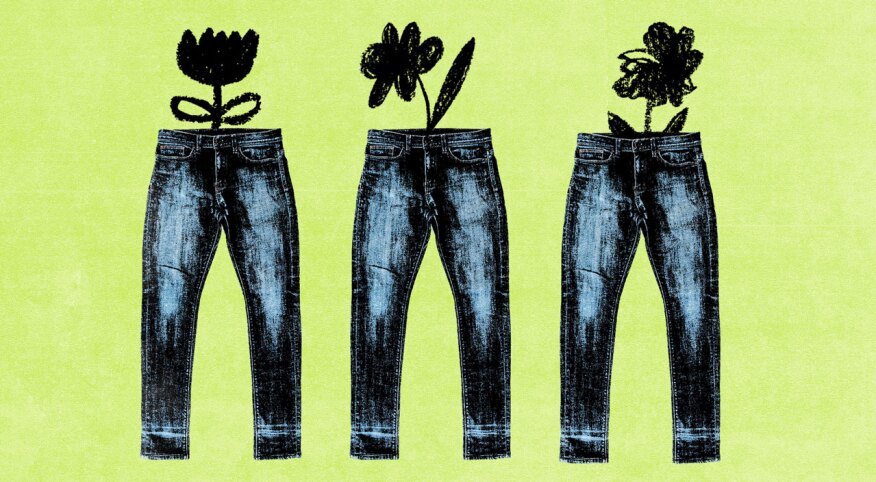 Does it spark joy? When posed in the midst of a sorting, purging and organizing binge, tidying pro Marie Kondo's simple question feels too far down the pipeline to truly be satisfying. Instead, wouldn't it be better to ask the hard questions before we pop an item into our shopping cart in the first place. Questions like, how much joy does this spark? And, do I need it or just want it? This point of view may seem ironic coming from me, someone who frequently writes about the fleeting whims of fashion. But it's because I've spent so much time thinking about this subject that I've found it's wise to have a strategy that protects your budget and closet space from rampant consumerism.

As we approach the 53rd annual Earth Day celebration on April 22, it's also fitting to consider the downstream effects of this consumerism on our natural resources and landfills.

According to the Ellen MacArthur Foundation, a circular-economy advocacy charity based in the United Kingdom:

∙ Every second, one dump truck-size load of clothing finds its way into a landfill or incinerator somewhere in the world.

∙ In New York City, 200 million pounds of clothing are sent to landfills annually.

∙ Americans wear their clothing about a quarter as often as the global average, discarding some pieces after only seven to 10 wears.

What can we do to be part of the solution instead of contributing to the problem? These seven suggestions can point us in a more mindful direction.

Curb your consumerism

To avoid rash purchases, put some guardrails in place. I seldom buy an item the first time I see it. Instead, I file it away for future consideration. If I keep circling back to think about it and imagining it paired with items in my wardrobe, then I know it's worth a second look and possibly buying. While this can be frustrating for them when they shop with me , my daughters and friends now accept this as part of the drill. Once o n vacation, I missed seeing Niagara Falls. That's because we were heading in the opposite direction to retrieve a scarf I'd seen two days before that I couldn't stop thinking about. It's now been worn dozens of times and has become a cherished accessory. While this approach won't work for everyone, it's an example of how we can tap the brakes on emotional purchases we later regret. And if something gets away because we waited, so be it. There will be another.

Embrace quiet luxury

Quiet luxury is a fashion trend that's gaining momentum 2023. It emphasizes the importance of quality over quantity. This strategy makes so much sense in the context of Earth-friendly fashion. Why buy 10 pairs of inexpensive shoes that don't fit quite right when two or three quality pairs will last longer and look better for the same price? This season, the focus is on elegant staples that combine for a luxurious look and will still be around to mix and match with future trends in the years ahead.

Wash and wear, not wear and wash

With few exceptions, most garments don't need to be washed after every time they are worn (those exceptions being undergarments and anything soaked with sweat or covered in dirt). But w hy wait to wash? Garments' fibers break down over time when they are washed in the washing machine, and more so in the dryer . Even cold water and the gentle cycle take their toll. Levi Strauss, for example, recommends wearing its jeans at least 10 times before washing them, to maximize the longevity of its denim. And Scandinavian minimalists H&M dedicate the Take Care section of their website to proper washing techniques . These are important considerations as more jackets, skirts and pants sport "machine washable" tags rather than "dry clean only."

Repair, renew and rewear

We may not be able to give our clothes nine lives, but often we can eke out at least two or three if we stay open to opportunities. Having noticed my affinity for cardigans, a colleague at work delivered one in a gift bag, saying, "Before I donated it to Goodwill, I thought I'd see if you wanted it." An interesting pitch to be sure, but one with a pleasant surprise — the cardi had potential. After a quick trip to the fabric store to swap out the overly dramatic rhinestone buttons, I had a trendy snow leopard print to mix into my black-and-gray rotation. Fabric aisles [4] and stores are great resources for making quick repairs that breathe new life into garments. They have the tools you need to replace a missing button, stitch up a drooping hem and mend the hole in a favorite sweater. The ultimate goal is to rescue a garment for another season or a future trend cycle.

Patronize brands that are finding creative solutions

Across the price spectrum, brands are delivering options that use (or reuse) resources more efficiently. Sometimes that involves manufacturing fabric in a way that uses less water . For example, the Gap's Washwell denim collection is created using 20 percent less water than conventional methods. Efficiency can also apply to a garment's design, as with Banana Republic's innovative seamless knits , which decrease waste by 10 percent . Knitwear for the ReCashmere line at Everlane and the 90/10 collection at Reformation is made with recycled wool and cashmere . By Pariah recycles gold vermeil for its bestselling The Sabine earrings. Some brands have recycling programs that recover items at the end of one life cycle and ready them for the next. Boutique underwear company Knickey accepts donations of old undies and tights, which can be turned into nylon and elastane trims. Fashion powerhouse Miu Miu uses recycled plastic sourced from the ocean for the regenerated nylon version of its iconic Wander matelassé hobo bag.

Consider buying second hand

You can find the modern-day equivalent of garage sales, estate sales and sidewalk sales in the digital marketplace. Brands from Levi to Eileen Fisher offer pre-owned items from their collections on their websites. The RealReal does the same for a range of pricey couture lines, while Poshmark, thredUP and Mercari focus on more affordable mainstream offerings. All deliver a solid shopping experience for those who don't mind not being first.

Renting is the new recycling

Renting makes sense on so many levels. It lets you sample something new without feeling guilty about it, because soon it will be on to its next admirer. The experience of renting special occasion dresses inspired Harvard University students to launch Rent the Runway in 2009. Other rental and subscription services have stepped up to expand the array of options. Nuuly stocks brands such as Anthropologie, LoveShackFancy and Free People. Armoire offers 300+ high-end collections in sizes 0-24. And Vivrelle specializes in top-tier accessories like handbags from Bottega Veneta and jewelry by Cartier.

Whether you start small or go big, these suggestions can help save and salvage our resources — not just on Earth Day but every day.

What do you think of the ideas above? Have you ever rented an outfit? Let us know in the comments below.