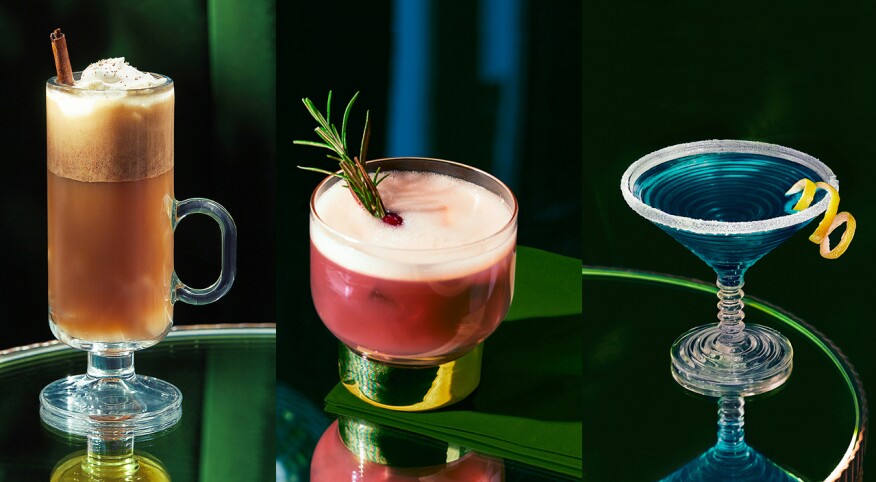 One of my favorite memories from childhood is a trip our family took to northern Tennessee for Christmas. We stayed in a wooden A-frame house nestled in mountains blanketed with snow — yes, at the time, there was snow there. It looked like a cozy scene right out of a Norman Rockwell painting and was also the first time this Florida girl saw snow, making the trip even more memorable. The centerpiece of the main living room was a massive stone fireplace, where my parents sat and sipped their spiked eggnog by the Christmas tree.

Although my mother seldom made eggnog from scratch, she used a good quality store brand and served it to the adults with an ounce of white rum and a sprinkle of nutmeg over the top. As kids, we drank the nonalcoholic version, and it became one of my favorite holiday beverages. Everyone has a preference for what liquor to put in eggnog, but I have stuck with my mother's simple recipe, sometimes using spiced rum for extra flavor.

Another popular drink I serve guests during the holidays is hot cocoa with an ounce of peppermint-flavored schnapps added to the rich chocolate. It's like drinking a Peppermint Pattie!

If you're expecting guests during the holiday season or just planning a quiet family evening by the fire, try these other drinks to warm you up during the chilly winter months. For nonalcoholic versions of these recipes, replace champagne with sparkling white grape juice or alcohol-free sparkling wine. Replace Cointreau or blue Curacao with orange juice, and replace vanilla vodka with cream soda.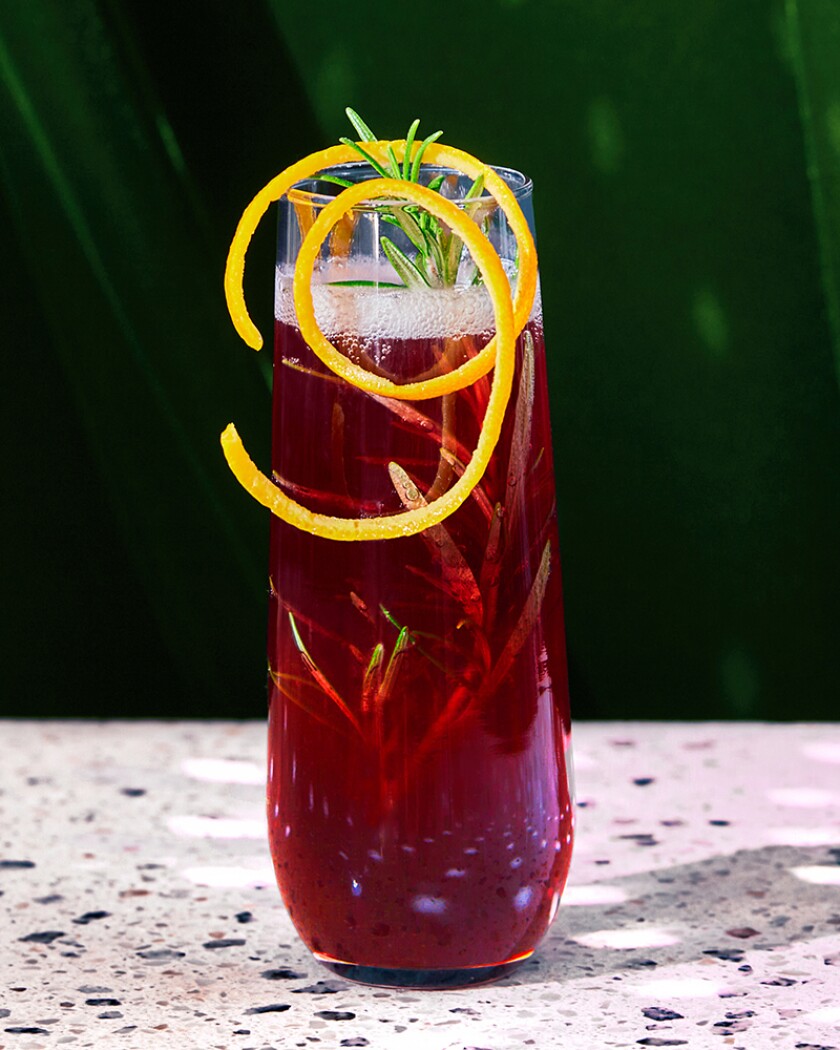 POINSETTIA CHAMPAGNE COCKTAIL

Makes one serving

1/2 oz. Cointreau (or any orange liqueur)

3 oz. unsweetened cranberry juice

3-4 oz. chilled champagne

Directions:

Pour Cointreau and cranberry juice in a champagne flute and fill with chilled champagne. Garnish with a few whole cranberries and a sprig of fresh rosemary.

Pro Tip: For a party, mix several batches of Cointreau and cranberry juice; chill in the fridge for several hours before serving.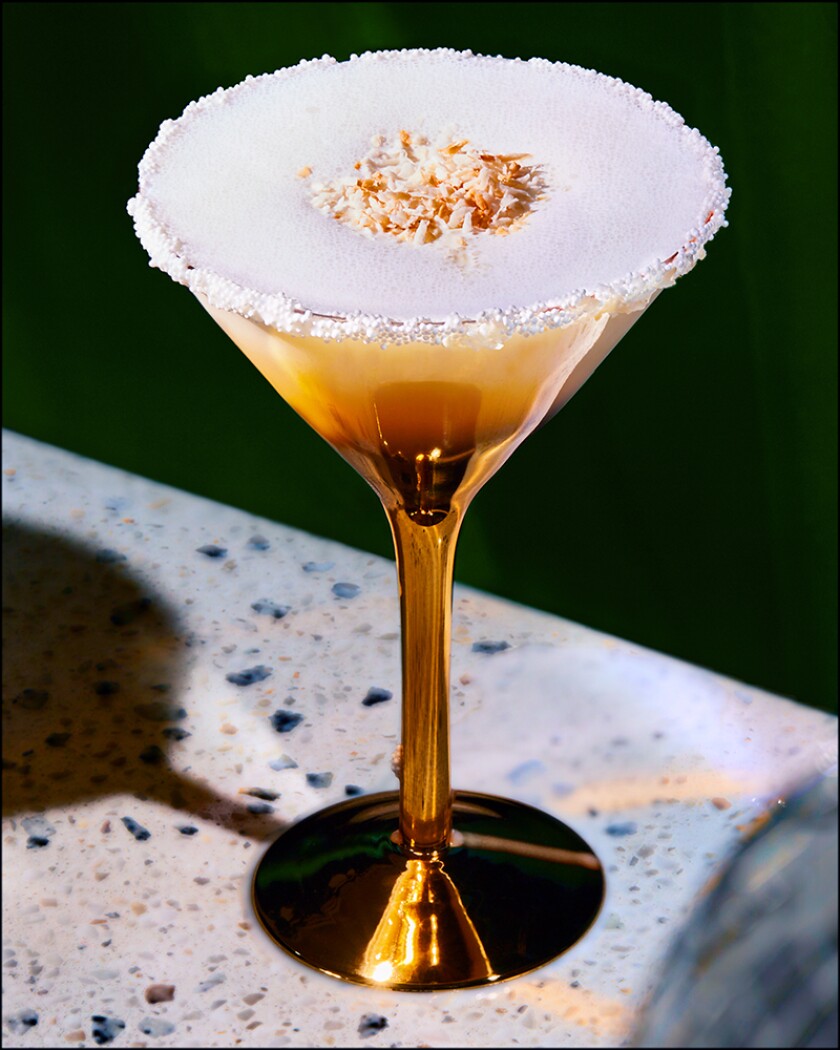 WHITE CHRISTMAS MARTINI

Makes one serving

2 oz. vanilla vodka

2 oz. Godiva white chocolate liqueur

1 oz. white cream de cacao

1 oz. half-and-half

For a decorative rim, use sugar, toasted coconut or white nonpareil sprinkles.

Directions:

Prepare rim by dipping martini glass edge in a saucer that has a very thin layer of either simple syrup or corn syrup, then dip it in a shallow bowl filled with the rim topping of your choice. Pour vodka, liqueur, cream de cacao, and half-and-half into a shaker filled with ice. Shake for 10-15 seconds, strain, then pour into the martini glass.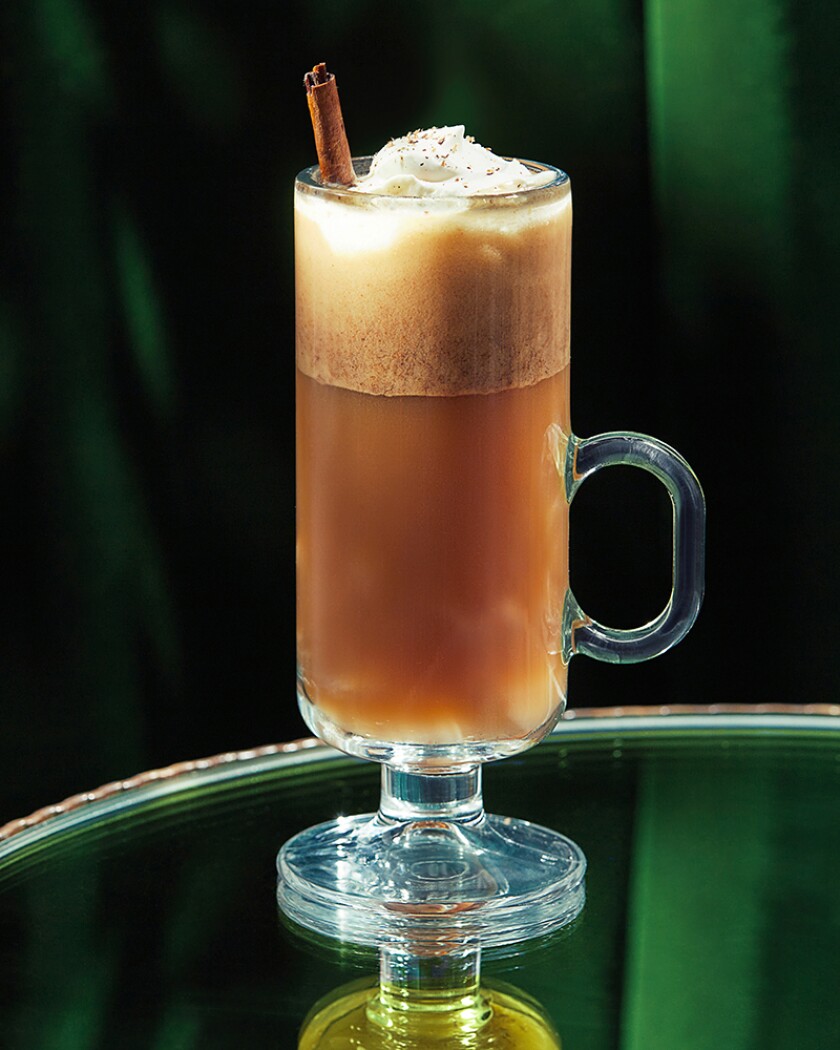 HOT BUTTERED RUM

Makes four servings

2/3 cup packed dark brown sugar

1 stick butter, softened

1/4 cup honey

1/2 teaspoon cinnamon

1/4 teaspoon nutmeg

1/8 tsp ground cloves

1 teaspoon vanilla extract

Pinch of salt

2 cups boiling water

3/4 cup spiced rum (or a dark rum)

Garnish with whipped cream and cinnamon sticks.

Directions:

Blend sugar, butter, honey, spices, vanilla extract and salt with an electric mixer until smooth. Add rum and boiling water and stir until the butter completely melts. Pour into 4 mugs (clear glass mugs are the prettiest for this recipe!). Garnish with whipped cream, a sprinkle of nutmeg and a stick of cinnamon.

Pro Tip: You can double or triple this recipe and make it ahead of time by using room-temperature water, then heating it in a large pot on the stove when you are ready to serve it to your guests.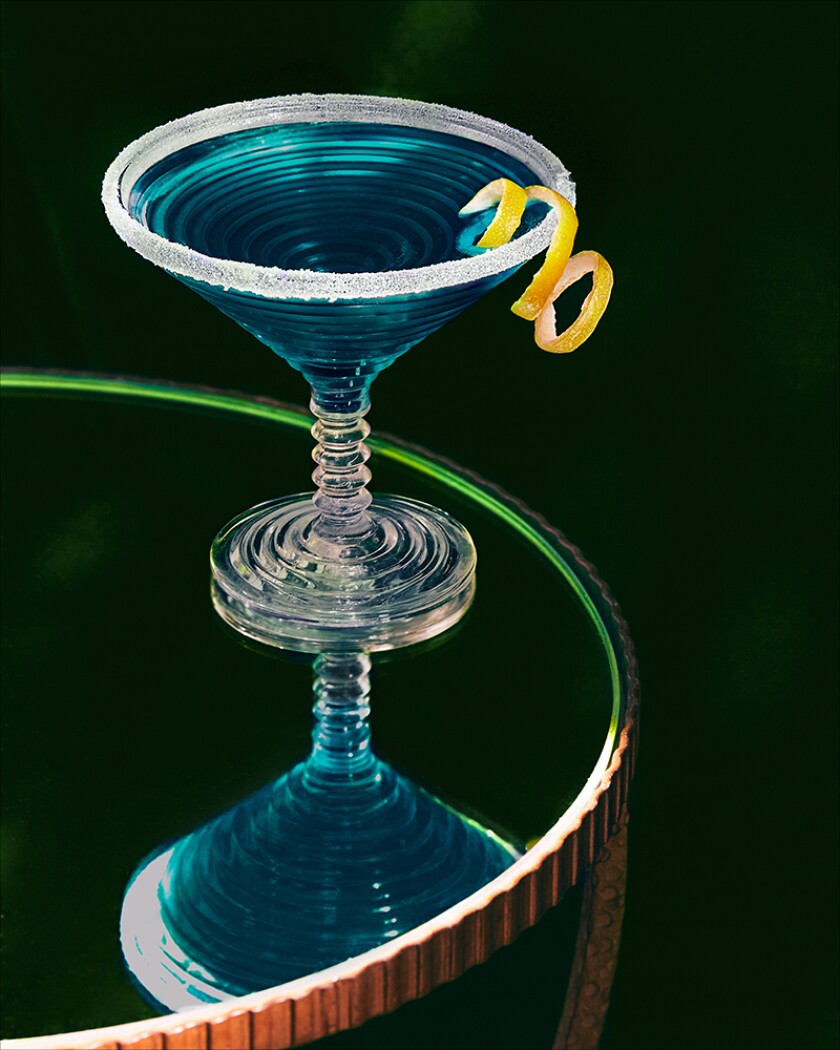 MENORAH MARTINI

Makes one serving

3 oz. vodka

1/2 oz. sweet vermouth

1 tablespoons blue Curacao

Garnish with blueberries or lime twist.

Directions:

Rim a chilled martini glass with sugar. Pour the vodka and sweet vermouth into a shaker filled with ice. Shake 10-15 seconds. Strain and pour into the martini glass and top with blue Curacao. Garnish with blueberries or a lime twist.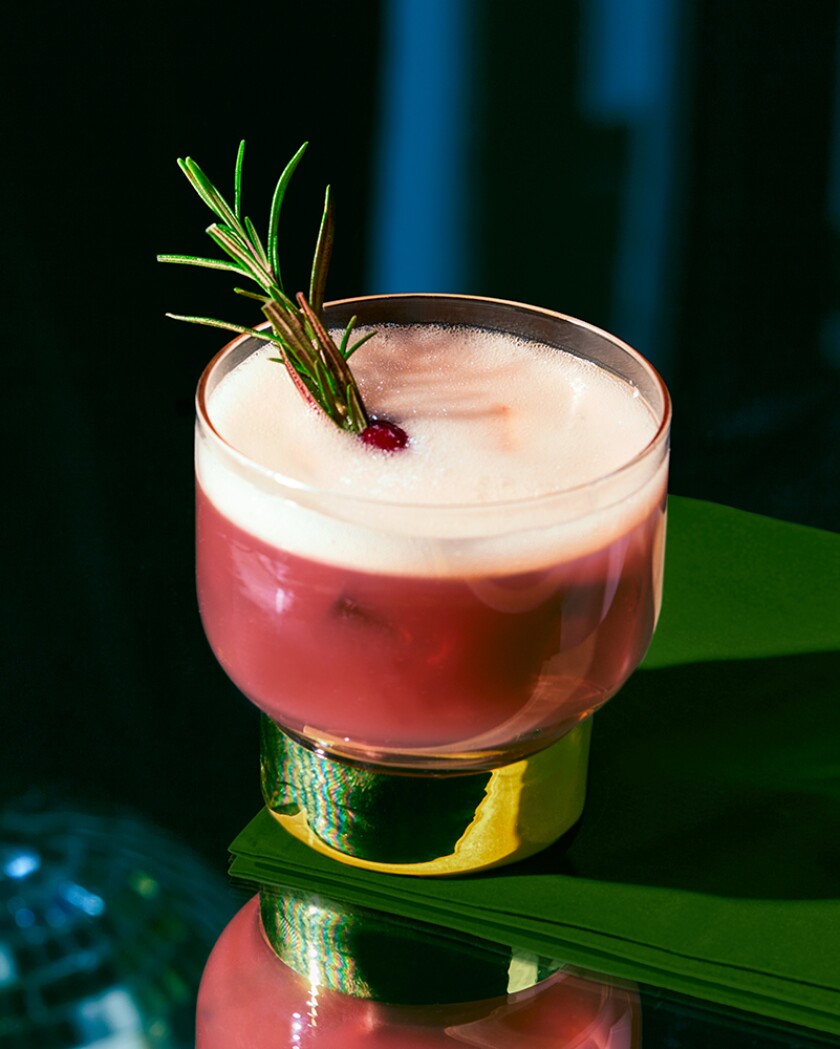 CHRISTMAS PUNCH

Makes 8-10 servings

3 cups 100 percent cranberry juice

1 cup pomegranate juice

2 cups orange juice

1 cup apple cider

2 bottles Prosecco

1 1/2 cups diet ginger ale or diet sprite

1 1/2 cups spiced rum

1 bag ice

Garnish with orange slices and whole cranberries; add a sprig of fresh rosemary to each glass. Chill the four juices, Prosecco and soda for several hours in the fridge. In a punch bowl, add the bag of ice, then combine all the ingredients and stir until well mixed and cold. Add orange slices and whole cranberries for a floating garnish. Serve in punch cups.
INA GARTEN'S MULLED WINE

Makes 8 servings

4 cups apple cider

1 (750 ml.) bottle red wine (cabernet sauvignon)

1/4 cup honey

2 cinnamon sticks

1 orange (zest and juice)

3 star anise

Optional: Add a splash of brandy, bourbon or cognac; substitute maple syrup for the honey.

Directions:

Pour all ingredients into a saucepan, bring to a boil and simmer on low for 10 minutes. Divide liquid into eight mugs and serve with a twist of orange peel.

Pro Tip: To make this recipe ahead of time, place ingredients in a slow cooker on low heat for one hour. Reduce heat to "warm" and let sit until ready to serve.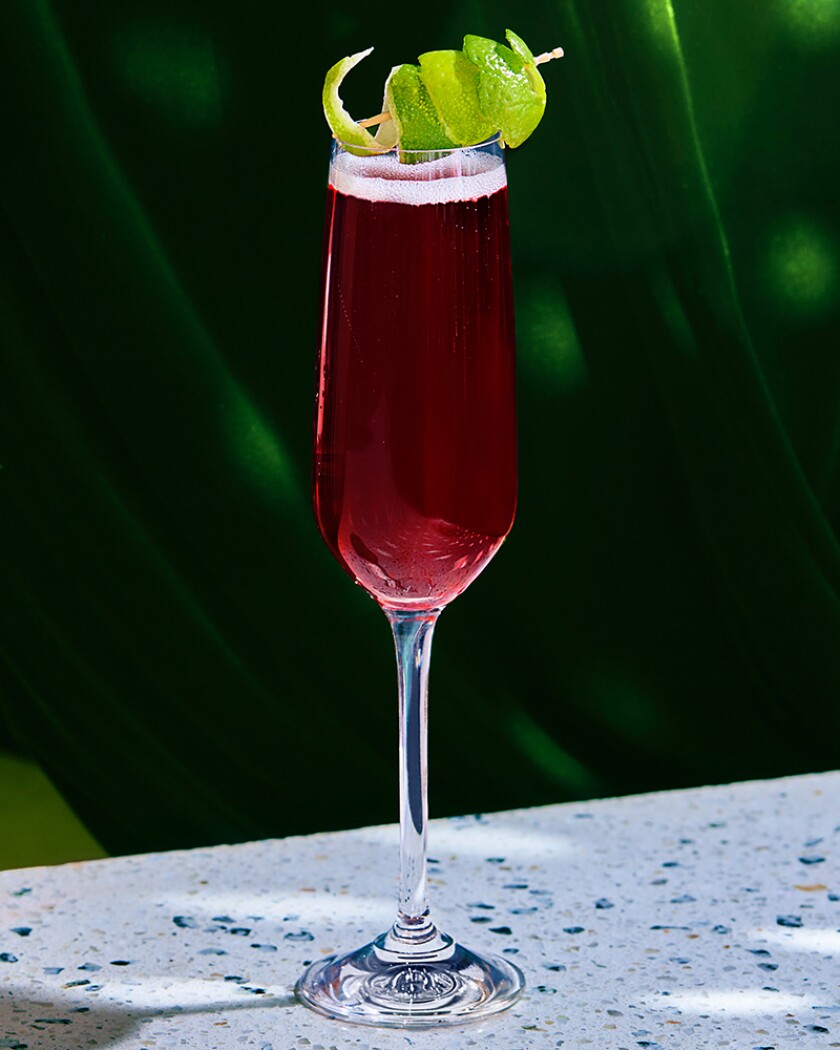 CHAMPAGNE WITH A TWIST

Throughout the holiday season — especially to ring in the New Year — mimosas are always a good choice. The traditional mimosa calls for 1-2 oz. of orange juice added to your bubbly, but you can bump it up with a splash of orange liqueur. Kir Royales are also a delightful change — just add 1/2 oz. of Chambord or crème de cassis to your champagne. For a new twist on the original mimosa, skip the OJ and add another juice instead (mixed in equal parts — half champagne, half juice), such as pineapple, mango, pomegranate or peach nectar.

Enjoy your beverages of choice with your family, and cheers to all for a merry and healthy holiday season!

Set designe: Xia Cospito-Liu; Food/Beverage Stylist: Kristin Paquette