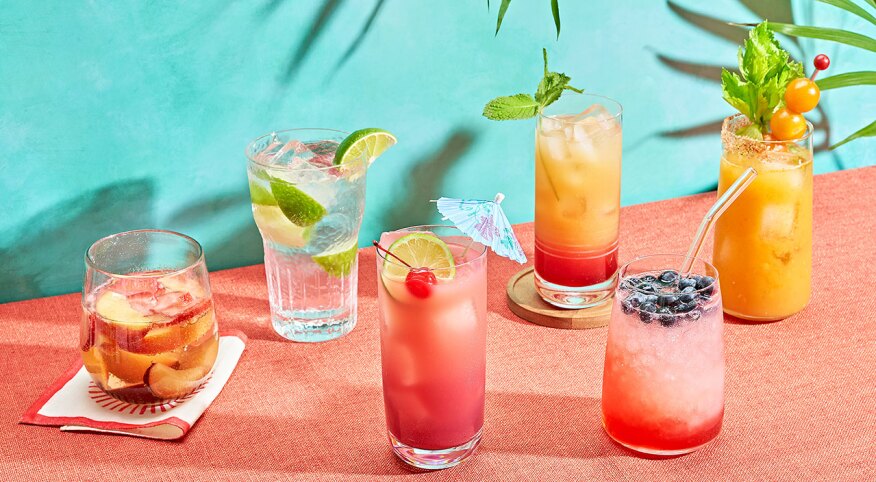 My father taught me how to craft a gin and tonic when I was 10, which would be unthinkable today. My mother never drank, even though her immigrant mother made bootleg gin in her bathtub and sold it during Prohibition to pay the rent.

On summer eves Dad enjoyed an after-work refresher on our porch. I felt grown up being his underage bartender, eager to bond with my taciturn, distant dad. Back then I had a crush on Sean Connery, who ordered G&Ts in Dr. No.

As an adult I've been fortunate to have friends at the beach, and we join together in our tradition of toasting sunsets with libations that celebrate the magic when the sky transforms into a painter's canvas.

Now, wherever I am during lazy summer nights, I enjoy bold-colored or classic thirst-quenchers that live up to the blaze of the setting sun. I may not be in Key West or Maui, but when the sun goes down, I take time to relax and enjoy nature's sky show — even if it's in a tiny backyard. Here are recipes for cocktails and mocktails that will make every sunset memorable.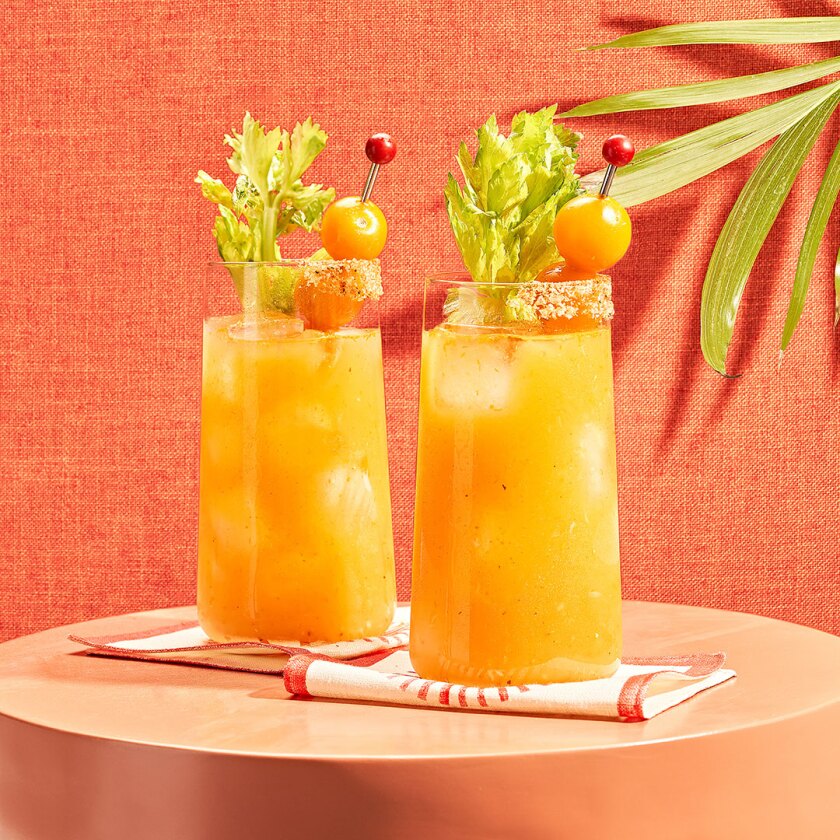 Golden Sunset in a Glass

Adapted from Yummly & Epicurious

A traditional Bloody Mary is so 2021. Instead, head to your local farmers market to create a sunset drink made from the sweetest sun gold tomatoes.

Serves 2

Ingredients

1 pound sun gold tomatoes

1½ to 2 ounces vodka

¼ tablespoon horseradish

½ teaspoon Worcestershire sauce

⅛ teaspoon Old Bay spice

Salt, pepper and Tabasco to taste

Directions

Cut tomatoes in halves or quarters, depending on size. Purée and chill. Strain through food mill or sieve. Add remaining ingredients. Pour an ounce of vodka over ice, and then fill glass with homemade juice. Top with extra sun golds, stir with a celery stick. This radiant drink easily converts to a mocktail by omitting the vodka.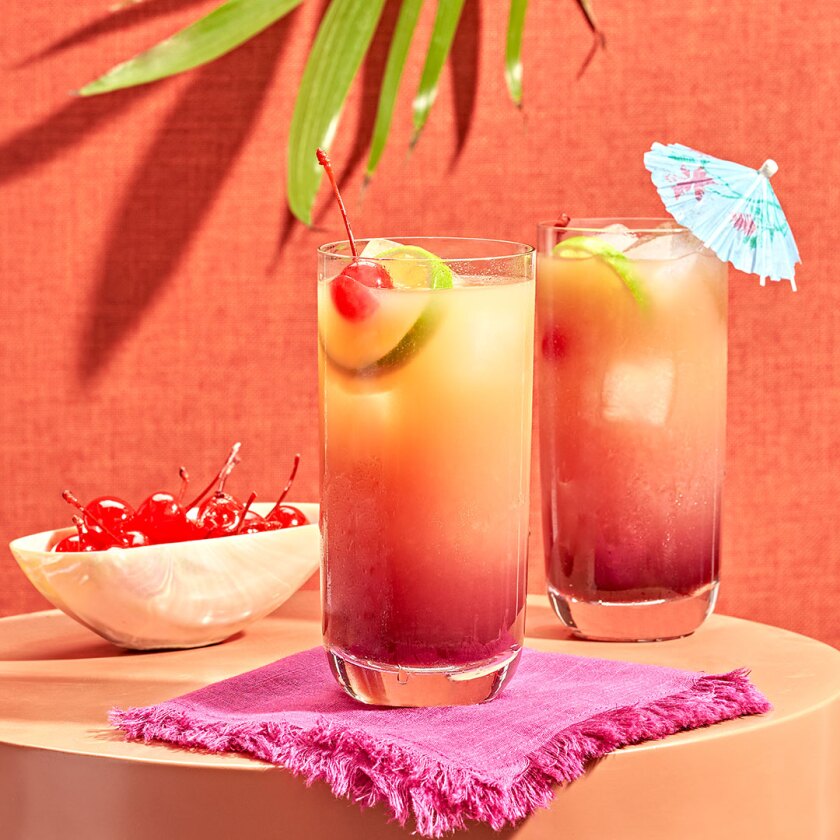 Tequila Sunset

The more familiar Tequila Sunrise turns into Sunset by swapping grenadine for blackberry brandy. The Eagles wooed us with "Tequila Sunrise," but when the sun descends into the horizon, it's Tequila Sunset time.

Serves 2

Ingredients

2 ounces tequila

4 ounces grapefruit or orange juice

Blackberry brandy

Lime wedges

Fruit slices or maraschino cherries for garnish

Directions

Pour tequila and juice over ice. Carefully dribble brandy into each glass, watching it sink to the bottom. Do not stir. Squeeze in lime. The striated layered look matches sunsets everywhere.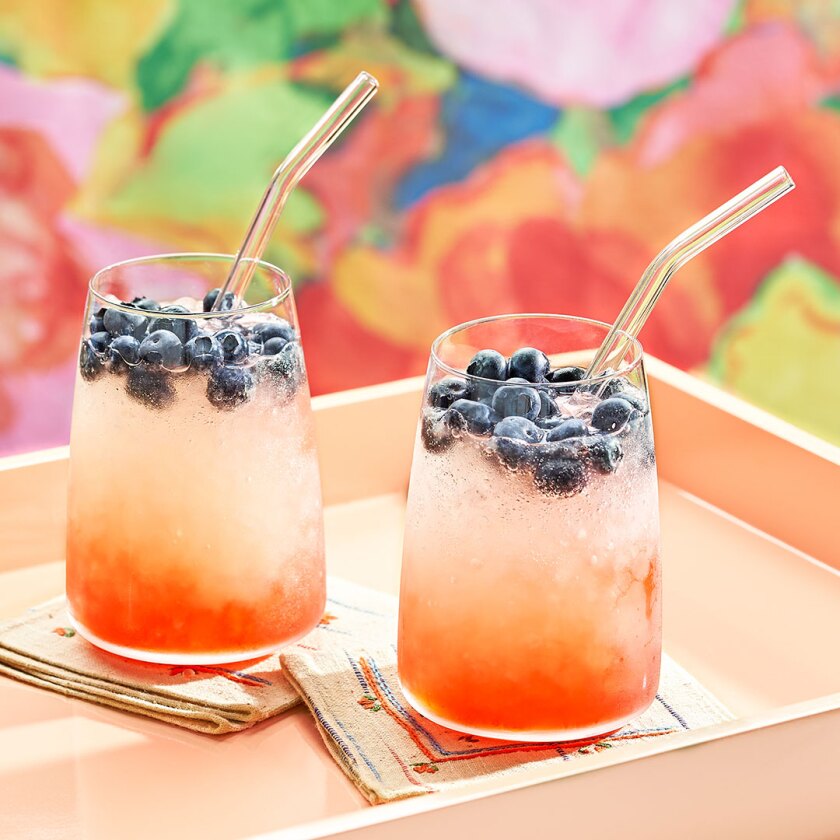 Very Berry Sparkler

Adapted from Whidbey Island Distillery, a three-generation family distillery in Washington state

This red, white and blue beverage is perfect for the Fourth of July — or any evening before twilight.

Serves 2

Ingredients

3 ounces gin

3 ounces limeade (or lemonade)

3 ounces sparkling water

Red berry liqueur

Blueberries

Directions

Pour gin and limeade into two glasses filled with ice. Top with sparkling water, leaving space at the top. Slowly drizzle liqueur down the inside of your glass, where it will settle to the bottom. Crown this flag-in-a-glass with a layer of blueberries on top.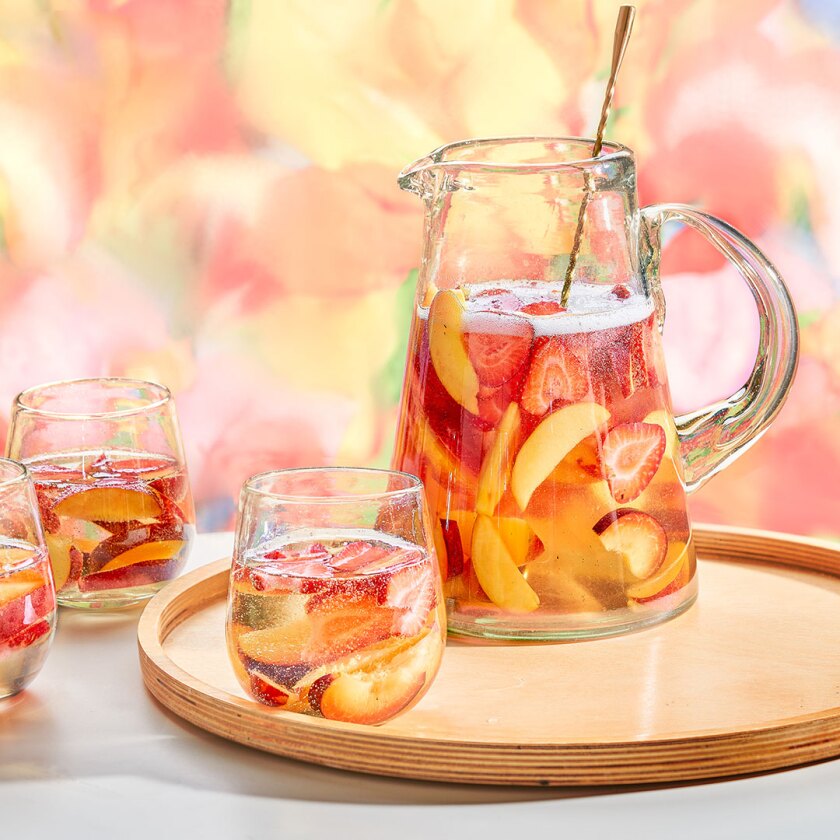 Fruity White Sangria

Everyone thinks "red" when it comes to this grownup punch dating back to 200 BC. But white sangria is a lighter drink after a 90-degree day.

Serves 4

Ingredients

One bottle of sauvignon blanc, pinot grigio, or albariño

Assortment of summer fruits (berries, peaches, plums, nectarines)

4 cups sparkling water

Brandy, Grand Marnier or triple sec (optional)

Sugar or agave to taste (optional)

Directions

Chill wine. Cut fruit into chunks, and toss into a tall pitcher. Add chilled wine and sparkling water. Brandy and sweeteners are optional. Stir with a wooden spoon. Chill in the fridge, letting flavors marinate. Top off each glass with berries before the sun goes down.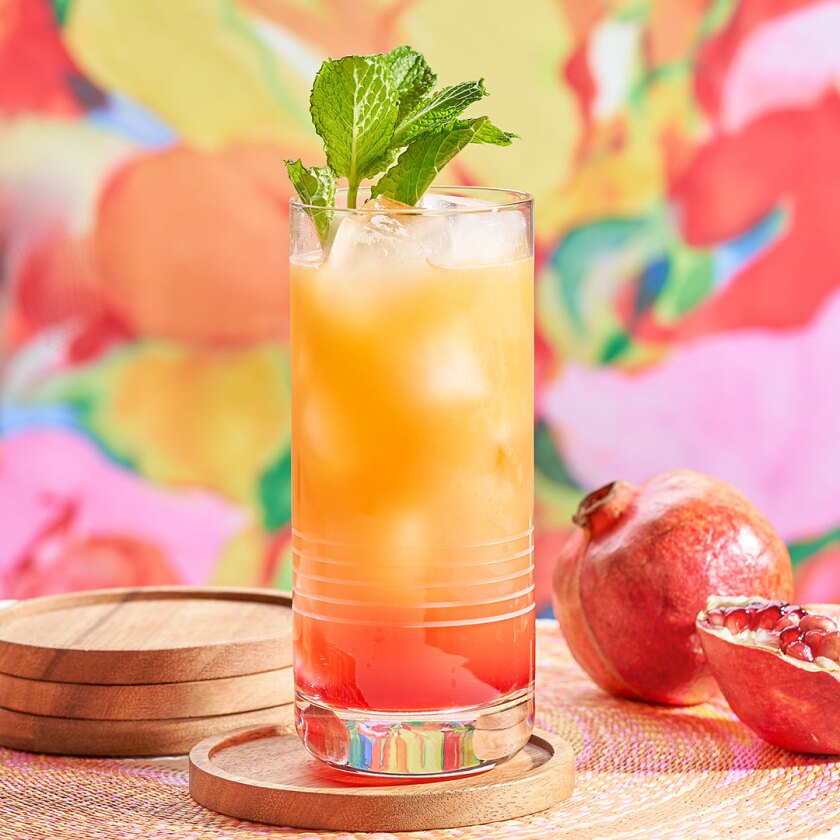 Juicy Sunset Mocktail

Adapted from allrecipes.com

Store-bought grenadine has high-fructose corn syrup and red dye, but you can make your own syrup with one part pomegranate juice, two parts sugar, lemon juice to taste — all dissolved in a saucepan and cooled.

Serves 1

Ingredients

Store-bought grenadine or homemade pomegranate syrup

Mint or basil leaves

Equal parts orange, cranberry, and pineapple juices

Directions

Fill a glass with lots of ice. Add juices. Carefully add a splash of grenadine or pomegranate syrup on top, careful not to let colors blend together. Garnish with sprigs of fresh herbs.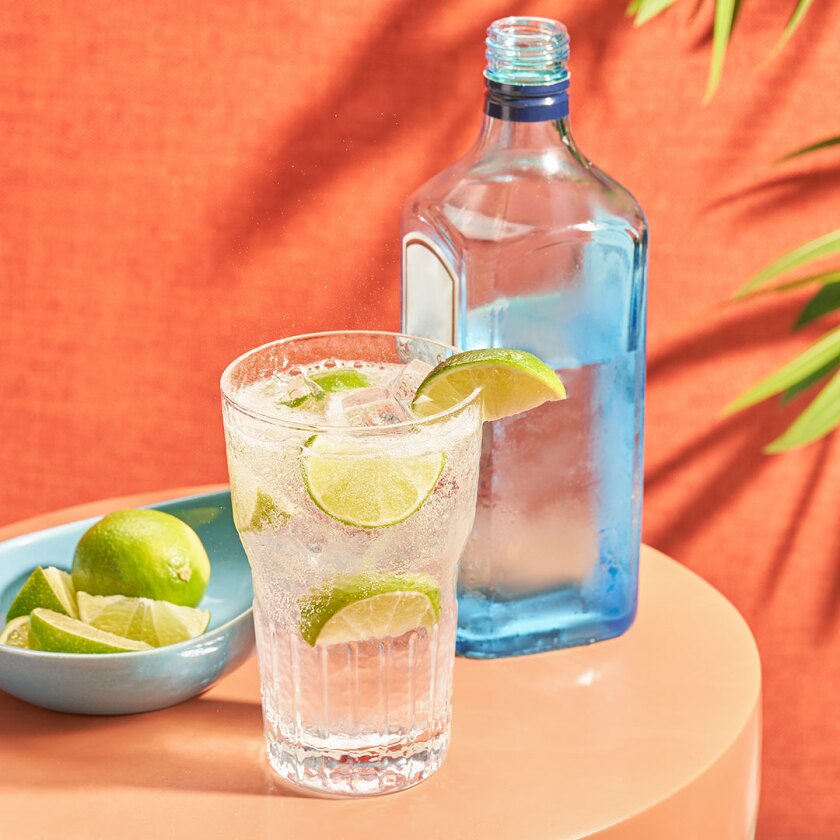 Gin & Tonic

Traditional tonic is quite sweet, but new brands have less sugar (Fever-Tree, Q, Boylan).

Ingredients

1½ to 2 ounces gin per glass

3 to 4 ounces tonic

Lime wedge or whole lime

Directions

You can't go wrong with this three-ingredient cocktail. All you need is a tall glass, chilled tonic and fresh-squeezed lime. My former crush, James Bond, had a particular method: He cut an entire lime in half, squeezing all into an empty glass, before adding lots of ice, gin and tonic. He drank it on the balcony of his hotel with a view of Jamaica's Kingston Harbour.

I didn't care for this classic summer drink until I was in my 60s, long after my father was gone. His aloof nature made me question how much he cared about me. Only through the passage of time did I realize how much he loved me even though he didn't express it in words. We bonded occasionally: ice skating in December, swimming in summer. We weren't close, but I miss him. Nowadays, whenever I have a G&T at sunset, I toast my dad.