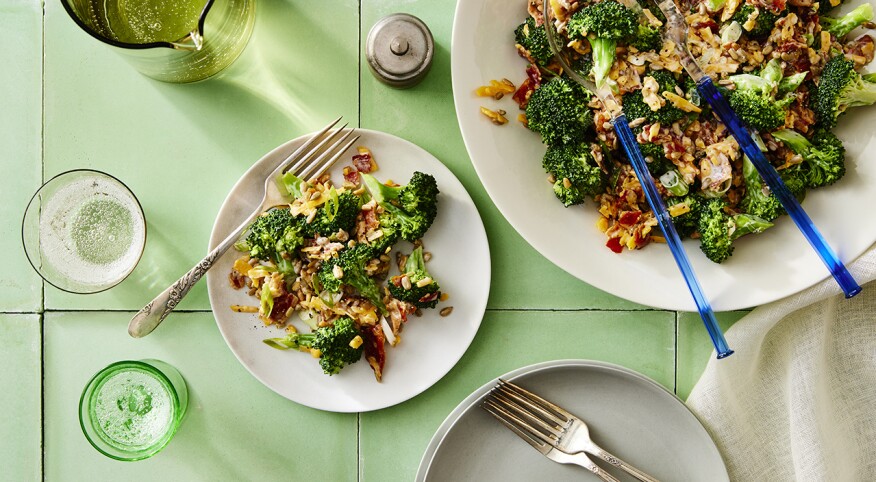 When the temperatures reach 90 and above, I avoid my oven so I don't heat up the house. Instead, I make dishes with minimal stove time that can be chilled in the refrigerator. My husband and I love dining alfresco, and there's nothing more relaxing than a bowl of chilled soup with a nice, crusty loaf of French bread, or cold, crisp vegetables packed with protein. It's a light, refreshing meal to enjoy while we watch the sunset over the garden.

Here are five easy recipes sure to cool you down this summer.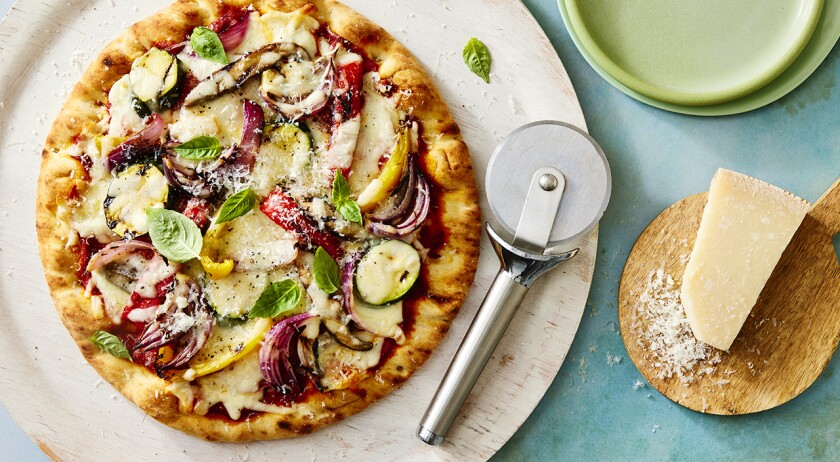 Grilled Vegetable Pizza

Who doesn't love pizza? Summer is the ideal time to take advantage of fresh produce from the market. This yummy pizza recipe require no oven time!

Makes 6 slices

4 portobello mushrooms, washed and brown gills removed from underside

1 yellow bell pepper, sliced into strips

1 red bell pepper, sliced into strips

1 zucchini, cut into ¼-inch slices

1 red onion, thinly sliced

1 tablespoon red wine vinegar

1 tablespoon water

3 tablespoons olive oil

1 teaspoon fresh minced garlic

Salt and black pepper to taste

*Optional: ½ teaspoon red pepper flakes

1 12-inch prebaked pizza crust or flatbread

1 8 ounce jar tomato sauce (or Alfredo sauce for white pizza)

2 cups shredded mozzarella

2 tomatoes, thinly sliced

¼ cup fresh basil leaves, thinly sliced

¼ cup fresh grated Parmesan

Mix vinegar, water, 2 tablespoons of olive oil, garlic, salt, pepper and red pepper flakes* in large bowl. Add the first 5 vegetables to the bowl and coat evenly with seasoned oil and vinegar. Place veggies in a grill basket and cook on grill, covered, over medium heat until tender (8-10 minutes). Remove vegetables, slice the mushroom caps and set aside.

Brush crust with the last tablespoon of oil, then spread pizza sauce over all. Top with the fresh vegetables, add tomato slices, sprinkle with mozzarella. Cook on grill, covered, over indirect heat until crust edges are light brown (10-12 minutes). Rotate the pizza halfway through the cooking process to ensure the crust gets evenly browned. Remove and top with fresh chopped basil and P. Cut into six slices and serve.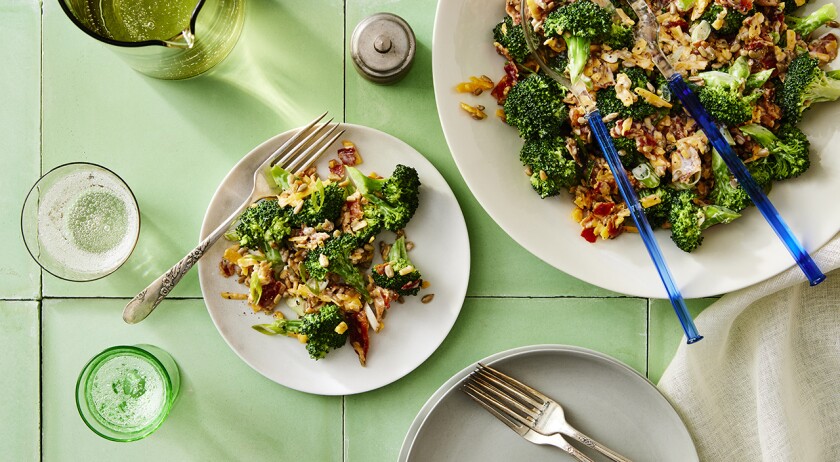 Cold Broccoli and Bacon Salad

This classic recipe was always served during playdates when my kids were young. I've added more broccoli and seeds for extra crunch and protein.

To cut calories, skip the Miracle Whip and substitute vegetarian 'bacon bits,' chickpeas or mushrooms for the bacon.

Serves 4

1 ½ large heads of broccoli cut into bite-size florets

½ cup scallions, chopped

½ cup shelled sunflower seed

1 cup light Miracle Whip

2-3 tablespoons red wine vinegar

2-3 tablespoons sugar

Dash of black pepper

1 cup grated cheddar

6 strips bacon, cooked and crumbled

Mix together first 3 ingredients and set aside. In bowl, mix mayo, vinegar, sugar and pepper. Add to broccoli, stir in cheese and bacon. Cover and chill for 2 hours before serving.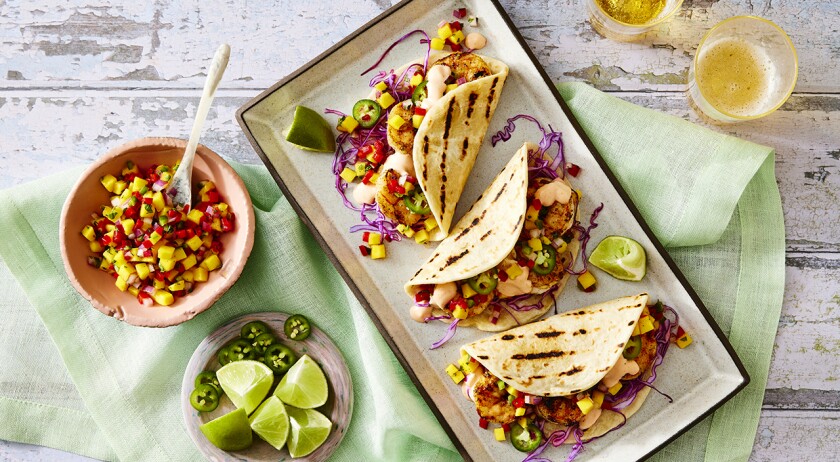 Shrimp Tacos With Mango Salsa and Spicy Aioli Sauce

What I love about this recipe is the combination of sweet, tangy and spicy flavors that blend well with the shrimp.

* These tacos are also excellent when made with grilled mahi-mahi or any fish you prefer.

Makes 8 tacos

For the Mango Salsa:

2 ripe mangos, peeled and diced

1 red bell pepper, chopped

½ cup red onion, finely diced

¼ cup fresh cilantro, finely chopped

½ jalapeño pepper, seeded and finely diced

2 tablespoons lime juice

Mix together all ingredients and chill 1 hour in fridge.

For the Shrimp Marinade:

1 pound raw shrimp, peeled, deveined and tails removed

1 tablespoon olive oil

1 tablespoon cumin

1 teaspoon garlic powder

1 teaspoon chili powder

Salt and pepper to taste

Mix oil and seasoning in bowl. Add shrimp, coat well and marinate for 10 minutes.

For the Spicy Aioli Sauce:

1 cup mayo

2 tablespoons sriracha chili sauce

2 tablespoons lime juice

Mix all 3 ingredients together and set aside.

For the tacos:

2 cups shredded red cabbage

8 (6-inch) flour tortillas

Preheat grill on medium-high direct heat, about 375-400°F degrees. Thread shrimp on skewers, then grill each side for 2 minutes, until bright pink and cooked through. Warm tortillas by flipping them on grill, 10-15 seconds each side. Place a small handful of cabbage on each tortilla, followed by a spoonful of salsa and 3 or 4 shrimp. Top with aioli sauce and serve.

*Optional toppings: Add thin slices of avocado, diced onion, jalapeño or more cilantro and a few lime wedges for squeezing additional juice on the tacos.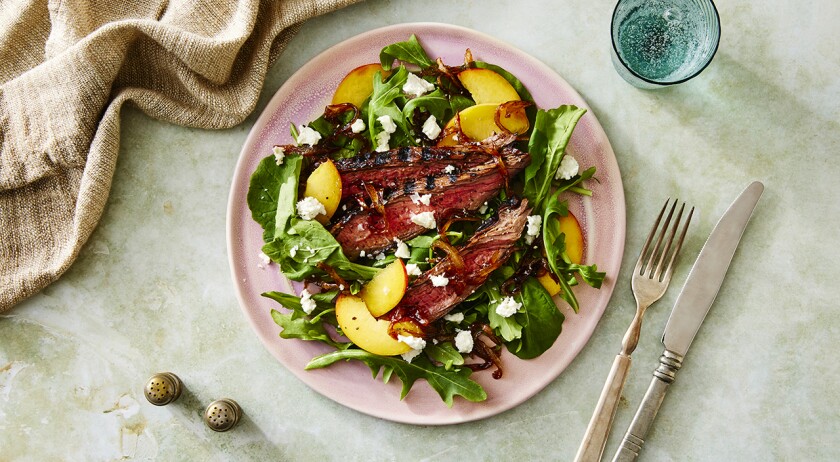 Balsamic Grilled Steak Salad With Peaches and Caramelized Onions

I love a salad packed with protein, and this hearty, savory dish hits the spot. Fresh peaches add summer's sweet juiciness to every bite.

Serves 4

For the marinade:

1 pound flank steak

¼ cup balsamic vinegar

1 clove garlic, minced

1 tablespoon brown sugar

1 tablespoon vegetable oil

Salt and pepper to taste

Mix all ingredients (except steak) in a ziplock bag. Add steak and marinate at least 30 minutes, but it's best to refrigerate overnight.

For the Caramelized Onions:

2 onions, sliced thin

2 tablespoons extra virgin olive oil

Pinch of salt

Splash of balsamic vinegar

Dash

Heat oil in pan and sauté onions with salt on medium heat for 30 minutes until tender, stirring every 3-4 minutes. Add a splash of balsamic vinegar and remove from stove. Set aside and allow to reach room temperature.

For the dressing:

¼ cup extra virgin olive oil

Juice of 1 lemon

1 tablespoon honey

1 clove minced garlic

Salt and pepper to taste

Whisk together dressing ingredients and set aside.

For serving:

6-8 cups arugula

2 peaches, thinly sliced

¾ cup crumbled feta cheese

Grill steak on high for 10 minutes, then turn heat down to medium-high and cook 3-4 minutes per side (depending on thickness of meat). Let steak rest for 10 minutes before thinly slicing against the grain. To assemble, divide arugula among four plates. Add steak, then onions, followed by sliced peaches. Sprinkle feta over all and top with dressing.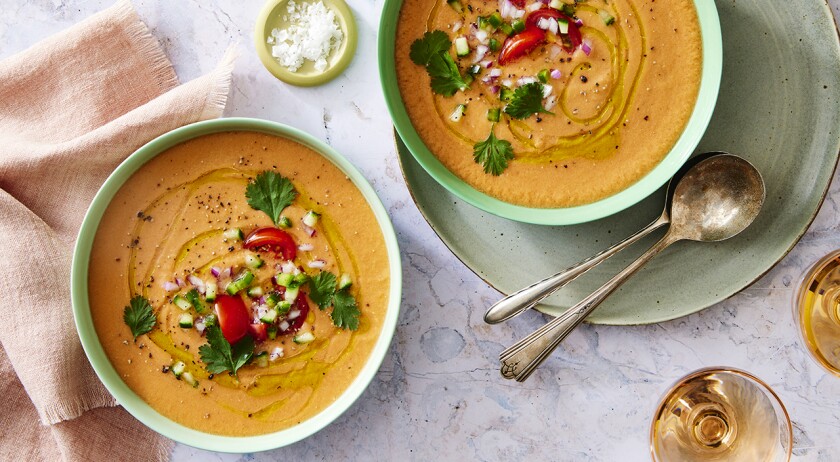 Easy Gazpacho

This delicious Spanish soup is a great way to cool off in the summer. Usually served as an appetizer, it's a healthy, refreshing recipe to begin any meal when the temperatures are high.

Makes 8 cups

6 cups peeled, chopped tomatoes

½ cup finely diced red onion

2 cloves garlic, minced

1 small English cucumber, peeled, seeded and chopped 1 green pepper, seeded and finely diced

2 tablespoons red wine vinegar

1-2 tablespoons lime juice

¼ cup olive oil

Salt and pepper to taste

Fresh chopped cilantro for topping Mix together all ingredients (except cilantro) in a bowl and let rest 30 minutes. Add half of the mix to a blender, then remove and set aside. Add second half and blend until smooth. Combine the batches and chill in refrigerator for at least 1 hour. Serve topped with cilantro.

On this hot and swampy Florida evening, I'm whipping up a watermelon-feta salad to pair with a cold bowl of gazpacho — followed by a dip in the pool!

What's your favorite dish to make in the summer? Let us know in the comments below.