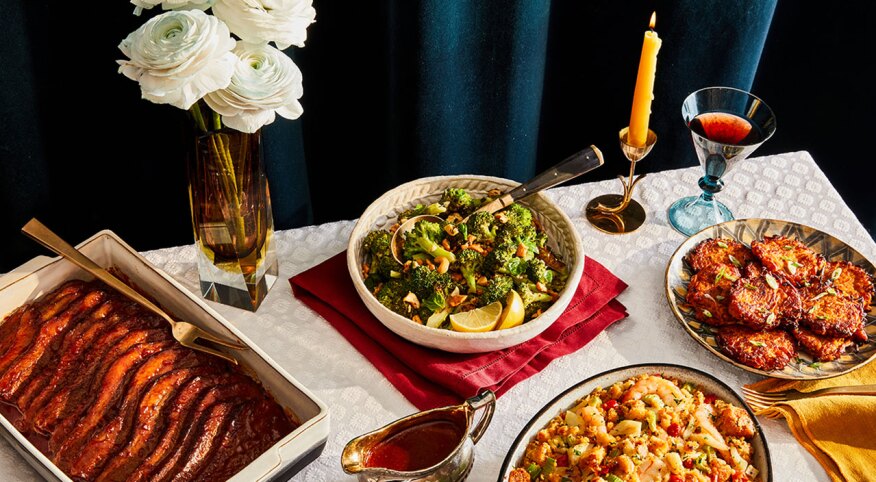 While many people serve a traditional turkey or ham and a green bean casserole for Christmas dinner, I prefer to shake up the side dishes beyond the conventional beans, sweet potatoes and stuffing. Here are some ways for you, too, to add a new twist to culinary classics with these holiday dishes that are sure to please all your guests.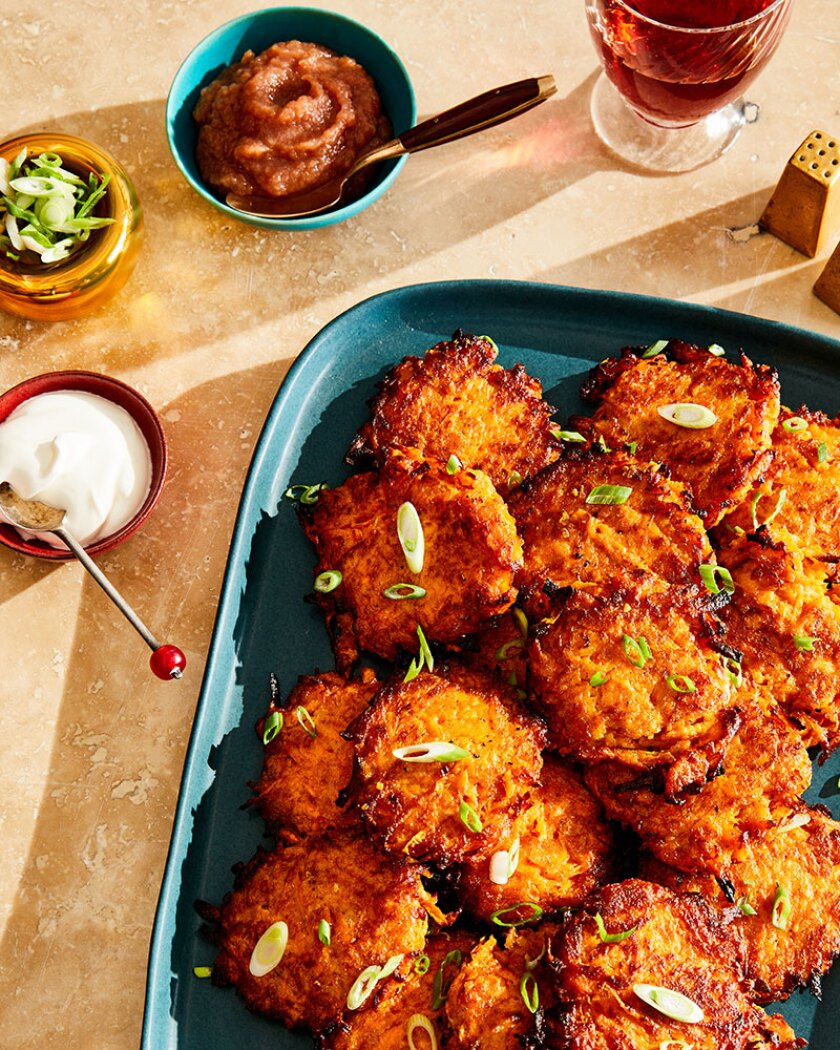 SWEET POTATO LATKES

I love this recipe because it's a simple, savory twist on traditional white potato latkes. You can serve these delectable pancakes as an appetizer or side veggie.

Serves 6–8

5 pounds sweet potatoes

2 medium-sized onion

4 eggs, beaten

2 teaspoons baking powder

1/2 cup matzo meal

1 cup flour

6 tablespoons butter, melted

2 teaspoons kosher salt

1/2 teaspoon black pepper

Vegetable oil for frying

Optional toppings: sour cream, sliced scallions or applesauce.

Peel and cut raw sweet potatoes into large chunks. Grate in food processor and place in large mixing bowl. Next, grate the onions and drain on a paper towel to eliminate excess moisture. Add to the potatoes. Mix in eggs, baking powder, matzo meal, flour, butter, salt and pepper. Heat skillet with 1/4 inch oil. Place latke mixture by the spoonful into the pan, keeping each mound at least an inch apart. Flatten gently with spatula and fry for 2 to 3 minutes until underside is golden brown. Flip and cook another 2 minutes. Drain on paper towels. Serve with sour cream, scallions or applesauce.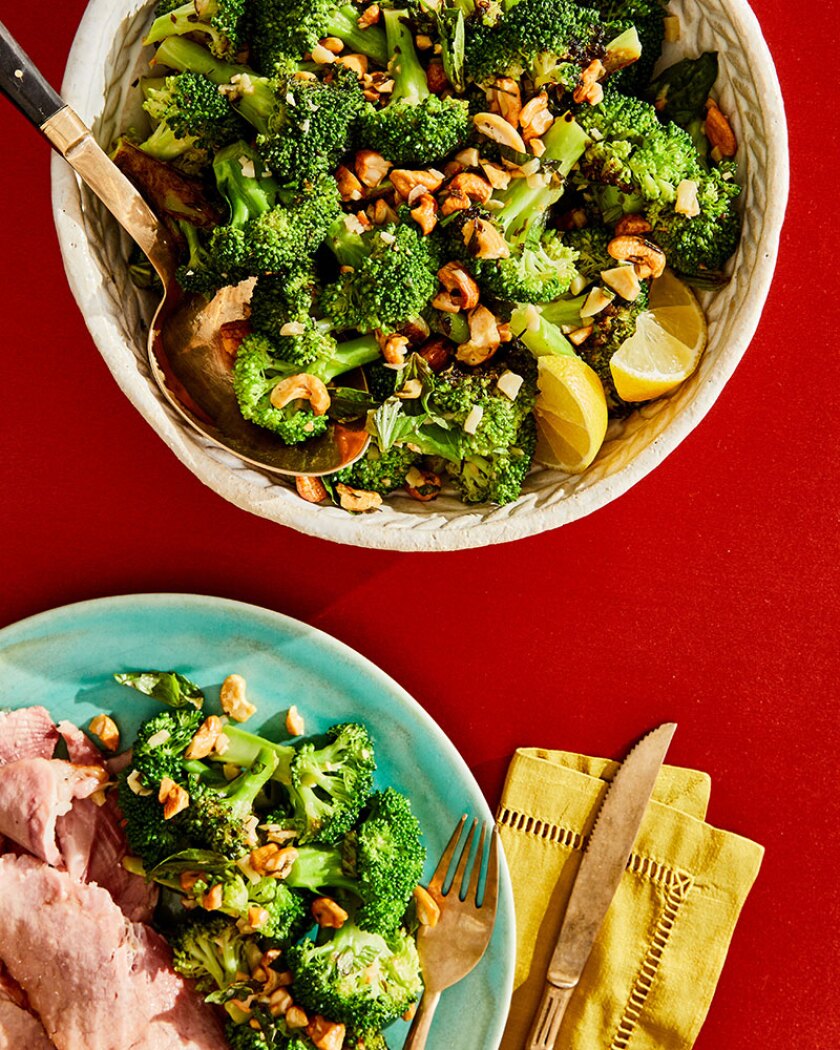 CASHEW BROCCOLI

The blending of aromatic tarragon, garlic and lemon with the nutty crunch of cashews makes this unique dish the perfect side to any holiday meat.

Serves 6–8

2 large heads of broccoli, washed and cut into flowerets

1/2 cup butter

4 tablespoons olive oil

8–10 cloves minced garlic

2 tablespoons chopped fresh basil

2–3 teaspoons dried tarragon

4 tablespoons red wine vinegar

1 cup chopped cashews

Dash of lemon juice

Salt & pepper to taste

Cook broccoli for 2 to 3 minutes, leaving it slightly crunchy. In a separate pan, heat butter and oil. Add garlic, basil and tarragon, then the broccoli. Stir until the vegetable is well-coated and tender. Remove from the stove and add vinegar, lemon juice, salt and pepper. Place in serving dish and top with cashew pieces. You can also decorate the plate by adding lemon wedges.
A JEWISH MOTHER'S FAIL-PROOF BRISKET

A brisket is a nice change from the usual roast or ham as the main course — whether you're celebrating Hanukkah or Christmas.

Serves 6–8

5 to 6 pounds brisket (with some fat on it)

1–2 packets onion soup mix

1 jar chili sauce (or ketchup, if you prefer)

1 can jelled cranberry sauce (no berries)

Place brisket fat side up in a roasting pan. Prick the meat about six times with a sharp fork. Pour enough water over meat so that the liquid covers half of the thickness of the brisket. Pour 1 or 2 packets of onion soup mix (depending on your saltiness preference and the size of the meat) over brisket. Slather with chili sauce (or ketchup), then top with cranberry sauce. Cover with foil (if you're using a pan without a lid) and cook at 325 for about 5 hours (one hour per pound). Slice meat against the grain and serve with sauce from the roasting pan.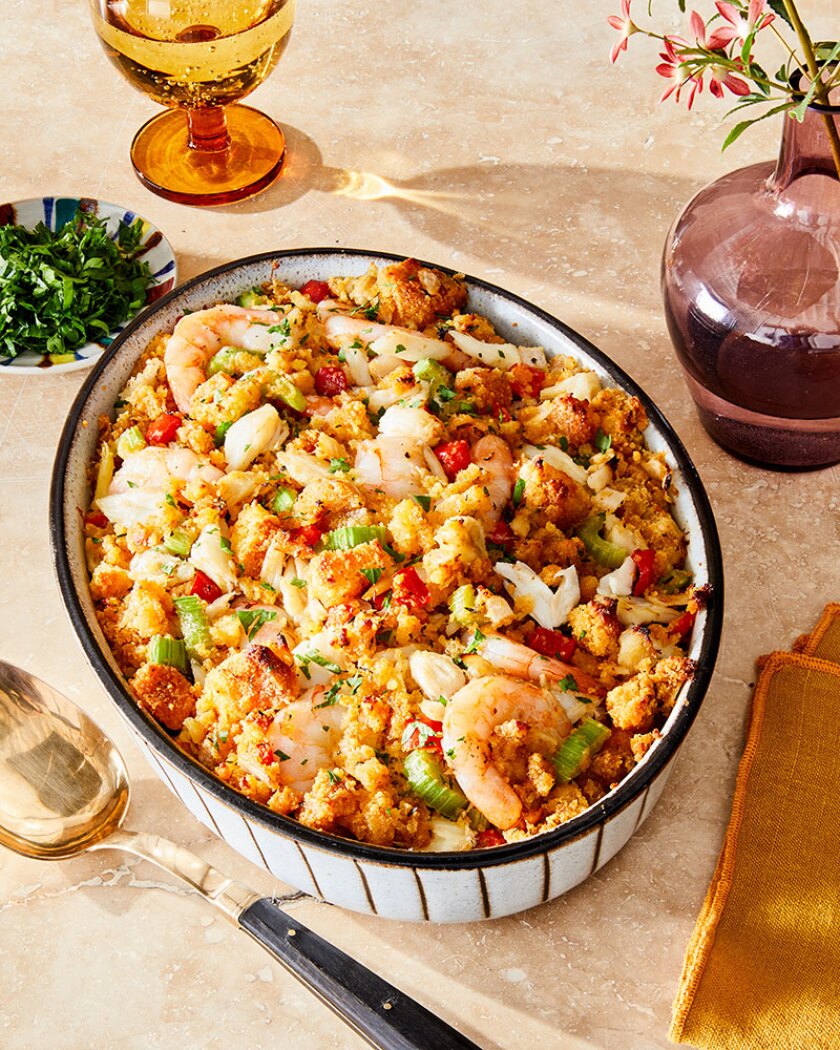 SEAFOOD STUFFING

Living on the east coast of Florida means I have daily access to fresh seafood, which I always incorporate into family meals. Since stuffing makes a hearty side dish for any meal, I skip the traditional sausage used in most recipes and load mine with shrimp and crab for a delicious flair.

Serves 6–8

8 cups prepared cornbread, crumbled (homemade; box mix is fine)

6 tablespoons butter

1 onion, chopped

1 red bell pepper, chopped

4 celery stalks, chopped

2 tablespoons Old Bay Seasoning

3 teaspoon minced garlic

1 teaspoon dried thyme

Optional: 1/2 cup white wine

2 pounds raw shrimp, peeled and deveined

2 pounds jumbo lump crabmeat (fresh or canned)

4 eggs, beaten

2 tablespoons lemon juice

4 cups seafood broth (vegetable or chicken broth are also fine)

Fresh parsley, chopped

Preheat oven to 350. In skillet, melt butter and sauté onion, bell pepper and celery until tender (about 7 minutes). Stir in Old Bay, minced garlic, thyme and wine until thoroughly blended. Layer shrimp over veggie mix and cook 2 minutes per side until shrimp is pink. While it cooks, place crumbled cornbread in large bowl with crabmeat, eggs, lemon juice and broth (for a firmer stuffing, use less broth). Add vegetable mixture, combine all and pour into a greased baking dish. Bake for 30 minutes until stuffing is golden brown. Garnish with chopped parsley.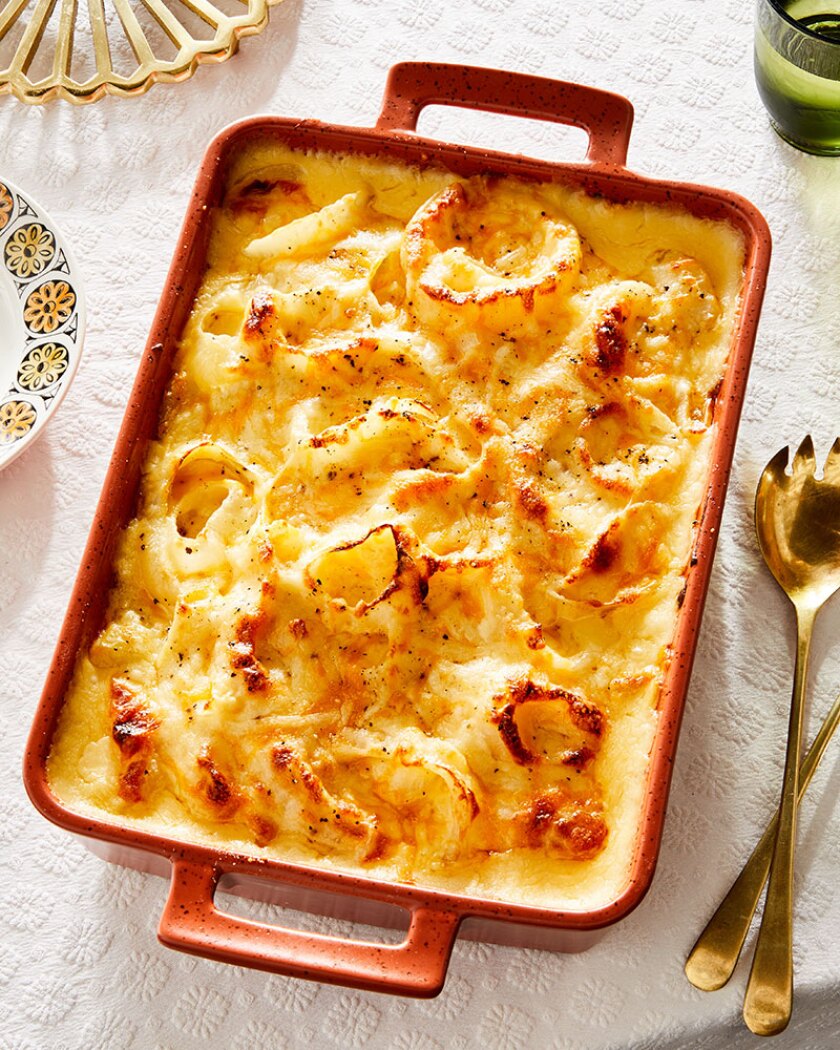 CHEESY CREAMED ONIONS

This recipe was a staple at our Christmas dinner. My mother used small pearl onions, but I use large Vidalias, sweet and easier to peel.

Serves 6–8

8 large Vidalia onions, sliced in 1/4- to 1/2-inch rings

1/2 cup butter

4 tablespoons flour

2 cups whole milk

2 cups + 1cup shredded cheddar cheese

1 cup Parmesan cheese

Salt and pepper to taste

Boil onion slices until tender (10 to 20 minutes, depending on how soft you want them). Reserve at least 1/2 cup of the juice before draining the onions. In heavy saucepan over low heat, melt butter, then whisk in the flour to make a roux. Set the heat to medium and gradually add the milk, stirring frequently until it thickens. Add the Parmesan and 2 cups of cheddar. Stir until smooth. Add salt and pepper, then onion juice, starting with a small amount (if you prefer a thicker sauce, add only 1/4 cup; make it thinner with 1/2 cup). Add onion slices and mix well. Pour into a greased baking dish, then top with remaining 1 cup cheddar. Bake at 350 for 30 minutes or until cheese is bubbly and lightly browned.