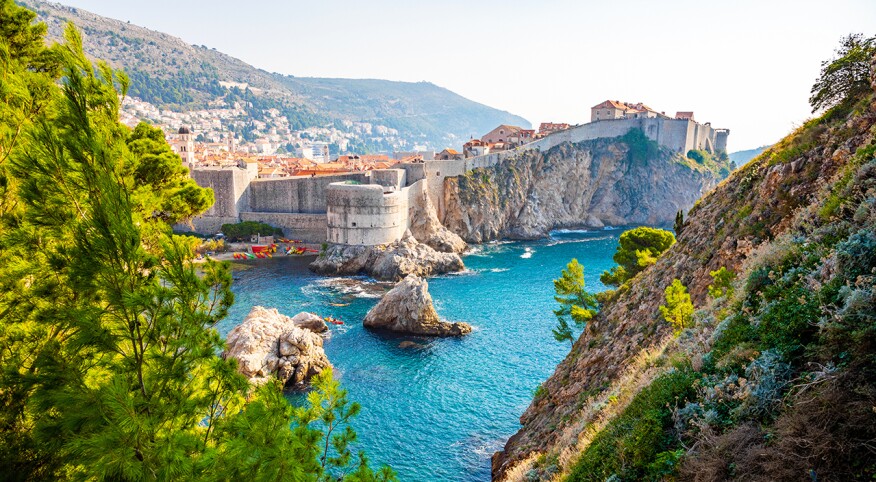 For assistance with travel and to learn more about discounts, check out the AARP Travel Center powered by Expedia.

If you're like me, you are excited by the prospect of one day — finally — being able to travel overseas again (although many COVID-related restrictions are still in place so please check these out before making any plans). But where to go to first and what is the safest and easiest place to travel to — once COVID cases subside?

Many countries now accept U.S. travelers that are fully vaccinated, but there are still travel bans, quarantines and pre- and post-arrival testing requirements in some countries, so you need to be aware of the restrictions in the places you're traveling to before booking flights. You also need to check conditions in your destination before leaving for the airport, as the situation can change rapidly.

Debbie Lapping, a corporate travel adviser with New Act Travel, reports that her clients are seeking off-the-beaten-path destinations with fewer crowds, lots of outdoor activities and place where they can be keyed into local life, whether that means going to a flea market, taking a cooking class, or — like one mother and daughter — arranging a grape-stomping experience in wine country. Travelers are also looking for places that are easy to get to, ideally with direct flights whenever possible.

Here are five travel destinations for fun, fitness and soulful escape. Even if we can't travel now, one can daydream, right?

Heraklion, Greece

Heraklion, the capital of Crete, the largest Greek island, has many interesting archaeological sites and nearby unspoiled villages. Three miles from Heraklion is the famous Minoan Palace of Knossos, reputed to be where Crete's first king, King Minos, lived and built a labyrinth to keep away the half-bull, half-man minotaur (a mythical creature in Greek mythology). Travel writer Rebecca Hall recommends visiting the palace for its frescoes, reproductions depicting flowers, dolphins and other sea life, and for the beautiful countryside surrounding it. Spend a morning exploring Heraklion's Old Town, walk along the waterfront with its impressive 16th Venetian Koules Fortress and visit the Heraklion Archaeological Museum and the Natural History Museum of Crete. The seaside town of Matala is about an hour's drive from Heraklion; the ceramic factories in the pottery village of Thrapsano are also worth visiting.

Quebec City and Charlevoix

Consider a holiday that begins in Quebec City, which feels and looks a lot like Europe but is likely much easier to get to. Take the funicular or a cable down to the old city, explore its windy streets, stop in a café for lunch, and make time to visit some of the city's historic museums and churches. Then take the pretty drive to Charlevoix, about 1.5 hours by car northeast from Quebec City. You will travel along the St. Lawrence River, with the Laurentian mountains to the north and the river to the south.

Once there, you will discover Canada's first Club Med, just opened and bringing bigger crowds to ski the slopes of the region's Le Massif de Charlevoix. But there is so much else to explore on a smaller scale in this beautiful region. Visit the charming town of Baie-Saint-Paul, purported to boast Canada's highest concentration of art galleries and boutiques. Explore the region's food scene through the Flavour Trail, an agritourism trail that will have you touring local farms, sampling craft beers and artisanal cider, and tasting exotic cheeses. Hike to the summit of Mount du Lac des Cygnes at Parc National des Grands-Jardins. And take the short ferry ride to Ile-Aux-Coudres, where you can rent bikes to do the 23-kilometer loop of the island.

Asheville, North Carolina

This small hip mountain town has a Bohemian vibe, a thriving arts and music scene, award-winning restaurants and a boggling number of breweries per capita. It is also in a stunning setting amidst North Carolina's Blue Ridge Mountains, making it a perfect destination for health and wellness — and outdoor adventure.

Explore national forests, such as Pisgah and Nantahala. Take the scenic drive along sections of the 469-mile Blue Ridge Parkway. Download the Hike Asheville app to choose from many great hiking trails in the area. Enjoy the area's myriad waterfalls. And take part in Asheville Wellness Tours' Guided Forest Bathing & Nature Therapy tour, available all year.

History buffs will enjoy the iconic Biltmore Estate, where you can tour George Vanderbilt's 250-room French Renaissance castle and the forested trails and gardens in its 8,000-acre estate. You can also visit Biltmore Village just outside the Estate's entrance for dining and shopping, beautiful art deco architecture, art galleries and museums.

Dubrovnik, Croatia

This medieval walled city on the Adriatic Sea is an enchanting destination for travelers seeking natural beauty, culture, beaches and history. So perhaps not so surprising that playwright George Bernard Shaw beckoned people to come to Dubrovnik "if they wanted to see heaven on Earth."

Although the summer is very touristy here, September to mid-October is ideal, with smaller crowds and good weather. Walk around the city's stone walls in about two hours on your own. Or take a tour to get more of a historical perspective, and visit some of the film locations for Game of Thrones, including the medieval fortress, Fort Lovrijenac. Then at sunset, stop for a drink at the Buza Bar just outside of the city walls to watch the kayakers as the sun goes down.

Another highlight is Mount Srd, a craggy mountain that you can reach by cable car or by hiking or walking to its summit. At the top, enjoy the beautiful views, and visit the Museum of the Croatian War of Independence. Finally, take the ferry to the nearby Elaphiti Islands, perfect for a day trip for wine tasting, fresh seafood and hidden caves.

Porto, Portugal

Time Out magazine ranked Porto one of the top 10 coolest cities for 2021. And I get why. This City of Bridges (known for its six bridges that cross the Douro River) is the second-largest city in Portugal, and a region known for its port wine production, beautiful architecture, palaces, contemporary art and historic Ribeira district. Combine a visit to Porto with a trip to Lisbon, a three hour drive to the south.

Or better yet, visit these two cities — and everything in between — by bike. I did this through Exodus Travels' week-long Porto to Lisbon Atlantic Ride cycling tour. It turned out to be a magical way to leisurely explore the coastline, with stops at villages and towns along the way, including an overnight in the ancient walled town of Óbidos, which was a highlight.

On a second trip to Porto, I suggest a day cruise of the Douro Valley, stopping for wine tasting and lunch. And stop in to the famous Livraria Lello, which gets accolades as one of the most beautiful bookshops in the world.

Bon Voyage!