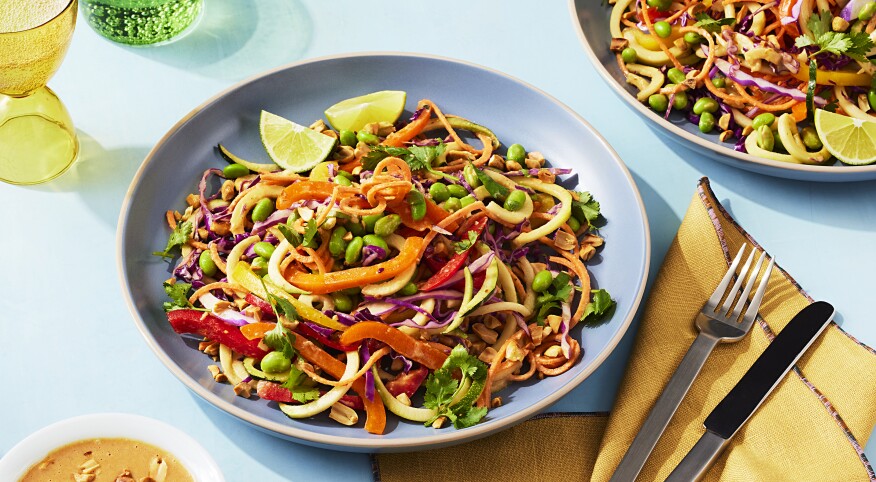 If you were asked to name the least likely person to become a cooking instructor known as "The Speedy Vegan" and a lover of plant-based meals —that would be me. I grew up in the southern African country of Zimbabwe, and my parents were dairy farmers. Virtually every day, our kitchen table featured the bounty from our farm — fresh eggs, whole milk, beef, poultry and countless more delights.

Fast forward a few decades: I am married and living in Maryland. Our then-adolescent son announced at the dinner table that he would be a vegetarian. We decided to watch the 2011 documentary Forks Over Knives, a powerful testament to how a whole-food, plant-based diet promotes health and can combat disease. And that changed our dining habits, as we gave up animal-based and processed foods. Here are five of our family's favorite vegan recipes:


Tofu Scramble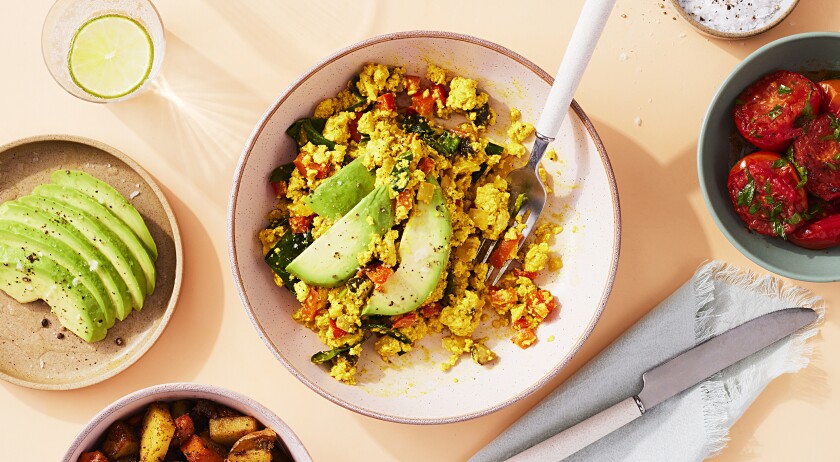 This savory, protein-packed breakfast is cholesterol-free and full of vegetables.

Serves 4

1 cup onion, diced

1 cup red bell pepper, diced

1 cup mushrooms, diced

2 cups baby spinach

1 (14 oz.) block firm tofu, drained

3 tablespoons nutritional yeast

1 teaspoon garlic powder

1 teaspoon onion powder

½ teaspoon smoked paprika

½ teaspoon turmeric

¼ teaspoon black pepper

Salt-free seasoning — to taste

Water for sautéing

Sauté the onions, red bell peppers and mushrooms in a pan for four or five minutes or until the vegetables soften. Add a splash of water to prevent sticking if needed. While the vegetables are cooking, crumble the tofu in a bowl and add the nutritional yeast, garlic powder, onion powder, turmeric, paprika and black pepper. Mash it together with a fork, add to the pan and sauté for four minutes. Use a spatula to avoid sticking. Remove from the heat and add the baby spinach and let it wilt into the tofu scramble. Add salt-free seasoning to taste and serve with breakfast potatoes, fresh tomatoes and sliced avocado.

Zucchini Noodle Pad Thai Salad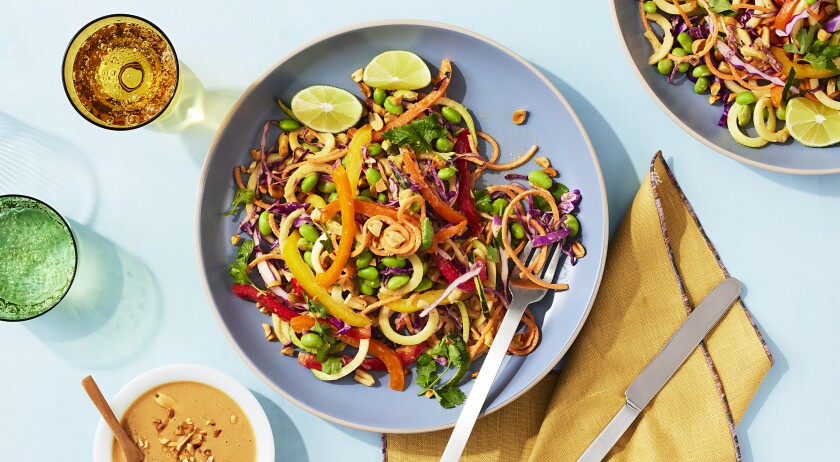 Serves 4

Ingredients

2 large zucchini spiralized

1 carrot spiralized or julienned

1⁄2 yellow, orange and red bell pepper, julienned

2 green onions, sliced on a diagonal

1 cup edamame, cooked

1 cup red cabbage, shredded

1⁄2 cup raw peanuts or raw cashews

1⁄2 cup cilantro, chopped

Pad Thai Sauce

Ingredients

1⁄3 cup peanut butter or almond butter

2 cloves garlic, minced

1 tablespoon fresh ginger, minced

3 tablespoons fresh lime juice

2 tablespoons coconut aminos (or tamari)

2 pitted medjool dates

1 teaspoon sesame seeds

½ teaspoon crushed red pepper

½ cup water

Toast the nuts in a hot pan, stirring constantly (about 45 seconds) until browned, then set them aside. Prep vegetables and toss together in a large mixing bowl. Prepare the dressing by tossing all the ingredients in a blender, then add to the vegetables and mix. Transfer to serving bowls and top with toasted nuts and cilantro before serving.

Mushroom Bourguignon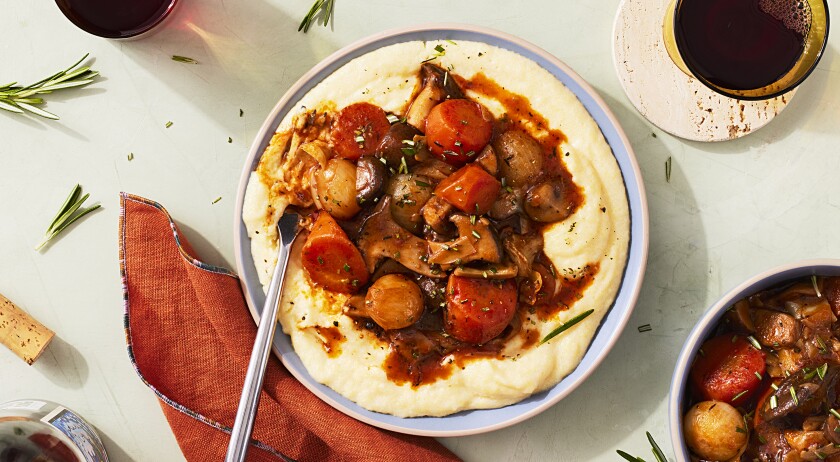 At dinner parties, I serve this vegan take on a classic French dish over hot mashed potatoes or polenta. The meaty mushrooms give it a heartiness that wins everyone over.

Serves 6

Ingredients

18 oz. button mushrooms, quartered (or wild mushrooms)

16 oz. pearl onions, thawed if using frozen

12 oz. can artichokes, quartered and drained

3 carrots, roll or oblique cut

3 bay leaves

3 tablespoons tomato paste

1 cup red cooking wine

2 teaspoons Herbes de Provence

1 cup vegetable stock

1 ½ tablespoons cornstarch

1 teaspoon salt-free seasoning

1 teaspoon freshly ground pepper

1 teaspoon fresh rosemary, finely minced

Rosemary or thyme sprigs to garnish (optional)

Add the mushrooms, onions, artichokes and carrots to a large pot or Dutch oven. Sauté the vegetables for four or five minutes, stir the pot occasionally and add a splash of water if the vegetables start to stick to the pot. Add the bay leaves, tomato paste, red wine and Herbes de Provence to the pot. Stir it all together. Let it cook at a simmer for about eight minutes or until the red wine reduces by half. In a small bowl or jug, whisk together the cornstarch and vegetable stock. Then stir that mixture into the pot. Simmer together for about 10 minutes or until the sauce thickens. Season to taste. Serve on plates or in bowls on top of a generous scoop of mashed potatoes. Sprinkle on the minced rosemary. Garnish with a sprig of fresh rosemary or thyme.


Stuffed Cabbage Rolls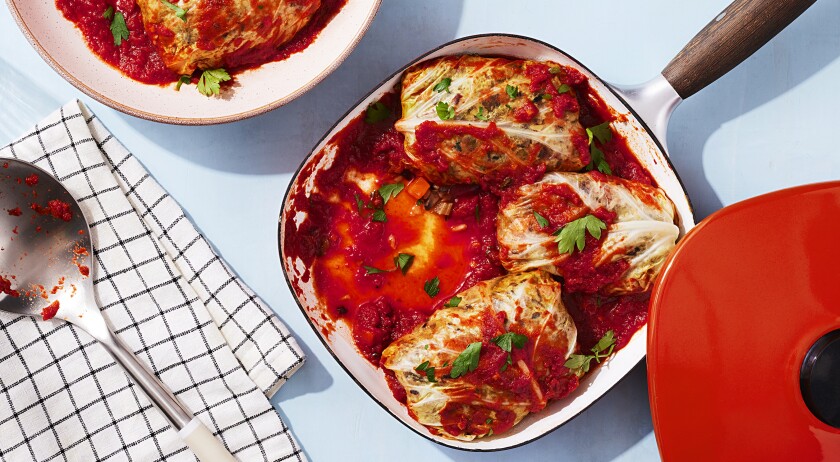 These are the perfect delicious comfort food on a cold winter day.

Serves 6

Ingredients

I head of cabbage (Savoy Cabbage works best)

2 cups of cooked wild/brown rice or quinoa

2 cups of mushrooms, diced

1 cup of red onion, diced

1 cup of carrots, diced

1 cup of celery, diced

3 cloves of chopped garlic

½ cup of vegetable stock

Thyme, sage, pepper or herbs of your choice

2 cups of marinara sauce

Turn the cabbage upside down and cut out a big chunk of the stem with a sharp knife. In a large pot with a steaming rack inside, steam the head of cabbage for five minutes or more, depending on the size of the cabbage. While the cabbage is steaming, sauté the onion, celery, carrots, garlic and mushrooms until softened. If the vegetables start to stick, add a splash of vegetable stock or water to the pan. Add the rice or quinoa to the veggies along with the herbs and set aside. Remove the cabbage from the steamer and let it cool, then carefully peel back the leaves. Take 3 heaped tablespoons of the rice and veggie mixture and place it in the middle of the cupped cabbage leaf. Roll up each leaf like a burrito, tucking in the sides as you go. Pour the marinara sauce into a large pot or Dutch oven and place the cabbage rolls on top. When you have all the rolls assembled, spoon a little more sauce over the cabbage rolls. Heat on the stovetop in a covered pot for 10-12 minutes until warmed through. Serve with chopped parsley sprinkled on top and extra sauce on the side if needed.

Chef's note: They can also be cooked in the oven (covered) at 350°F for about 20-25 minutes.


Vegan Chocolate Truffles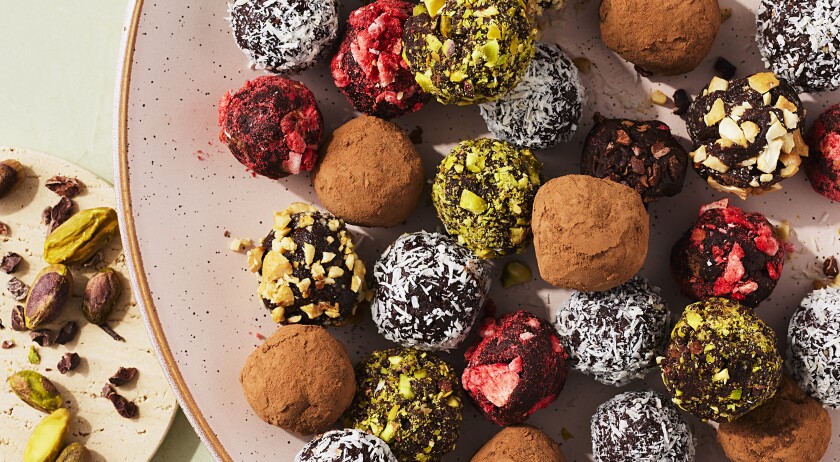 Cacao powder is packed with antioxidants. It is also a natural mood enhancer and a good source of iron and magnesium.

Makes 18 Truffles

1 cup of raw cashews

1½ cups medjool dates, pitted (approximately 18 dates)

½ cup raw cacao powder

1⁄4 cup water

1⁄2 cup chopped nuts, cacao nibs, coconut flakes and cacao powder for rolling

Add the nuts to a food processor and pulse several times until you have a nut meal consistency (not nut butter). Add the dates, cacao powder and water and process until a smooth ball is formed. Add water if needed to help blend. Use a teaspoon or melon baller to scoop out the dough and roll into little balls. Roll the balls with a coating of chopped nuts, cacao nibs, coconut flakes or raw cacao powder to finish. Chill or freeze until ready to serve.

Who else is trying to adhere to a plant-based diet? Let us know in the comments below.