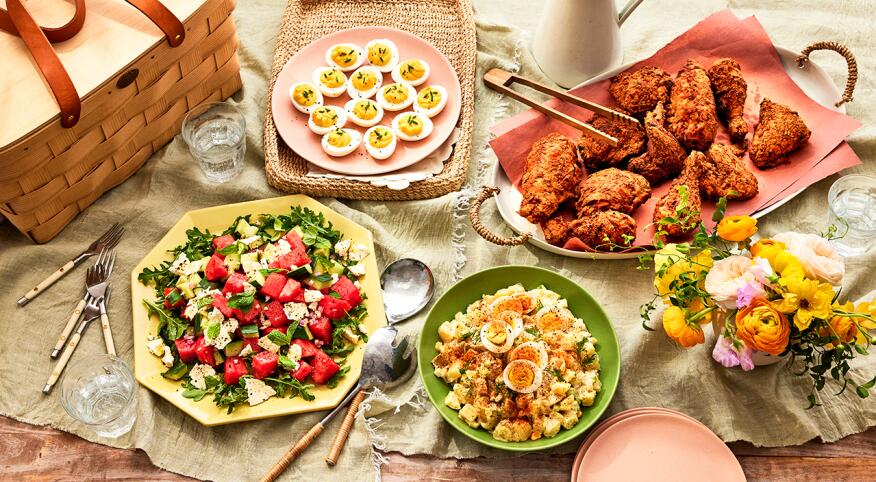 Now that the weather is warming up, a picnic is a perfect way to enjoy the outdoors and good eating. For years, my family has picnicked at a park that has a lake and plenty of nature trails to explore — and all that exercise makes us hungry! These traditional recipes are my family's picnic favorites. This is not diet food, though you don't eat like this every day. Each of these dishes will take you back to childhood family picnics and mom's home cooking! In fact, start your picnic season with a Mother's Day outing!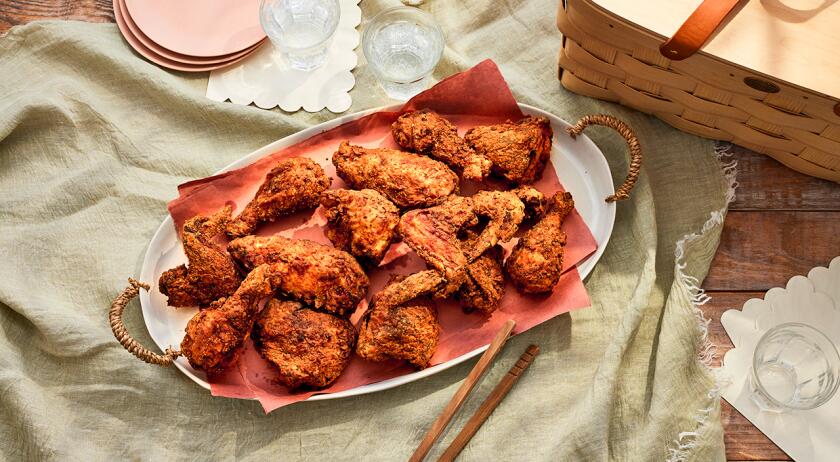 Southern fried chicken

When it comes to fried chicken, it's all about the seasoning. I raided most of my spice rack for this recipe, but I promise, it's finger-licking good.

Makes 8 pieces

1 whole chicken (roughly 5 pounds) cut into 8 pieces (2 breasts, 2 thighs, 2 legs, 2 wings)

2 cups flour

1 1/2 cup buttermilk

1 large egg

1 bottle of canola or peanut oil for frying

Seasoning:

1 1/2 tsp. salt

1 1/2 tsp. black pepper

1 1/2 tsp. garlic powder

1 1/2 tsp. dried mustard

1 1/2 tsp. ground ginger

1 1/2 tsp. celery salt

1 1/2 tsp. onion powder

1 tsp. paprika

1 tsp. dried sage

1 tsp. dried thyme

1 tsp. dried basil

1/2 tsp. dried oregano

Mix flour and all seasonings in a shallow bowl. Set aside. In a separate bowl, whisk buttermilk and egg until combined. Add the chicken to the buttermilk and let it soak for at least an hour (the longer you marinate, the moister it will be — even if left overnight in the refrigerator). Shake off each piece of chicken before dredging them into the seasoned flour. Make sure the chicken is evenly coated, then shake off excess flour. Set each piece on a wire rack and rest for 30 minutes before cooking. Pour roughly 2 inches of oil into a deep skillet and heat to 350 degrees Fahrenheit. Cook a few pieces at a time, but don't overcrowd the pan. Breasts and thighs take about 15 minutes to cook, while the smaller legs and wings take 12 minutes. Turn the chicken occasionally to brown it a crispy gold color on all sides. Use a candy thermometer to ensure the meat is fully cooked with an internal temperature of 170 degrees. Drain fried chicken on a wire rack at least five minutes before serving.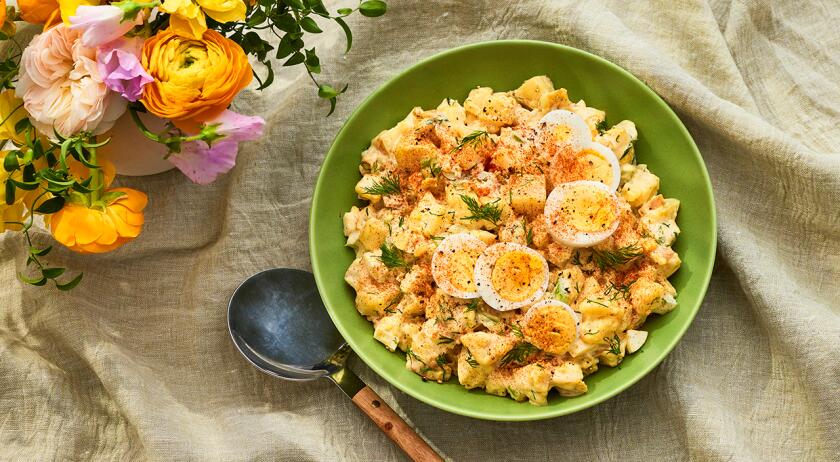 Grandma's potato salad

My grandmother never used a recipe for her potato salad (she did it by memory). Over the years, I have created my own trademark rendition, with additions such as black olives, crisp bacon bits or pickles. Although many older recipes call for vinegar, I prefer a mix of mayo and Dijon mustard to give it that extra kick.

For a more low-cal version of this recipe, substitute the mayo with the same amount of olive oil mixed with a dash of lemon juice and a pinch of sugar.

8 servings

6 Yukon Gold or red potatoes

5 large eggs, hardboiled

1/2 cup onion, finely diced

2 celery stalks, finely diced

1 1/2 cup mayo

2 tbsp. mustard (I use 1 tbsp. yellow, 1 tbsp. Dijon)

1 1/2 tsp. celery seed

Salt and pepper to taste

Dash of paprika

Optional additions: 1/2 cup chopped black olive, bacon bits, dill pickle chunks or 1/3 cup pickle relish. If you prefer more seasonings, add red pepper flakes, fresh dill, parsley or cilantro to your salad.

Boil potatoes, skin on, for 20-30 minutes or until slightly soft. Remove from stove, empty water and let them cool for at least an hour. Peel if you want (I prefer skins on) and cut them into 1/2-inch chunks. Place in bowl. Cut four of the hardboiled eggs into small chunks, saving the last one to be sliced in rings for the top. For the dressing, mix mayo, mustard and seasonings. Pour this plus the chopped onions and celery over the potatoes and gently mix until blended (at this point, add any additional items you prefer to your salad). Chill for several hours. Place rings of sliced egg over the top, then sprinkle a little extra paprika over all before serving.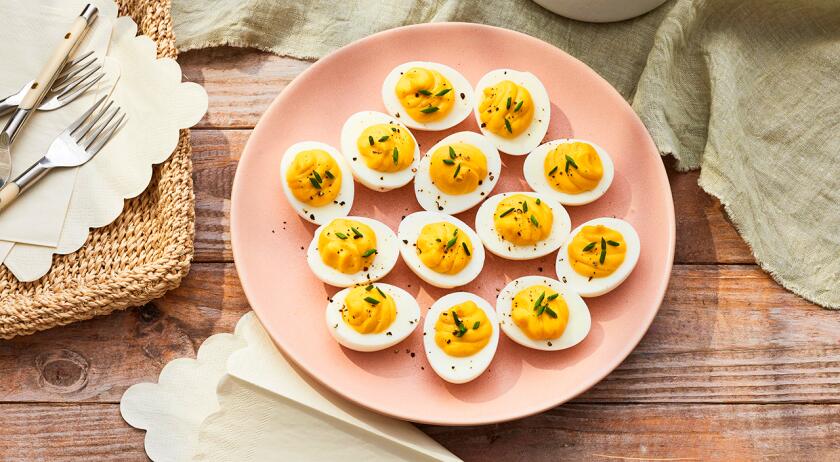 Classic deviled eggs

Deviled eggs are like potato chips — you can't eat just one. Even better, you can switch up the ingredients for an elegant appetizer by topping them with smoked salmon, capers or caviar.

Makes 24 deviled eggs

12 large eggs

1/2 cup mayo

1 tbsp. mustard (I prefer Dijon)

Dash of salt, pepper and paprika

Optional fillings: Replace mayo with the same amount of sour cream or whipped cream cheese. Or you can add different ingredients to the mayo-mustard mixture, such as: 2 small avocados, mashed, plus 1 tsp. lemon juice; 2-3 spoonfuls of pickle relish; 1 tbsp. horseradish; 3-4 spoonfuls of feta cheese or shredded cheddar; 4 pieces cooked, crumbled bacon; 3 spoonfuls of pimento cheese; dash of hot sauce; 1-2 tbsp. jalapeno pepper, minced.

Optional toppings: crumbled bacon, chopped chives, capers, caviar.

Cover eggs with water in a saucepan. Toss in a spoonful of baking soda (this is the secret to easy egg peeling!). Bring to a boil, then turn down to medium-high heat and simmer 10-15 minutes longer. Remove from stove, drain hot water and fill pan with ice. Let the eggs completely cool before peeling them under cold water. Using a damp paper towel, wet a knife blade each time you slice an egg open for a clean, even cut. Scoop yolks into a bowl and mix with mayo, mustard and seasoning. Add any optional ingredients you prefer. Once the texture is smooth, pour filling into a plastic bag, seal it and snip one corner. Pipe filling into each egg white half. Sprinkle a little paprika over the top (or top the eggs with bacon bits, minced chives, capers, caviar, etc.). Refrigerate at least 30 minutes before serving.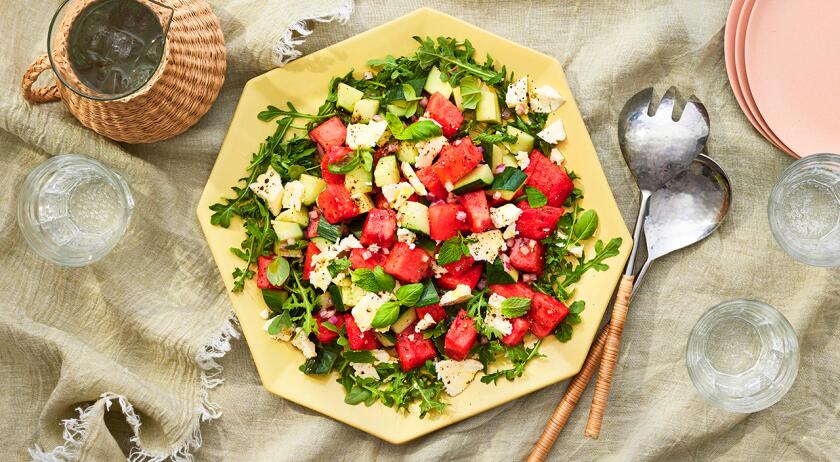 Watermelon and feta cheese salad

Nothing is more refreshing than a cold slice of watermelon on a warm day. Add some feta, cucumber and a hint of mint for the perfect sweet and savory combination.

Serves 4

4 cups seedless watermelon cut into bite-size chunks

1 medium English cucumber, diced

1/4 cup red onion, finely diced

3/4 cup crumbled feta cheese

1/2 cup mint or basil leaves, sliced into thin strips (plus a little extra for the topping)

1/2 tsp. kosher salt

3 tbsp. olive oil

2 tbsp. lemon juice

Dash of black pepper

Optional: 2-3 cups arugula, stems removed

Combine all ingredients in a bowl except for the feta. Mix well, then divide onto four plates. Top with crumbled feta and a little more mint or basil. If you are using the arugula, mix it into the salad or place it on the plate first, then top it with the watermelon mixture.

Spring has sprung, so head outdoors, picnic basket in hand, surrounded by loved ones. It's time to get the party started!

If you could eat anything you wanted on Mother's Day, what would you choose? Let us know in the comments below.