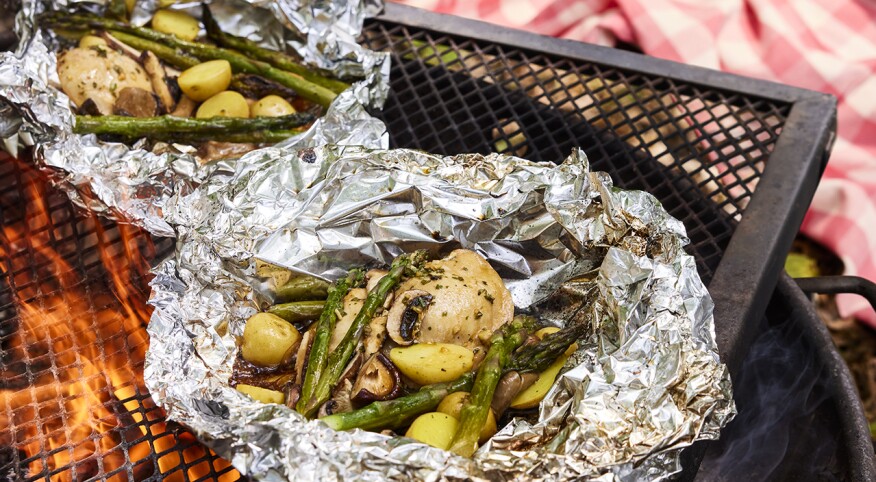 Thinking about camping this summer? Nothing enhances the experience more than cooking outdoors over a campfire. These meals have come a long way since the days of roasting hotdogs on sticks over a fire (although those are always delicious!).

It's easy now to create foil-wrapped entrees that are restaurant-quality and sumptuous and smoky-hot.

On a camping trip with a friend, I discovered the joy of cooking over a fire. She taught me how to make the foil packets, and I was surprised at how easy it was.

And the cleanup after dinner was minimal since we ate our food right out of the foil wrap. First, however, there are a few need-to-know tips for cooking over a campfire:

1. Always use 2 or 3 layers of heavy-duty foil to seal in moisture and prevent leaking. If you're unsure how to fold the packets, numerous how-to videos are online.

2. Never place food directly on the fire. Make the fire first, then let it die down. Stir the glowing coals around before cooking.

3. Set food packets three inches apart so as not to smother the coals.

4. Always use tongs to turn packets, and when they're done, open them slowly to prevent getting burned by the steam.

So, get your gang around a campfire and enjoy these tasty meals.

Fish With Garlic, Lemon and White Wine Sauce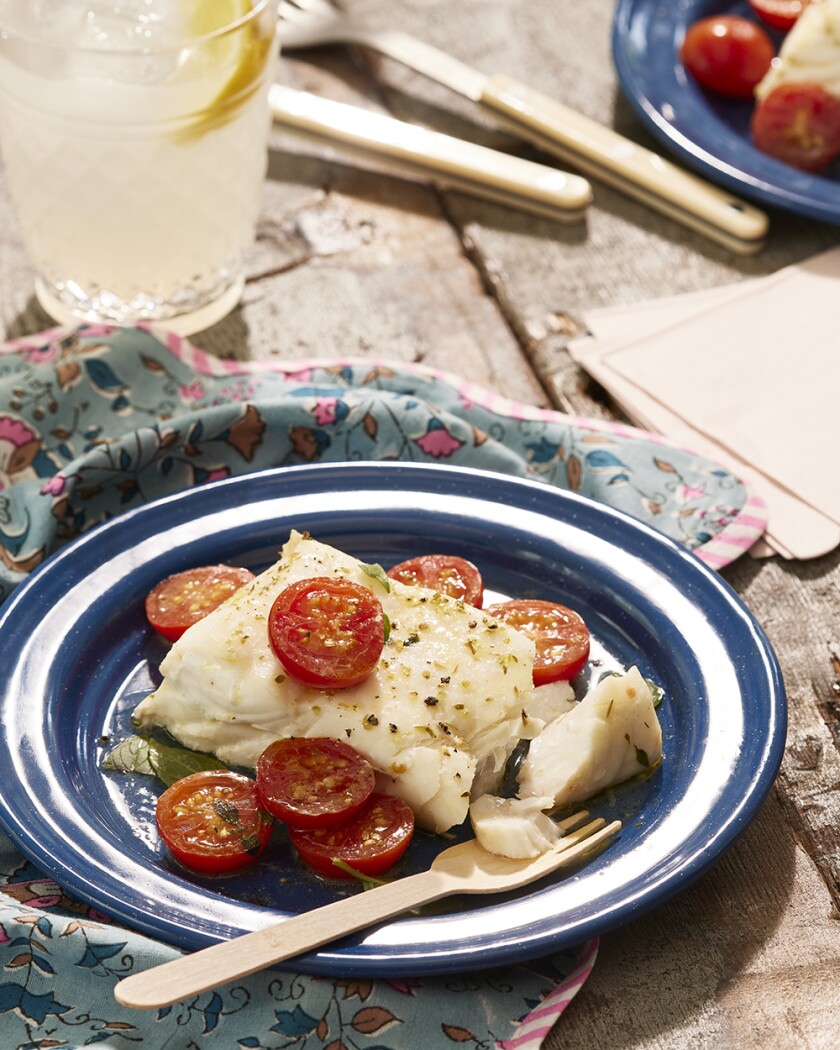 This meal is truly a treat if you camp near water and catch fresh fish for dinner!

Serves 4

4 fillets of white fish (tilapia, cod, halibut, etc.)

16 cherry tomatoes, halved (or 4 small ripe tomatoes, sliced)

4 tablespoons butter

¾ cup white wine

8 large basil leaves

Garlic powder to taste

Dried oregano to taste

Salt and pepper to taste

Lay out four long pieces of foil and coat them with cooking spray. Fold up all sides like a bowl (to contain sauce). Add salt and pepper to both sides of the fillets and place each fillet on foil. Top each fish with 1 tablespoon butter, a dash of garlic powder and dried oregano, 2 basil leaves, 4 tomatoes (8 halves for each fillet), a splash of white wine, and a few drops of lemon juice. Seal packets tightly, making sure there are no openings. Wrap each packet in another sheet of foil and seal it closed. Place packets on the hot campfire coals (not directly on fire) and cook 10-15 minutes (depending on thickness of fish) without turning the packets. The fish is done when it flakes easily with a fork.


Honey Garlic Chicken With Vegetables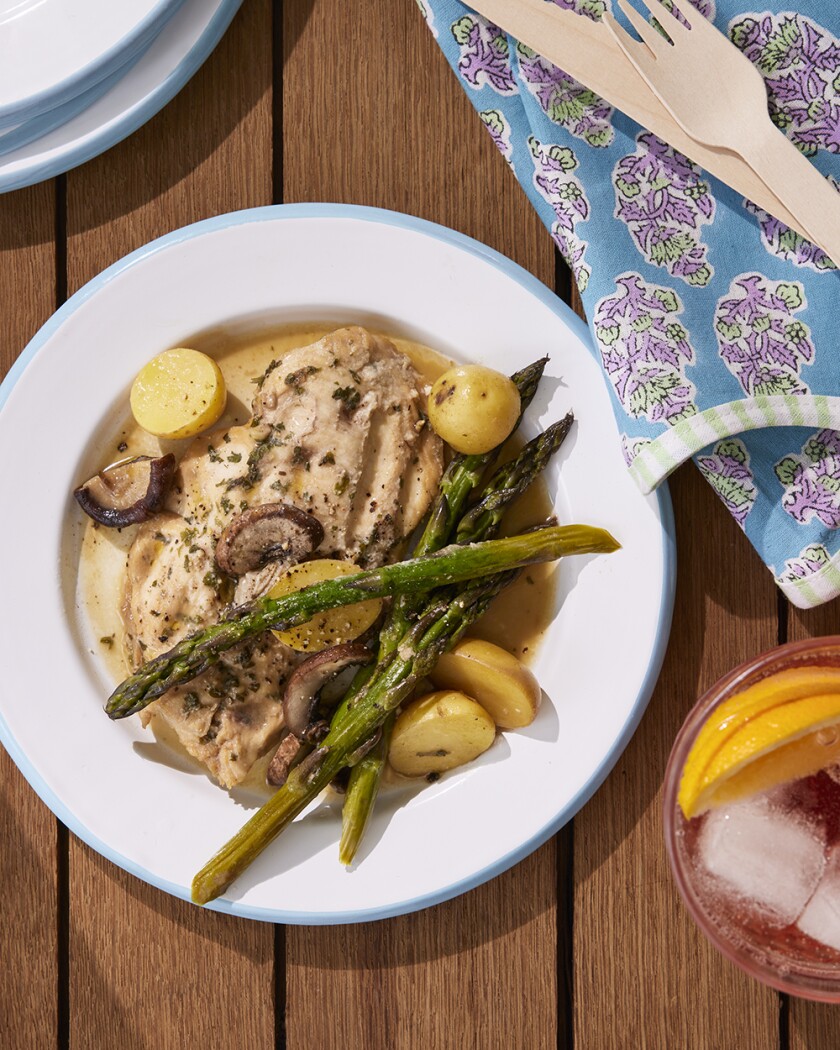 What I love about this recipe is that I can make it a day ahead, pack it in a cooler and let the chicken marinate overnight.

Serves 4

½ cup honey

2 tablespoons vinegar

2 tablespoons soy sauce

3 teaspoons minced garlic

½ teaspoon paprika

1 teaspoon dried parsley

4 boneless, skinless chicken breasts (thinly sliced)

Salt and pepper to taste

4 tablespoons butter

1 pound asparagus, trimmed (remove hard part of stems)

8 ounces mushrooms, sliced

1 pound baby potatoes, halved

In a bowl, mix the first 6 ingredients together for a marinade. Pour into a resealable plastic bag, then add the chicken breasts and marinate at least 30 minutes (great to make ahead for camping and bring in a cooler until you're ready to cook). Lay out 4 long pieces of foil and coat them with cooking spray. Fold up all 4 sides like a bowl (to contain sauce). Add salt and pepper to both sides of the chicken and place one breast on each foil square. Top each with 1 tablespoon butter, then divide all veggies into 4 servings and place on top and sides of the chicken. Pour marinade evenly over each packet, then fold up edges of the foil into a pouch and seal. Wrap again in another layer of foil, then place over campfire coals (not directly on fire) and cook 25-30 minutes (turning once after 15 minutes) until potatoes are tender and chicken is thoroughly cooked (internal temperature of 165 degrees).

Vegetarian Mix With Sweep Potatoes, Carrots and Bell Pepper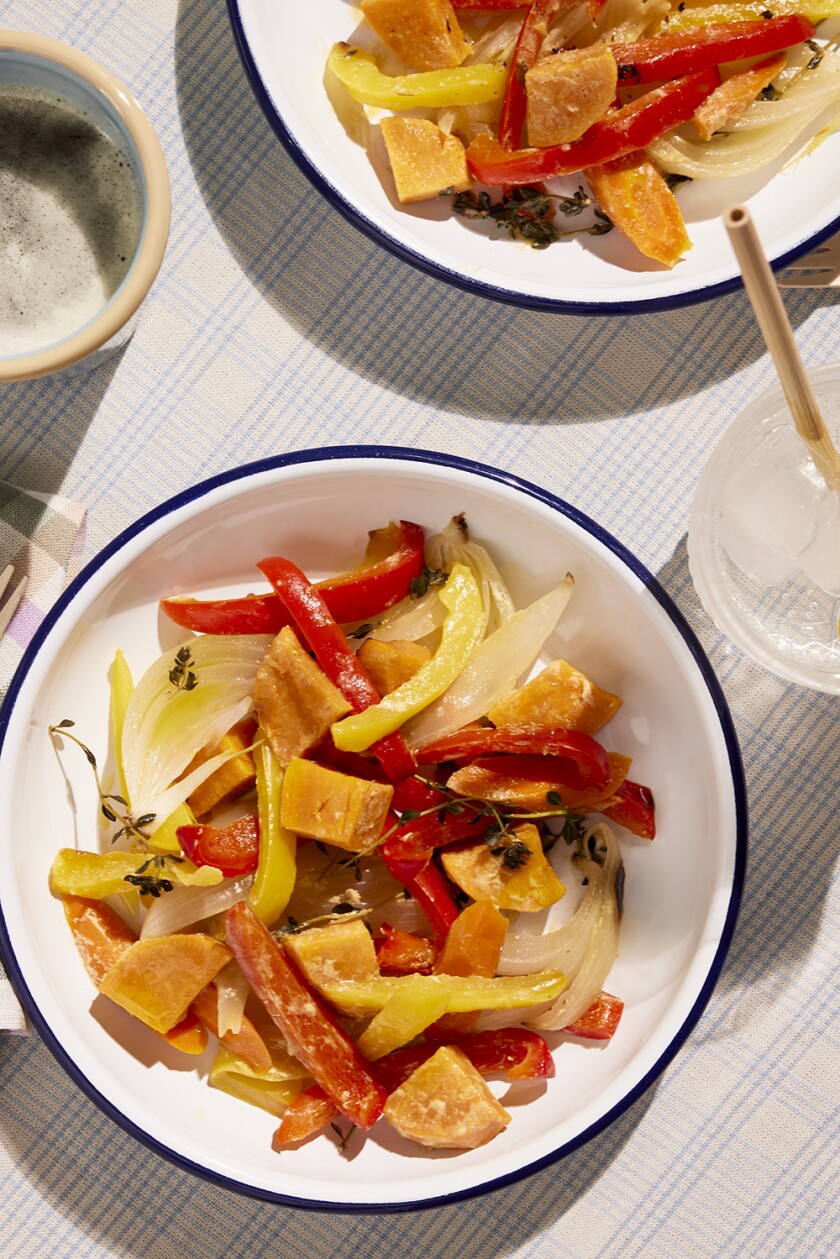 Not only is this meal packet healthy and nutritious, but it's also easy to custom design. You can swap out some of the vegetables to make your own special blend by using broccoli, cauliflower, mushrooms, zucchini or beets — the possibilities are endless!

Serves 4

3 sweet potatoes, peeled and cut into chunks

2 carrots, diagonally cut into

1 ¼ inch chunks

1 medium onion cut into thin wedges

2 bell peppers (red or yellow), sliced

¼ cup melted butter

2 tablespoons Dijon mustard

½ teaspoon thyme

Garlic powder to taste

Pinch of paprika

Salt and pepper to taste

Lay out 4 long pieces of foil and coat them with cooking spray. Fold up all 4 sides like a bowl (to contain sauce). Divide equally the cut vegetables on each foil square. In a bowl, whisk butter, mustard and all seasonings. Drizzle this over the four veggie servings. Fold up edges of the foil into a packet and tightly seal. Wrap again in another layer of foil, then place over campfire coals (not directly on fire) and cook 25-35 minutes (turning once after 15 minutes) until all veggies are tender.

Surf and Turf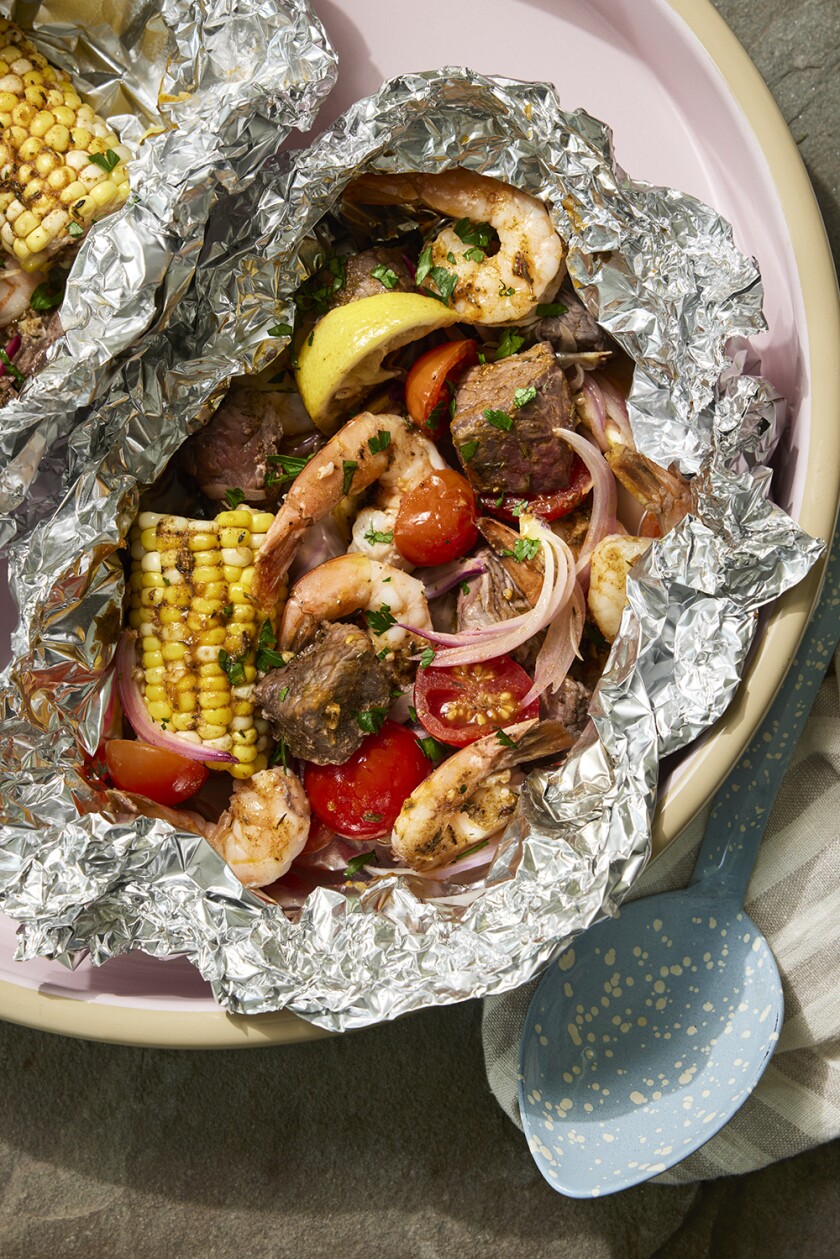 Need help deciding between seafood, meat or vegetables? You can have them all with this delicious combination of your favorite foods.

Serves 4

½ pound sirloin steak cut into 1-inch cubes

½ pound shrimp, peeled and deveined

2 ears corn, halved (to make 4 pieces)

1 red onion, thinly sliced

1 cup cherry tomatoes, halved

2 lemons cut into wedges (reserving 4 wedges for the topping)

4 tablespoons melted butter

4 cloves garlic, minced

4 teaspoons Old Bay seasoning

1 teaspoon cumin

2 teaspoons dried thyme

Black pepper to taste

Fresh chopped parsley for topping

Divide steak, shrimp, veggies and lemon wedges (reserving 4) evenly on 4 pieces of foil coated with cooking spray. Whisk together melted butter, garlic and all seasonings (except for the parsley) in a small bowl. Drizzle this evenly over each packet. Fold the foil in half and roll up the edges to seal the food tightly inside. Wrap another square of foil around each packet to prevent leaking. Place over campfire coals (not directly on fire) and cook for 6-8 minutes per side until steak is cooked to preferred doneness.

Sit back and enjoy a cozy campfire meal under the stars while the fireflies dance in the woods. But make sure you save room for dessert because no one can resist roasted marshmallows, squished between milk chocolate and graham crackers. Everyone will always ask for some more s'mores.

What's your favorite thing to cook when camping? Let us know in the comments below.