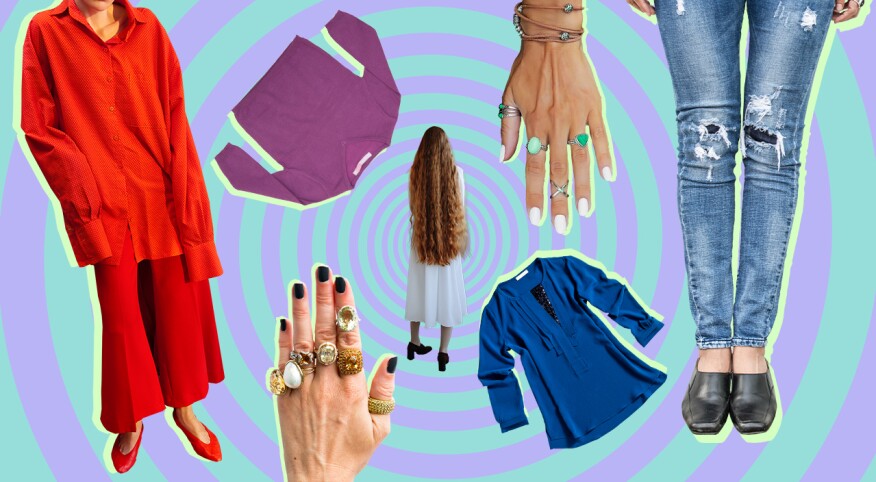 Getting stuck in a fashion time warp can do more than prematurely age us. It can make us appear out of step with the times — a relic of the past rather than a relevant participant of the present. And that's not a label many of us are willing to accept, much less embrace.

Even without a big budget, there are a few easy tips that can propel us into the modern and mainstream without sacrificing our personal style. We may need to dial down the volume on some of our favorite trends, but we will still be able to express our individual fashion truths. Read on to discover 10 top fashion tips. (Also, see here for some must-have fashion items for older women.)

1. Overdoing the bling

If your favorite color is anything bedazzled, please step away from the glue gun. Not that there's anything wrong with a little twinkle — just avoid too much of a good thing. Take my denim espadrilles with their rhinestone sparkles across the insteps. They make me smile as they catch the light when I walk, and add a bit of fun and whimsy. But when I put them on, I intentionally avoid anything else that glitters — no big statement necklaces, no chandelier earrings, no studs or rivets or metallic stitching on my jeans or T-shirt. These two shoes are quite enough bling for one outfit.

2. Opting for distressed denim

Few things scream "trying too hard" like jeans with rips and tears. These are best left in our '80s scrapbooks along with acid washes. If you want denim that's a bit edgier, instead go for jeans with hems that are raw, frayed or chunked as if caught in a bicycle chain. Pair them with retro sneakers or strappy sandals to make a more current statement.

3. Ignoring the trends

Our appearance telegraphs so many things about us, even before we say a word. By ignoring shifting fashions, we may be sending signals that we're out of touch and just don't care. Instead, embrace a few trends each season that fit you and your lifestyle. Keep an eye on the key colors, signature silhouettes and styling tricks. In these last days of summer, that means shades of Kelly green, bubblegum pink and orange with big, loose blouses layered over body-skimming tank tops. Bermuda shorts replace the Daisy Dukes, and flared jeans push aside the skinny versions.

4. Prioritizing only comfort

Many unfortunate decisions have been made in the name of comfort. Baggy silhouettes and plastic footwear come to mind. But neither is a necessity. In a post-lockdown world, you can have it both ways — comfortable and current. Spandex can provide that hint of stretch we crave in our jeans and T-shirts and help us avoid going overboard on looseness. More tailored pieces, like dresses, skirts and pants, even have details such as smocking, hidden elastic waistbands and drawstring waistlines to create form that doesn't sacrifice comfort. When it comes to footwear, slides and sandals deliver comfort without clunkiness, while wedges and platform options add the height of heels with the added benefit of comfort and stability.

5. Going to extremes

Clothes that cling too tightly or hang too loosely can add unnecessary years to our figures. Overly tight garments emphasize the lumps, bumps and rolls we've earned through the decades. The tough love approach works best: If it binds or cuts into your body, move on without a second thought. That goes for new purchases as well as items pushed to the back of your closet. Don't try to solve tightness by adding a tight undergarment — no matter how cleverly named, it's still a girdle. Instead, choose a more forgiving option that skims your curves rather than clutching at them. But beware the other extreme: baggy clothes. Their extra volume can add years by making our bodies look mushy and shapeless.

6. Rocking the Rapunzel look

If your hair drifts anywhere near your waistline, it's time to pause and consider a significant trim. Mature hair is drier, coarser and more brittle, all of which requires a lot more upkeep than most of us have the time or patience for. Rather than rivaling Rapunzel, go for a length that stops midway down your back. That's still long enough for dramatic tosses and flowing waves without being too cumbersome and outdated.

7. Letting it all hang out

The tunic top has its advantages, but if you're just letting it hang there, you are missing an opportunity to tap into styling that's current and flattering. Simply tucking the front of a tunic —or a button-down shirt, for that matter — into the waistband of shorts, jeans or skirts creates both form and visual interest. It also can camouflage any waistline fluffiness while concealing the rear view.

8. Flashing too many logos

Does your outfit have more logos than an outlet mall? Chances are you've fallen into the branding trap of savvy marketers around the globe. Like bling, you can have too many logos. And again, the trick is to limit the number to one or two (preferably from the same brand).

9. Choosing unflattering colors

Few colors — or silhouettes — look good on all of us. That's why we must resist diving headfirst into a trend without considering if it will flatter us. Blush and the other skin-toned shades that captivated influencers for years are prime examples. Too often those nude hues sapped the color from complexions that had been around more than a couple of decades. The key to making the best color choices is recognizing how your skin tone influences what flatters you. As you might expect, those of us with cool undertones look best in the bright blues, rosy reds and deep purples on the cool side of the color wheel. For warm skin tones, best bets are shades of nature, like coral, amber and moss. Considering these guidelines can help you make the most flattering selections from among any season's favored shades.

10. Clinging to the past

Sticking with a wardrobe that suited us 20 years ago freezes us in time — like an ant in amber. You'll know you've hit the expiration date when you can't find that favorite neckline, skirt, purse or bra style anymore, even after hours of online searching. Hitting that wall can prompt either frustration or an epiphany. The wise woman will know it's time for a change — not of her.