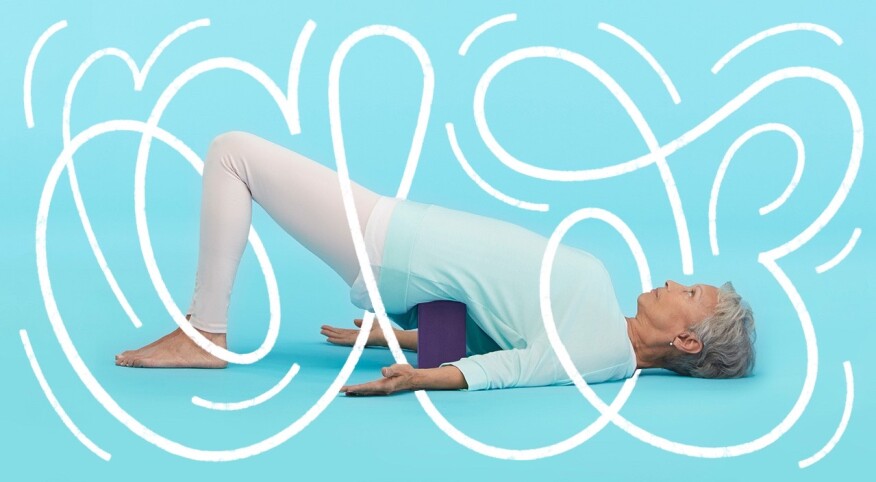 If you think you're too (old, inflexible, arthritic, out of shape, fill-in-the-blank-excuse) to do yoga, you couldn't be more wrong. As my yoga instructor once told me, "If you can breathe, you can do yoga." After all, the essence of yoga goes beyond holding physical poses—it involves finding stillness within. Yoga invites practitioners to slow down, to be mindful of the present, and to cultivate a more purposeful life.

Between 34-37 million Americans (roughly 10% of the population) practice yoga. There's a reason yoga is so popular—it's accessible and adaptable for people of all ages and abilities. For those with limited mobility, chair yoga provides an even gentler option.

At 57, I went from practicing yoga a handful of times in my entire life to steadily practicing four to five times a week for the last two years—with no plans of stopping. I turned to yoga during the pandemic as a feel-good activity to restore body, mind, and spirit, taking a mix of gentle and restorative Hatha classes at the Red Sun studio in Winter Springs, Florida.

On the days when I can't physically get to the studio, I'll often practice at home watching YouTube videos. Sometimes, I'll just take five minutes to practice balancing, perform some stretches, or do deep-breathing exercises.

As someone with osteoarthritis and a two-time cancer survivor, I understand the importance of staying active and maintaining physical well-being as I age. And, as we all learned during the pandemic, taking care of our mental health is equally as important. I've discovered that yoga offers an accessible activity that can boost your well-being, regardless of age.

While yoga has surged in popularity in recent years, this body-mind-spirit practice is actually centuries old, with its roots in ancient India. For more than 5000 years, people have turned to yoga to build strength, mindfulness and find inner peace.

Beyond calming the mind, the practice of yoga delivers a host of physical health benefits, such as improving flexibility and joint health. (I notice I feel more aches when I skip yoga for a week.) Yoga enhances balance, which can help prevent the falls that can lead to serious injuries as we get older, and strengthens muscles that support a healthy posture, Research also shows yoga can relieve symptoms related to fibromyalgia and lower back/neck pain, and may improve quality of life for people with chronic diseases such as multiple sclerosis.

My own feel-good experiences with yoga are corroborated by expansive research citing the many benefits of this ancient practice. On study at the University of California's Berkeley's Greater Good Science Centers showed that yoga reduces stress, anxiety, and depression. Similarly, studies from University of Illinois and University of Waterloo show that yoga improves cognitive functions. And research from the Journal of Alzheimer's Disease found that yoga enhances memory.

And yoga can help boost your social connections by becoming part of the local community. I've made several yoga friends at the Red Sun studio, with whom I dine out regularly.

Ready to find peace, increase mental clarity and physical strength through yoga? Here are some tips.

Talk to your doctor to ensure it's right for you and your individual health issues.

Check your ego at the door. As my yoga instructors often say, "No one is paying attention to you." At in-person classes, don't compare yourself to what your neighbor is doing. Everyone has a different body when it comes to size, shape, age, abilities. In fact, don't even compare yourself to what you could do yesterday or a month ago or five years ago. Do what you can—today—in the body you have right now. It's not a competition.

Listen to your body. If a pose hurts, back out of it, modify it, or don't do it at all. If you're mentally or physically exhausted, just rest in child's pose. I've seen students in class lie in shavasana (the resting pose at the end of yoga sessions) for the entire class because that's all they could muster that day. Remember, when you're on your mat, it's your practice. I'm currently dealing with potential carpal tunnel syndrome (on top of arthritis), so my wrist pain limits what I can do. But I show up for class, with my wrist brace on, and do what I can.

Find the right yoga studio. If taking in-person classes, experiment with different studios to find the right fit. Weigh the factors that rank high on your priority list, such as proximity to your home, types of yoga, cost, number/variety of classes, age/gender of students, ambience, philosophy, and quality of teachers.

Try before you commit. Many studios offer an introductory promotion to experience what they offer. My studio offered a "$30-for-30-Days" promo during the pandemic. I tried a variety of classes, times, and teachers to get a holistic perspective. After a few classes, I was hooked!

Check out online classes. In-person classes aren't for you? Then practice yoga at home. You'll find plenty of free and paid online options.

· Yoga With Adriene (Yoga for Seniors, Wheelchair Yoga)

· SeniorShape Fitness (Senior & Beginner Workout: Chair Yoga)

· Ocean Vayu Yoga (Yoga for Seniors & Beginners)

· Johns Hopkins Medicine (Yoga for Arthritis: Chair Yoga for Improved Mobility)

· Courage League Sports (Adaptive Yoga Workout)

· DoYogaWithMe (Yoga for Seniors)

Understand why it's called a yoga practice. Whether you're a beginner or a seasoned yogi, yoga provides an evolving journey that reflects the continuous process of self-improvement and self-discovery. You'll continue to learn something new about yoga — and about yourself — for the rest of your life.


Do any of you practice yoga? How does it help you? Let us know in the comments below.