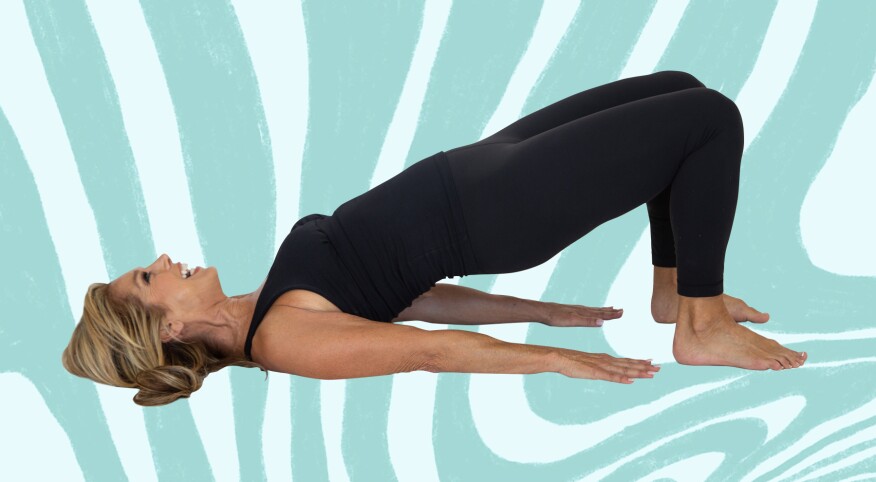 Wearing only a towel, I paused in front of a full-length mirror the other day. Guess what was frowning back at me like two petulant toddlers? My thighs.

There, slightly drooping over my kneecaps, were two upside-down smiles. Closer examination revealed that my thigh muscles were sliding south with a crepe-y (not the good kind) texture.

What the heck? For someone who spends a pretty decent amount of time sitting or lying down, gravity should have been kinder to my quads.

Turns out, that may be the problem. So I turned to the one person with the wisdom, experience and energy to fix my problem area: Denise Austin!

"As we age, we lose muscle tone," she explained. "If you don't use it, you lose it!

"When you exercise, you're helping your entire body have more energy. Exercise is key. But muscles are the miracle workers that help lift, tone and add tautness. We need to target and condition them — that's where we'll see results."


The first exercise to firm up the thighs so nothing droops above the knee is simple! Sit on the floor and prop yourself up on your elbows. Bend one knee and keep the other leg straight out in front of you. Flex your foot and lift your leg up and hold. Then bring it back down. You can also do this exercise in a chair. Sit up straight and keep one knee bent and straighten the other leg in front of you. Flex your foot and lift it three inches higher than your bent knee.

The straighter you sit up, the more you'll work the entire quad from the knee all the way up to the hip. This is one exercise I do every day because it also conditions my knees and keeps them healthy. That's really important. Do 12 reps on each leg.



The inner thighs are among the most underused muscles of the body even when we walk or climb stairs. It's hard to target the inner thigh without specific exercises. Stand up nice and tall and bring your right leg out to the side. Then bring it back down and across the front of your other leg almost like a scissor. Hold and squeeze your inner thighs and take it back. Try to flex your foot and keep both legs nice and straight. Add in a resistance band or ankle weights for additional benefits! Do up to 12 reps on each leg.



BACK-OF-THIGH FIRMER/BOOTY LIFTER
Let's defy gravity in five minutes a day — that's truly what I'm all about. There are easy exercises you can do to strengthen the back of your thigh that will also lift that booty! Lie on your back, bend your knees. With feet planted on the floor, thrust your hips up. You'll feel all the muscles in your thigh engage — the front, the back as well as your tushy. The more muscles you engage in your thighs, the better.

This exercise is very knee friendly. That's the whole thing, I want to exercise, but I don't want anything to happen to my knees. This will help protect your knees and hips because joints are so important. Do 12 thrusts.



OUTER THIGH/SADDLEBAG SLIMMER

Stand up tall (hold onto a chair if you need to) and bring one leg out to the side and back down next to the other leg. I call this my saddlebag slimmer. It really works to firm up the outer thighs and hips. It's great for hip mobility, too. It really works! Lift each leg to the side 12 times.
You can get all these exercises and more ways to tone up your legs — including your thighs! — in Denise Austin's Stop The Clock Workout Plan: Staying Fit and Fab After 40!

.