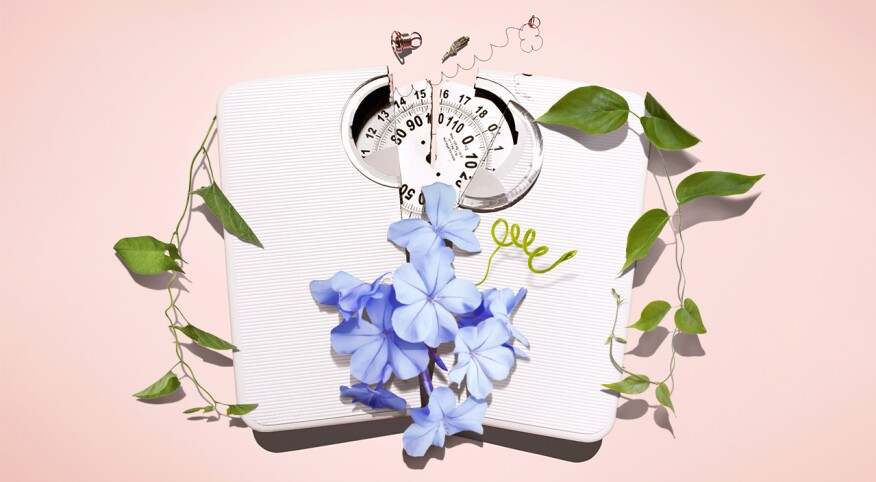 If you're reading The Ethel you're probably old enough to remember the moment when actress Camryn Manheim won an Emmy for her role as lawyer Ellenor Frutt on The Practice: "This is for all the fat girls," she crowed, jubilantly waving her award statue in the air.

Standing up on an international stage in front of millions of people to make that statement, along with her autobiography, Wake Up, I'm Fat, was seen as a brave, anti-diet manifesto. Still, the same year that Manheim won that 1998 Emmy, megastar Oprah Winfrey, who has vacillated between dieting and size acceptance, celebrated a then-recent weight loss by wheeling a wagon filled with 67 pounds of fat onto her TV stage.

But that was over 20 years ago. Oprah now regrets the stunt. And these days, the image of the shameful, self-loathing fat girl (or guy) is, being replaced by one of "body positivity." You can be heavy, but you can also be confident, beautiful, sexy and glamorous.

"When will we stop equating thinness with health and happiness?" writer/actress Lena Dunham posted on Instagram. "Of course weight loss can be the result of positive change in habits, but guess what? So can weight gain."

This inspiring missive came in response to body-shamers who criticized her recent wedding photos in which she's considerably heavier than she was when she starred in her ground-breaking HBO series Girls. Ironically, Grammy winner Lizzo, an outspoken symbol of plus-size power and beauty, was recently criticized for her weight loss.

"Go home tonight, look in the mirror and say, 'I love you, you are beautiful, you can do anything,' " Lizzo tells audiences, admitting to the bullying she suffered and the negative images she saw of women who looked like her. "I don't think loving yourself is a choice; it's a decision that has to be made for survival," she wrote in an NBC News op-ed.

As for that weight loss she received backlash over, Lizzo explained that "I detoxed my body (losing 50 of her 303 pounds by going vegan) and I'm still fat. I love my body and I'm still fat. I'm beautiful and I'm still fat. These things are not mutually exclusive."

In other words, shut up and love yourself. That's the message from celebs like Lizzo, plus-size supermodels like Ashley Graham and Precious Lee and companies like Unilever's Dove inclusivity campaign, which portrays women as they really are. And while many large-and-in-charge Tik-Tok fashionistas complain that when they see a style they like, there's a good chance they won't be able to find it in their size, companies like Kim Kardashian's SKIMS, Selkie and Girlfriend Collective are hopping onto the plus-size bandwagon.

Not to mention Old Navy, whose BodEquality ads hit print and the airwaves this fall with a plus-sized Aidy Bryant from SNL and Shrill whooping it up with a bevy of democratically sized models. "It was time," says company spokesperson Kelsey Varwick, explaining that rather than isolating "plus sizes" into stores' Siberia, all styles, from size 0-4XL will be integrated into one area and will cost the same. This shift is to communicate that all customers are welcome and included. Old Navy has jumped in with both feet, remodeling all of its 1,200 stores; it's too soon to say whether the effort is a commercial success. But according to the NPD consumer tracking service, the average American woman wears a size 16-18 and represents almost 20 percent of the buying market, and plus-size apparel rakes in a whopping $20.4 billion a year. And while they can't share financial information, an Old Navy spokesperson said website searches on the company's platform for "plus" are up 63 percent from last year.

Still, lest you think that "body positivity" is just one more "women's issue," heed the recent IG posts from two-time Oscar nominee Jonah Hill.

"I know you mean well, but I kindly ask you not comment on my body good or bad. I want to politely let you know that it's not helpful and it doesn't feel good," Hill wrote. "I don't think I ever took off my shirt in a pool until I was in my mid-30's, even in front of families and friends.

"Probably would have happened sooner if my childhood insecurities weren't exacerbated by years of public mockery about my body in press and interviewers. I'm 37 and finally accept and love my body," he wrote.

The fact remains: Weight is a weighty and controversial issue, no matter your size. At least Twiggy is no longer my role model, as she was during my tormented teenage years. I no longer freak out if I can "pinch an inch" (or more) around my hips. I now have a full, rounded tummy and a flat butt, instead of the "ideal" vice versa.

The best counsel I ever followed is the advice that celebrities as diverse as Tina Fey, Pink, Kelly Osbourne and Christina Aguilera swear by, and I would urge everyone to abide by it too — ditch the scale. "I swore off scales a long time ago," America Ferrara has proudly stated. "More than anything, I just try to be aware of how does what I eat make me feel. Do I feel better? Do I feel energized? Does this make me tired and not feel great? I try to go easy on myself."

Amen.