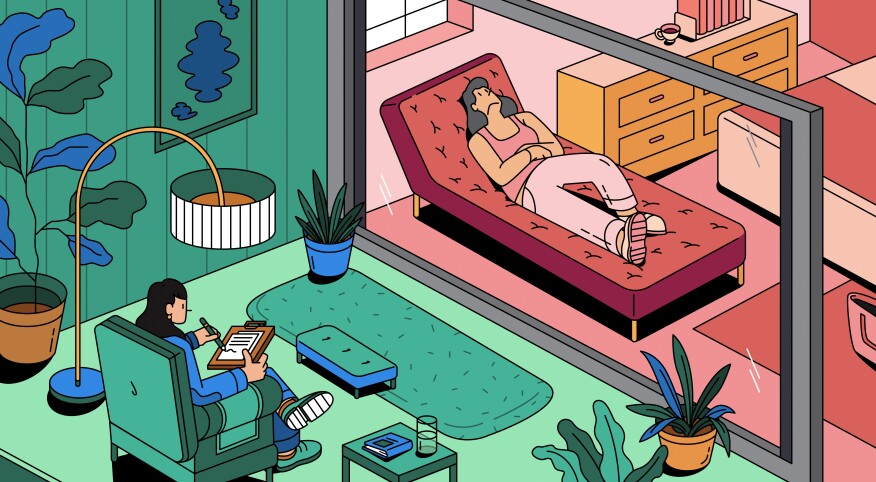 It turns out that my therapist is a cat person. Before the pandemic, I'd never have known. Her office was nondescript, with few cues to her private life. But now that we conduct sessions online from our respective homes, I've seen her two kitties. She's also seen my two cats, Van Gogh and Lily, and recognizes which one is jumping on my lap during our virtual appointments.

Virtual therapy — or mental telehealth, e-therapy, online therapy, among other labels — skyrocketed during COVID, and continued to grow in popularity even as pandemic worries waned. Like me, some clients who switched from in-person to online decided to keep it that way.

There's also been significant growth in apps that offer alternatives to traditional in-person therapy, such as Talkspace, BetterHelp and Brightside.

Just as it's impossible to paint in-person therapy with a broad brush, so too is it impractical to throw all online options into one bucket.

Services range from real-time video visits to asynchronous texting (the client and therapist text each other, but not in a same-time conversation). Providers may be licensed psychiatrists, psychologists, social workers, addiction counselors — even bots.

Paradoxically, I find remote therapy intimate. I'm relaxed in the privacy of my own home, feeling cozy in my slippers and sweats. To block the distractions of emails and texts, I expand my video chat window to fill the screen. Then it's just the two of us, having a face-to-face, even if we are in different towns.

Certainly not everyone shares my enthusiasm. My friend Linda Atkinson happily drives to her New York therapist's office for in-person visits. She can't imagine getting therapy through a screen. "There's an atmosphere in a room, a chemistry," she says. "I can watch her eyes smile."

Virtual therapy offers both distinct advantages and disadvantages. Let's start with the pros, which are considerable.

Convenience. I no longer must drive one hour round-trip to see my therapist. Weather and traffic are never an issue (unless you lose your electricity and can't get internet for an online session). It's easier to schedule sessions during nontraditional hours. I can even wear pajama pants.

"I've had clients who would call in from the parking lot of a laundromat for sessions," says Ashley Batastini, a psychologist and assistant professor at the University of Memphis. "Convenience is one of the biggest advantages."

Accessibility. Many areas, particularly rural ones, have a shortage of mental health care providers. Virtual therapy offers much-needed access. Likewise, people with physical disabilities and mobility issues can benefit.

Affordability. Most insurance plans cover telehealth visits, though not all. Virtual therapy is not necessarily cheaper but associated costs of traveling to an office, like gas and childcare or elder care, can be avoided.

Mental health providers also benefit from an online practice. Therapists have better control over their schedules and can avoid overhead costs and minimize their own travel time. It also offers the therapist different insights.

"A big plus in doing virtual therapy is being able to see my client's surroundings," says Amy Sterling-Bratt, a Massachusetts clinical social worker. "I'm able to see the level of cleanliness or clutter in the background. They're also able to share things with me — a knitting or an art project, a garden — that wouldn't happen as easily in an office."

And here are some possible downsides:

Technology. Sessions can be disrupted by unstable connections. Not everyone has access to the internet or camera-equipped devices. Older adults may be less comfortable with the technology.

Privacy. Confidentiality is important in any therapeutic setting, but online sessions carry a higher risk of a breach, especially if the platforms are not encrypted. Tech-based mental health companies are more likely to be the target of a cyberattack than individual therapists.

Marlene Maheu, executive director of Telethealth.org points to research at Duke University that identified data brokers advertising highly sensitive information on millions of Americans, including the phrase "mental health data for sale."

Ethics and legality. An ethical therapeutic relationship requires informed consent. But how many times have you scanned a multipage privacy provision document online and clicked "okay" without really understanding (or even reading) it? These agreements cover an acknowledgment of risks, including those related to confidentiality and security.

Legally, "the therapist should be licensed where you are physically located at the time of the session," says Maheu. "The jurisdiction is where your body is."

Having done both, I have found virtual and in-person therapy to be equally effective. A range of academic research also points to screen time providing the same results as face-to-face.

One 2018 meta-analysis (a study that combines the result of multiple studies) published in the journal Cognitive Behaviour Therapy compared the effectiveness of virtual and in-person therapy for depression and several types of anxiety. Researchers concluded "the two treatment formats are equally effective in treating social anxiety disorder, panic disorder, depressive symptoms and other conditions.

The key, according to Maheu, is that therapists be trained specifically on protocols for a virtual practice. "Data show that given a trained therapist in technology, the outcomes are the same," she says.

The American Psychology Association has issued guidelines for the practice of telepsychology, and several professional organizations, including Telehealth.org, the International Society for Mental Health Online and the Online Therapy Institute, provide training and resources to mental health providers.

"The fit between the client and the therapist is really one of the most important factors as to whether therapy is going to work for an individual," says Batastini. "It's not the type of technology that's being used or whether you are talking to someone from a distance or the very same room."

Finding the right therapist online may take a few tries. Make sure to do your research. Ask any prospective mental health professional about education, training, specialties, expectations, privacy and other issues that affect your treatment.

As for me, I've struggled with anxiety since I was a kid. It hasn't abated, but thanks to some effective therapy, I've learned how to manage it. And that's a good thing, because at this stage of life, the stress doesn't seem to stop.

Torn between an ailing 99-year-old mom in one direction and a daughter with a new high-pressure job and baby in the other, somedays I don't know where to turn. (Literally — my mom lives 20 miles south of me; my daughter, 29 miles north.) Add to that my own work deadlines and health issues and the needs of my husband. Oh, did I mention that we're moving next month?

I'm beyond grateful to have a wise and wonderful therapist who helps me navigate my anxiety about all this. And being able to see her without having to jump back into the car yet again is as comforting as … well, sitting in my own home with a cat or two purring on my lap and talking with someone I trust.

Have you ever tried online therapy? What did you think? Let us know in the comments below.