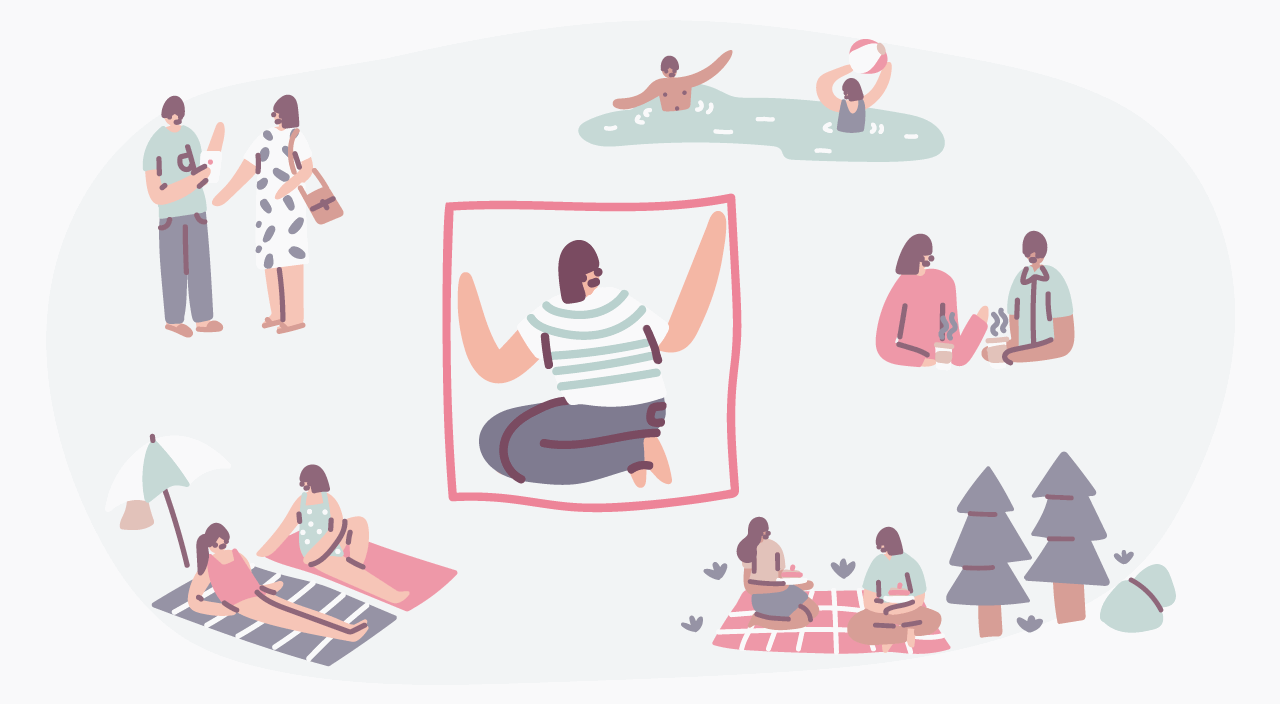 Even though I've lived alone for many years, there were rarely times I felt the sting of loneliness — until recently. My husband died when my daughter was 5 and while being a single parent had challenges, I had social connections through other parents, a job I loved and friendly coworkers.

I dated (sometimes successfully, sometimes not).

Fast forward to, well, now. My daughter was in law school when COVID hit and quarantined with her boyfriend in Washington, D.C., where she eventually moved. I live in New York City and for quite a while, travel didn't feel safe. I only saw friends who lived within walking distance.

While I was lucky enough to have work, it was — and still is — remote. I found myself going long stretches without seeing another human being. (My record was five days.) As restrictions lifted, I realized I had gotten out of practice socially. A sense of isolation had become my new norm. I knew it was time to address the situation for the sake of my mental and physical well-being.

I was lucky to have a good role model in my mother. My parents had a relatively traditional marriage and when my father died suddenly at 72, my mother had few non-couple social connections, but she quickly took action. She joined the local senior center, took classes on Shakespeare and opera, and made new friendships that she maintained for the next 20 years. They called each other the Sorority, organizing get-togethers, helping each other when needed, creating a support network. Most of all, they had fun together.

The loneliness epidemic

According to a 2021 study by the Cigna Group, "The Loneliness Epidemic Persists: A Post-Pandemic Look at the State of Loneliness Among U.S. Adults," 58 percent of Americans consider themselves lonely. Nevertheless, there remains a stigma about admitting it. U.S. Surgeon General Vivek Murthy, M.D., recently wrote in The New York Times, "After my job ended, I felt ashamed to reach out to friends I had ignored. I found myself increasingly lonely and isolated, and it felt as if I was the only one who felt that way. Loneliness — like depression, with which it can be associated — can chip away at your self-esteem and erode your sense of who you are."

Murthy went on to speak of the physical toll loneliness can take. "When people are socially disconnected, their risk of anxiety and depression increases. So does their risk of heart disease (29 percent), dementia (50 percent), and stroke (32 percent). The increased risk of premature death associated with social disconnection is comparable to smoking daily — and may be even greater than the risk associated with obesity."

Because of these factors that deplete mind, body and spirit, Murthy has called for a national campaign to address the loneliness epidemic.

Be aware of risk factors

According to a study by the National Council on Aging (NCOA), "Navigating Social Isolation and Loneliness as an Older Adult" (2022), "Researchers have pointed to older adults being more likely to live alone, lose a family member or friend, suffer from a chronic illness or hearing loss as risk factors for social isolation and/or loneliness."

"The good news is that many of us experience greater resilience as we age," says Kathleen Cameron, senior director of NCOA's Center for Healthy Aging. "If you are feeling lonely, though, it's important to first understand if it is a sign of other potential mental health issues such as depression, which can exacerbate the situation," she adds. "If loneliness is ongoing and interferes with your daily life, talk to your primary care provider who can steer you to appropriate help. Be aware, too, that self-medicating with alcohol or not getting enough sleep can lower your motivation to take health steps and make the loneliness worse."

Make the first move

Don't wait for others to reach out. One way to help your own loneliness is to reach out to others who might be feeling the same. "It could be as simple as making a phone call to say hello to a friend or family member who might also be feeling lonely," says Cameron. "That simple conversation can make you both feel better."

Tackle social anxiety

One unfortunate byproduct of loneliness is that it can feed on itself. The longer you go without social interaction, the harder it can be to start to engage again. If that's the case, Cameron suggests volunteering as a way to ease into social situations. It's free (who doesn't love that?), and it can give you a sense of shared purpose. Start by checking with your local senior center or house of worship to find opportunities. Taking continuing education classes or joining a club, whether it's gardening, bridge or music, can also be a comfortable way to venture out alone while still providing the opportunity to connect with like-minded people.

Help your body and your spirits

We know how beneficial it is for our health to take a walk for just 15 minutes a day. Walking with a friend compounds the benefit, adding social connection to the mix. Plus, making a standing date can keep you motivated. Tai chi classes can be a great way to meet people. They are often modified for physical limitations and have the added bonus of improving balance, which is so important to prevent falls that are a high risk as we age.

What worked for me

Reentering the social scene post-COVID, the first thing I did was join my local YMCA and sign up for Zumba and pickleball classes. On the courts, I met women from all walks of life and a group of us now meet every Friday at noon to play.

I have also gotten over the embarrassment of not always having plans and will text friends spontaneously on a weekend to see who is up for a movie, a happy hour or just a cup of coffee. Turning social connection into a ritual has also helped. One of my oldest friends and I now meet once a week for a glass of wine.

Are there times when I don't feel like making the effort? Sure. But do I always feel so much better when I do? Absolutely!

Do you find that you feel more alone the older you get? Let us know in the comments below.