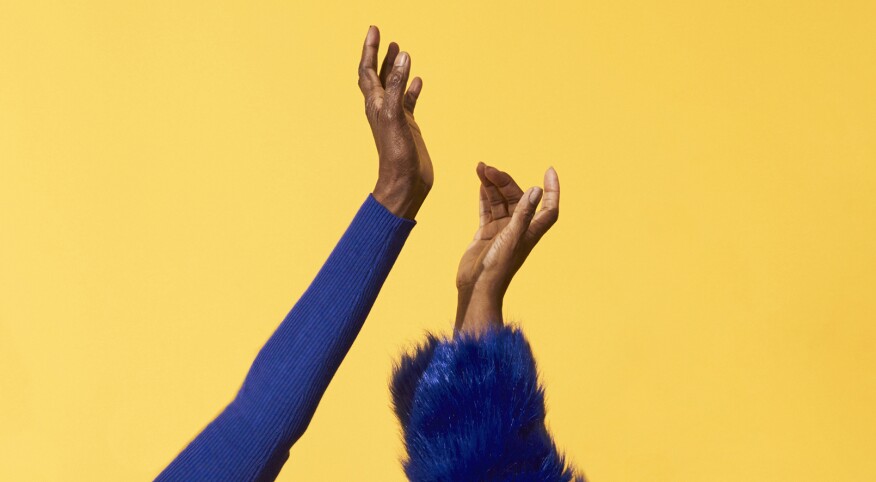 It began to happen at 60 — a small jiggle with a lift of the arm, even though I lift weights. An awakening, troubling and true, that the fine lines from laughter have turned into grooves, that the tawny spots and bulging veins on my hands look more like my mother's hands.

But I do not loathe these hands.

They connect me with Helene Krasnow, who passed away in 2006 and whose hands I can still evoke in pristine memory, every detail, every change. I see the transformation as she moved through her well-manicured 50s into her mid-80s, when the veins protruded like purple worms and her fingers would reach, shaking, to stroke my face.

These hands are my truth.

These are hands, my hands, that held four babies and held teenagers tight as they left to start college, then to jobs in different states. These are hands that plant tomatoes and write books and grade papers and put on eye cream at night. Over the decades, these hands have gone from bearing velvety skin and long red nails to calloused with wormy veins, though, thank God, they are still working and strong.

These are hands that clutched a husband's back for a first dance to the song, "When A Man Loves a Woman," at a wedding on a snowy night in March of 1988. These are hands that touched the coffins during two parents' funerals and have placed their photographs throughout my house, as to keep them forever close.

These hands are my history holders. I am proud of their hard-earned journey.

As I put together a zucchini quiche, my whole life shoots through me, chopping vegetables and forming the crusts I have crafted since my late teens when I worked at a restaurant.

Lost in movement, I shake work and worries aside. My consciousness shifts to my hands, layering with precision, as if I were a mason, onions and mushrooms, then zucchini and cheese. I am struck by how laborious a task making a quiche actually is.

I love how tranquility takes hold when the hands take over. I love the feel of these hands in mud or flesh or batter. I love what these hands can create.

I think of the bamboo craftsmen in Japan who weave magnificent baskets for drying shiitake mushrooms; the Zuni tribes who inlay slivers of coral and turquoise into jewelry, the Chinese potters that turn slabs of white clay into prized porcelain.

Our hands, no matter how they appear on the surface, they give us the ability to elevate our talents and to dig deeply throughout our lives.

These hands of mine have been wrung in grief and lifted in the V of victory. These are hands that will hopefully be able to clutch children and grandchildren, and tap out pages, until my final day comes. I am grateful for these aging hands, no longer pretty and smooth. They make everything happen in my life that is good and right.

These hands can keep no secrets, they are the most accurate of lie detector tests. We know a woman's age by a gaze at her hands, even a quick look is a giveaway. I meet elderly women with tight faces and shoe-polish black hair who refuse to cite their age. Yet we cannot hide from our hands, and why would we want to?

These hands are the forces that keep us growing and producing and showing our love throughout every age.

Today these hands are cutting peonies from the garden and arranging them for a centerpiece for a dinner party, alternating the whites with blossoms that are the pure pink of cotton candy. When guests arrive, they are hands that lift an icy martini, slightly dirty, with blue cheese olives, at the end of a long day of teaching and writing.

These hands bring my mother back to me every day as I wash dishes and cook her recipes and dial the phone numbers for children no longer in my nest. They are veiny and spotty and the map of a life that cannot be erased. And they allow me to keep adding new chapters.