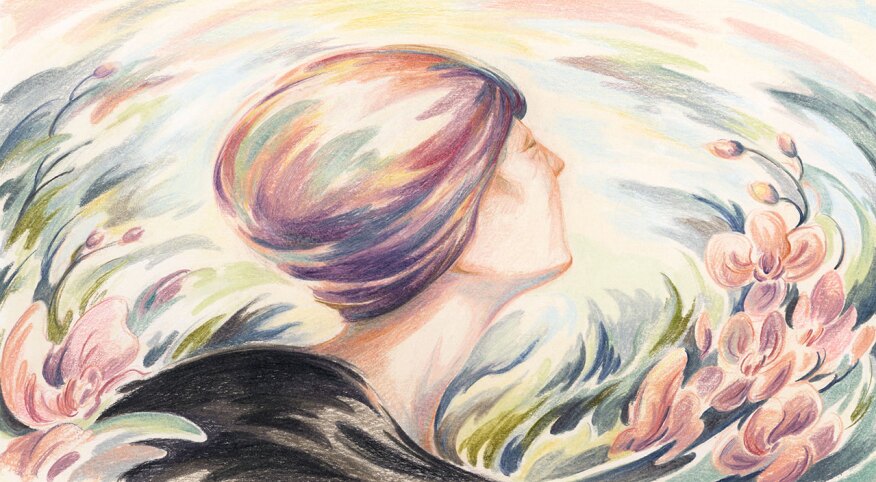 One day I will have hair on my head again and people who don't know what I've been through won't perceive me any differently. They won't presume to ask, as a neighbor once did, "Are you in treatment?" Should I have answered with the dreaded "C" word that I find so hard to say out loud?

It made me wonder what others, who didn't say anything, might have been thinking when they saw me wearing a turban on the way to the mailbox. I experienced many conflicting feelings as I was coming to terms with having cancer.

"You can't prepare for everything that might happen on a journey that you didn't want to be on, but it's good to be aware of different side effects and repercussions," says Lauren Streicher, M.D., a professor of obstetrics and gynecology at Northwestern University's Feinberg School of Medicine. "It's not just an impact on self-esteem when something private becomes public," she notes. "There can also be physical effects."

A year ago, at age 74, I was unprepared for a diagnosis of uterine cancer that would result in surgery and chemotherapy.

I had always been diligent about check-ups and Pap smears, but I was unaware that "age" by itself can be a risk factor for gynecological cancers. I also was surprised to learn that the Pap test checks for cervical cancer do not routinely screen for uterine cancer. It can sometimes show signs of an abnormal lining of the uterus, which can be confirmed by follow-up tests.

Something told me to listen to my body and see the doctor to check on a slight, pinkish discharge despite feeling fine. It wasn't blood, but it wasn't right.

"Women who experience any postmenopausal bleeding, even if it is just spotting, should make an appointment with a gynecologist," Streicher. "While most postmenopausal bleeding is not an indication of cancer, it needs to be properly evaluated."

As I learned about my treatment plan, it became apparent that the side effect of hair loss would be very depressing for me. Our hair is an essential part of our self-image and femininity.

Perhaps in wishful thinking, I thought I might be the one who would avoid hair loss. But armed with information from the American Cancer Society, I did not have much faith that my locks would live as the chemicals used to fight cancer don't distinguish between good cells like hair and bad cells that could metastasize.

While many people have reported success with a cold cap, a scalp-cooling device that can reduce or prevent hair loss. I decided to pass on being attached during chemo infusions to additional equipment that cost $2,000-plus out of pocket, with no guarantee it would help.

Guerdy Abraira, 45, featured on The Real Housewives of Miami, recently posted on Instagram that she decided to shave her head before starting her cancer treatment, but I wasn't that bold. I cut my hair short in anticipation and thought it would help, but soon I began to find hairs everywhere — on the blanket, pillow and floor. And then I was completely bald.

Who are those women you see on TV who have shaved their heads and look oh so glamorous? This was not me. Maybe my trendy turbans would appear stylish if I was in my 20s and not an older woman with a turkey neck.

I soon found that I had to keep a box of tissues on my kitchen table as my nose ran like a faucet when I sat down to a meal. That was because chemo not only cleared the hair on my head but also affected internal nose hairs that we never think about but which prevent such dripping. Then my eyelashes and eyebrows were also on their way out, along with hair on private parts.

Okay, I have vented enough. I would be remiss if I did not mention positive experiences — friends who surprised me with a hat ordered online and delivered to my doorstep or who took the time to knit one. Neighbors sent orchids and soup. Was I so considerate when others I've known had a serious diagnosis? Now I know what can touch someone's heart at a time of stress and I remain surprised at how any small act of kindness can move me to tears.

Other support came from organizations such as the Turban Project that provide free and fashionable headwear to patients who have lost hair for medical reasons.

These past six months were grueling as I was consumed by chemo treatments, though there have been some benefits. I don't miss having to shave my legs or tweezing that pesky single hair under my chin. I've saved money on hair products and the pricey cut-and-color excursions to a salon every few months.

I wonder if my stylist ever wonders what became of me? I wonder if my hair will grow back curly and white and whether I'll welcome the change.

As I see the beginning of some salt-and-pepper peach fuzz on my head and some lashes on my eyelids, I'm encouraged yet concerned. I'll begin worrying anew as chemotherapy is finished and I set the schedule for future checkups, having been warned about "scanxiety" — the fear that rises in the first years of being a survivor.

My 2-year-old granddaughter kept asking me why I was wearing a hat and I decided it was time to let her see the beginnings of stubble growth. When she saw me on FaceTime, she called out to her father in another room, "Daddy, Grandma has the same hair as you."

No anticipated trauma after all, and as we disconnect our call, there is a smile on my face. And so I go on, with hope and gratitude.

Have any of you had to cope with chemotherapy? Let us know in the comments below.