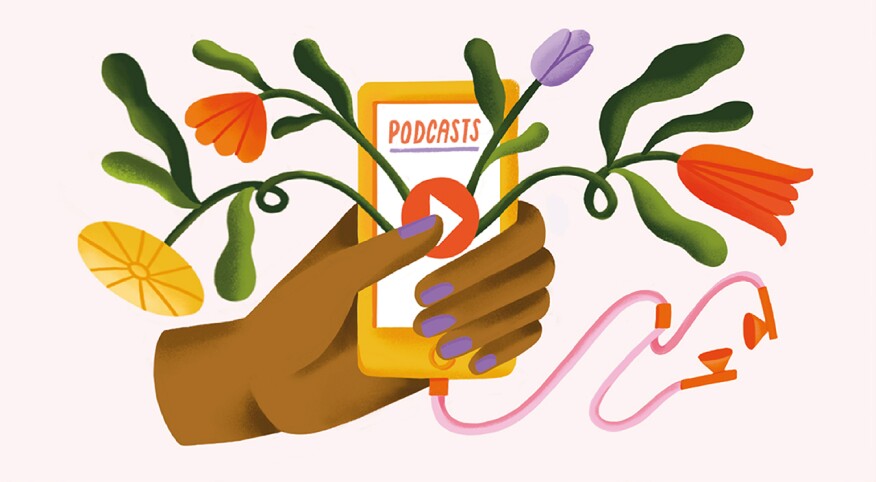 AARP also offers an array of fabulous podcasts for older adults. Find out more here.


I love listening to podcasts. They're like buddies who keep me entertained while I trudge on the treadmill, clean the house or go on long car trips. They can make me laugh, cry or gasp in surprise, and I always learn new things.

When podcasts were introduced in 2005, they were basically a way to download a radio show that you could then listen to at your convenience. Since then the medium has exploded, with some 2 million podcasts offering original content on everything from true crime to comedy to wellness advice and the daily news.

Podcasts are popular among older adults. According to the latest data from Edison Research, which closely tracks the podcasting industry, 22 percent of adults 55 and over in the United States listened to a podcast in the last month.

That's one reason gynecologist Lauren Streicher, M.D., a professor at Northwestern University's Feinberg School of Medicine and an expert on menopause and sexual health, decided to join the podcast world this year. Although she had written numerous books on menopausal issues, women kept asking if she had an audible version they could listen to.

"Finally, I had this aha! moment," Streicher told me. "I realized women are listening to podcasts while they do the laundry, take a walk, are at work." So she decided to started her own podcast, Dr. Streicher's Inside Information: The Menopause Podcast, to answer the types of questions her patients often ask.

Psychotherapist Amy Morin, host of The Verywell Mind Podcast, also had authored numerous books and was a popular lecturer on becoming mentally strong before she created her podcast a few years ago. Morin emphasizes that a mental health podcast isn't a substitute for therapy. But, she says, a good podcast "can help you gain a better understanding of how to improve your mental health, how to recognize when you have a problem, and how to manage difficult emotions."

Here are some podcasts, both old and new, that may inspire you with their discussions touching on many aspects of successful aging.

The Happiness Lab
Yale professor of psychology Laurie Santos's course on the science of happiness, introduced in 2018, became the most popular course in Yale's history. Her weekly 30-minute podcast offers her insights into better ways to handle anxiety and stress and find more happiness in life. In a fun 2021 episode, "Why Nostalgia Ain't So Rosy," Santos talks with actor Rob Lowe, 58, and others about longing for "the good old days" and how our brain readjusts our past memories, often giving them more positive or negative weight than they actually deserve.

70 Over 70
The idea for this inspirational podcast, hosted by Max Linsky, began with a heartfelt conversation he had in 2020 with his then-80-year-old father about his zest for life and whether he feared dying. Linsky then decided to talk to others 70 and older who have found new sources of joy and contentment in later life. Each episode features an interview with a well-known person, such as long-distance swimmer Diana Nyad, actress Judith Light and singer David Crosby, as well as short stories from regular people. Famous or not, all offer frank — and often funny — comments about creating our best life, right now.

Dr. Streicher's Inside Information: The Menopause Podcast
Very few podcasts talk specifically about the issues women face due to menopause. Enter expert Lauren Streicher, M.D., who runs a menopause medical clinic in Chicago and is a professor of obstetrics and gynecology at Northwestern University's Feinberg School of Medicine. Her straightforward, fact-filled podcast tackles everything from skin changes and thinning hair to bladder problems and low libido. Some of her most popular recent episodes discussed the best ways to lose post-menopausal weight and open, nonmonogamous relationships. Imagine your brainy best friend as a talkative gynecologist: That's how it feels listening to Lauren.

Hidden Brain
This popular podcast explores the unconscious and complex ways our brains drive behavior. Hosted since 2015 by science journalist Shankar Vedantam, the show covers a wide range of topics, such as deciding whether to do the right thing, even if it hurts those close to us, and how to shield ourselves from the toxic effects of the increase in rudeness. Vedantam's low-key style allows his guests to speak openly and uninterrupted, which makes listening and understanding easy on the brain.

The Verywell Mind Podcast
This mental health show, hosted by psychotherapist Amy Morin, features interviews with a variety of people — such as a couples therapist, a neuroscientist and a best-selling author — about their struggles and strategies for staying mentally strong. Morin is a sharp interviewer, and each episode focuses on providing practical suggestions. If you don't have much time to listen, I recommend her 10-minute "Friday Fix" episodes during which Morin answers several listener questions with clear, succinct advice.

This American Life
Sometimes you just need to get lost in a really good story, one that is revelatory, poignant, funny, engrossing. Millions of Americans turn to this podcast, which is consistently among the top 5 most listened to in the country. This American Life is based on the long-running weekly public radio show of the same name. One of the most popular episodes, "Switched at Birth," is about two baby girls born on the same day in 1951 who were accidentally switched at the hospital. One of the mothers knew the switch had occurred, but she didn't tell anyone until 43 years later.

Next Question with Katie Couric
Couric, 65, has been a familiar face on television news for much of our lives. Now she's a familiar voice in our ears with her new podcast, which allows her to do what she does best — interview people about their accomplishments and struggles. Couric talked recently to former child star Melissa Gilbert, of Little House on the Prairie fame, about aging; actress Jean Smart about her new show, Hacks; and patients and medical experts on the acute symptoms and the causes of long COVID. Tip: Each episode starts with a couple of ads, but you can skip right past them.