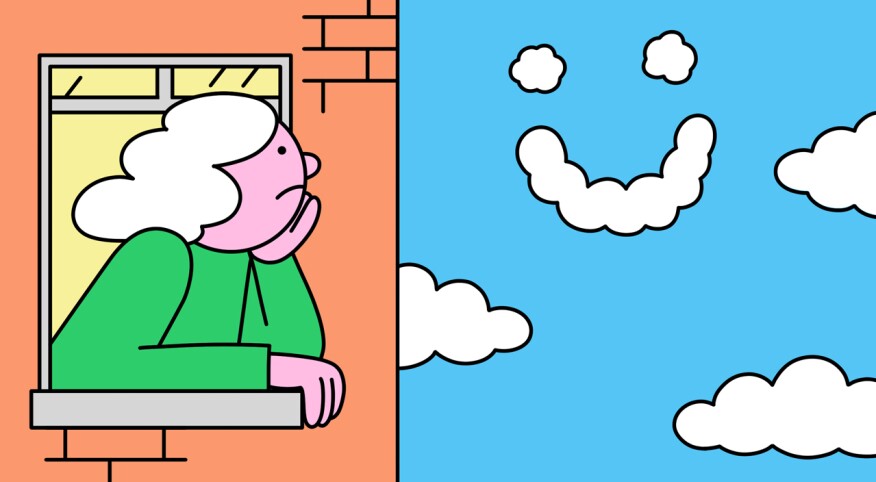 You love to dance and haven't danced since your son's wedding — 15 years ago. Instead of exercising you have developed an addiction to Pringles, which now come in seductive flavors like Pizza Crisp. Your spouse travels constantly, and your kids live across the country. You are uninspired and blasé and unhappy.

Can we train our minds to be happy like we can train a dog to sit on command? Not so easily. But we can train our minds to understand that the ticket to finding joy is to realize that we have the power. Parents die. Children leave home. Marriages bust apart. The only person we can count on to go the distance is ourself. So, we all must develop immense self-love and self-reliance so when our worlds come unraveled, we still have ourselves. And the self that's grounded in self-worth is indestructible.

I am not a psychologist. Yet at home and on the job, I have learned a lot. I am the mother of four adult sons, a wife of 35 years, and an author of many relationship books focused on the rollercoaster we ride through the many passages of a woman's life. I have conducted hundreds of interviews, spanning bus drivers and factory workers to Yoko Ono, Betty Friedan and Barbara Bush.

While my sources come from diverse backgrounds, we as women share the same challenges: staying sane and centered in the emotional chaos of family life while living in a chaotic world. Here are four pathways that could help quiet our minds and discover joy:

Don't look to others to give your life purpose

In my book Surrendering to Yourself, I drilled deeply into the importance of finding purpose in who we are rather than depending on someone else to fill our souls. I interviewed dozens of people who had lost spouses and jobs and friends. They were losing their full and noisy houses and now living in empty nests. Their stories reminded me of this lyric in my favorite Fleetwood Mac song, "Landslide", revived in 2002 by the Dixie Chicks: Well, I've been afraid of changin' ... Cause I've built my life around you ... But time makes you bolder …

What I have come to know through my long journey in journalism and family life is that we can handle every change and every loss in our lives if we learn that we need to handle our own happiness. It does take time. It does take getting bolder.

Resurrect hobbies and passions from youth

Resurrecting a hobby or jumpstarting a new profession bolsters self-esteem and overall health. One reader reached out to me to share that she was "drinking and crying too much," with her children in their own homes far away and a spouse who frequently travels for work.

"My family was my anchor," she explained.

Feeling adrift when alone is a signal to find a passion within that anchors you. I have interviewed older women who were stellar art students as teens and took up pottery in their 70s; sopranos who are now singing in community chorale groups; accountants who left big firms and started their own tax consulting firms. Volunteering for a nonprofit or charity is also a guaranteed way to feel worthy. This contentment comes not from ego but of being lifted out of self-absorption into empathy and compassion.

Press 'delete' on mean people

'When I turned 60, I vowed that any "friend" who made me feel less-than and not more-than would be deleted. We cannot control our in-laws or the weather. We can control the flow of people we allow into our social circles. And if someone makes you feel smaller, denting your sense of self-esteem, press the delete button. One 65-year-old woman shared why she ended a friendship that made her feel "really inferior". As she put it: "This friend loves to tell me she still fits into her jeans from high school and that she still feels as sexy and young as she did back then. She advised me to join her at Pilates, because 'it will fix that stomach of yours'. What a relief to have severed that tie."

Here is the rub on older women who effuse about feeling sexy and young as they inch toward 70. If we are forever striving to be sexy and young, we will never know the deep sense of self-acceptance essential for a grounded and happy life.

Have faith

I never tire of listening, long after the holidays are over, to the late Whitney Houston singing a magnificent rendition of "O Holy Night". This line of the song captures what most of us, of all faiths, yearn for on the dawn of a new year: "A thrill of hope, the weary world rejoices. For yonder breaks a new glorious morn'."

None of us has escaped the weariness, the heaviness, the weight of the pandemic and bigotry and wars. Martin Luther King Jr. told us in a 1968 speech in Washington, D.C.: "We must accept finite disappointment, but never lose infinite hope." Indeed, throughout the havoc that has rocked humankind, hope and perseverance are what led to new and glorious morns. My simple formula to shed waves of sadness is to continue to believe that goodness will out-muscle evil.

I have faith. The comfort of faith can come from an unflinching belief that a universal force or the Holy Father or Mother Earth hears us when we pray and will take care of us. Whether you say your prayers in a church or temple or mosque, making time for spiritual awakening is always a release. It lightens our load. Have you been to your house of worship lately? This, too, can be a way to "Keep calm and carry on", away from our cellphones and computer screens and blaring breaking news.

Do little things that make you happy

There is real power and solace in the ordinary rhythm of our lives, the little things we do around the house, the people we talk to on the phone, preparing a favorite meal. Our daily routines are predictable. They give us peace. Today, I layered freshly picked zucchini with grated cheddar and caramelized onions into a quiche. I was lost in reverie, sprinkling the cheese and onion evenly onto each layer of zucchini, as if I were crafting elegant masonry. On top came a sprinkling of herbs. The intricate act of cutting and layering for something delicious is balm for any anxious mind, thrusting us into the moment and away from scary thoughts of the future. The kitchen filled with the smells of rosemary and sage, and I am happy in my little world. As the big world churns, we all need to escape into ordinary things, preparing meals and watering our plants and texting our kids, little things that are about connection and love.

How are you feeling now that we're getting into 2023? Let us know in the comments below.