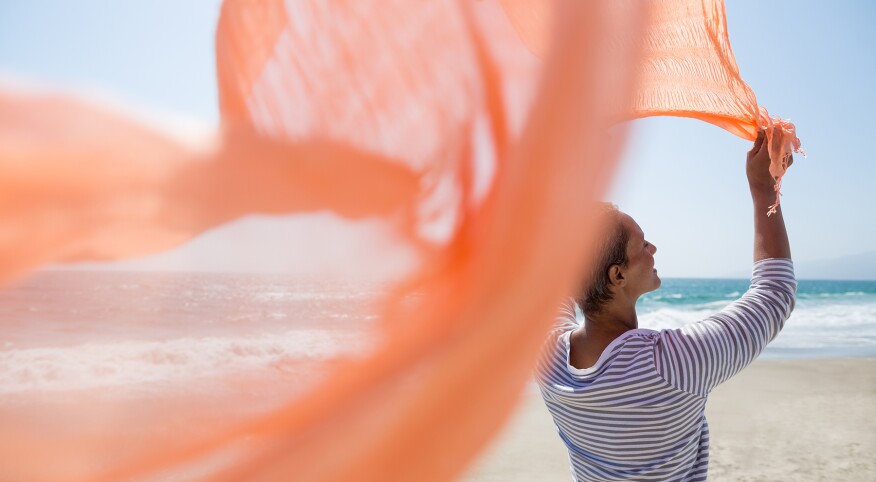 I was never a classic beauty. I was more exotic, natural, always in love, always loved — with big hair, bright-green eyes, bikini abs, perky boobs, a solid B size. Looking at college photos, laughing, on California beaches and in outdoor cafes, I see a girl/woman who is sexy and expectant, excited for the life that was about to unfold.

Today I am paying my Medicare bill, having turned 65 last August. My hands, with their bulging veins, look more like my mother's hands. No matter how many weights I lift, there is a wiggle of flesh beneath my arms. I still have big hair (thinner and silver), but as for bikini abs, after birthing four sons, including twins, those are gone for good.

Do I wish I could still swing my long, thick hair like a horse's mane and slither around in my black crocheted miniskirt? Do I try to smile as much as possible so those droops around my mouth are not so obvious? Sure.

Though soon after turning 60, I realized that as beauty was fading on the outside, I needed to focus on discovering more of the blooming beauty inside.

"Sexy" and "young" are not the right states to aspire to as we age. If we are forever seeking sexy and young, we will age with angst and not with the deep sense of gratitude and acceptance that is essential for a grounded and purposeful life. No matter how advanced cosmetic procedures become, we will still be as old as the calendar says.

With each passing birthday, long looks in the mirror are not so easy to endure, especially when I take out a large mirror and do a thorough inspection of my backside. Those photographs of me frozen in youth, scattered through the house, can make me wistful, even sad.

When the mood darkens, I know what to do: I turn on Aretha Franklin singing "Ain't No Mountain High Enough" and dance alone in the living room until I'm gleaming with sweat. I love it when one of our four sons, all in their late 20s, catches me writhing and dipping and feeling ageless and free, and says, "Mom, you still got it!"

I think they think I have more than I still got. On a recent plane trip from Baltimore to San Diego, I spent the whole flight talking with my seatmate: a man in his mid-30s, with long hair and kind eyes, in beat-up boots, a flannel shirt and faded jeans — totally my type. It felt like a slightly flirty, high-school-hallway conversation.

As we hit a rough patch of turbulence above the Rockies, I spontaneously clutched his arm, something I do with my husband, Chuck, but with Chuck, I dig in my nails. My adorable Southwest flight partner said: "You remind me so much of my mom. She looks kinda like you — well preserved. And she hates flying, too."

All those previous hours, which even probably included me batting my eyelashes, I was thinking that he was thinking I was hot. I hope at least he was thinking I was a cool older woman.

I often interview women in their 70s and well beyond who not only are "well preserved" in their golf skirts or little black dresses but also radiate hopeful attitudes.

When I ask them how they have sustained that glow as they age, they may joke about great face-lifts or recent fat-freezing procedures. As the conversations deepen, though, they credit their positivity to fulfilling relationships — with their families, their girlfriends — their continued engagement in hobbies and purposeful work.

These older, spunky women make this 65-year-old woman feel excitement about the life about to unfold, just like I felt in those college photos.

As a young reporter in Texas during the early 1980s, I met a 65-year-old woman in Fort Worth who was a champion rodeo rider. She wore crocodile cowboy boots with silver tips, and a belt with a silver buckle that cinched her small waist. I thought at the time, this is who I want to be when I grow up!

Well, here I am, having reached senior citizenry. I don't ride bucking broncos, but I can still do the splits and dance for hours, despite some body parts heading a little south. And I am constantly energized to keep on keeping on, inspired by the wisdom and finesse of women years ahead of me.

When I interviewed the late 96-year-old Elizabeth Campbell, the founder of WETA-TV (the Washington, D.C.–area PBS station), she was still going to the office most days. Campbell credited her longevity to a passion for a job that combined public service and education, a career that began when she launched WETA, in 1953. "I've always had work to live for, and I've always had people who needed me," Campbell told me. "It is terribly important to wake up in the morning and know there are people out there to whom you make a difference."

Her words have stuck with me as the mirror becomes less of an obsession and an urgency to live long and spend more time with loved ones becomes a central mission. Women in their 90s are the fastest-growing segment of the aging population, and I sure want to be one of them, with a goal of reaching the centenarian club. At that point, though, I will not be taking many selfies.