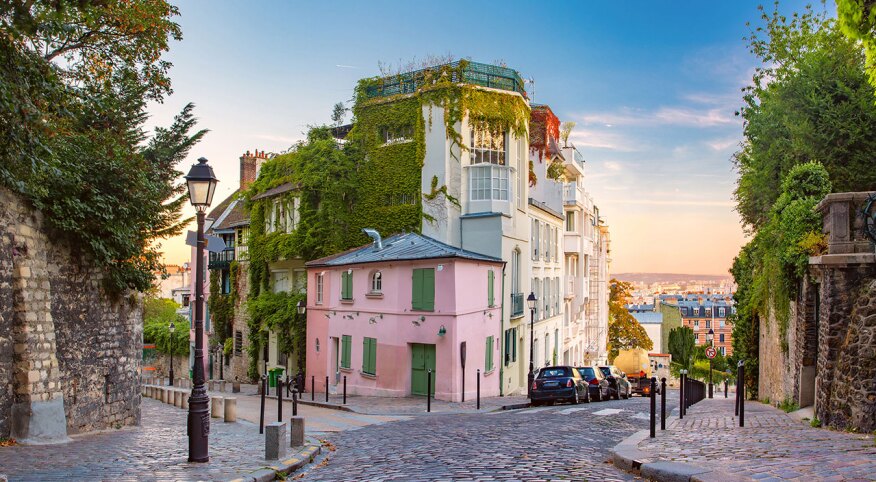 Indulge yourself in the luster of two treasured European cities. But break out of the shell. Find the authenticity in the jewels of Paris and Venice away from the sea of tourists. Find the radiance off the beaten path. Venture down back alleys and delight in cafés and shops that may have escaped the Michelin Guide, Fodor's or Frommer's.

Delight in discovering the heart and soul of these romantic destinations in their genuine glory.

Bask in the many facets of Paris

I never tire of this celebrated city, where I often roam for hours on end. Every inch is distinctive. Nutella crepe kiosks, stationery stores, flea markets — even the morning street cleaning — are a feast for the eyes. Etched in my brain's photo album are so many diverse unexpected adventures and fairy-tale moments. A Montmartre street artist sketches us with charcoal for a sentimental keepsake. Two Cuban men by Porte de Clignancourt sell us authentic cigars from their homeland.

We languish for hours, sipping frothy cappuccinos in Le Marais district. Feasting on a mashed potato-like fondue (aligot) at Le Plomb du Cantal is par excellence. The rhythms reverberating at the Latin Quarter nightclubs drive me to dance way past my bedtime.

Even the humdrum can be captivating. Just a short walk from the modern Les Halles metro stop is a simple storefront reminiscent of Sam Drucker's place on Green Acres. Dating back to the 1100s, this area was the central marketplace that attracted food-related stores and equipment.

The iconic E. Dehillerin hasn't changed much since opening as a hardware store in 1820. Hundreds of utensils, cookware and accoutrements are packed to the ceiling in this drab yet amazing culinary supply gold mine. There's even a hole in the floor for the stock person to descend and bring up items not on the shelves. I find the smaller, more secluded hotels — such as those off by Rue Daguerre in the 14th arrondissement — tend to be romantic, darling and oozing with French character.

Rue Daguerre is a picturesque street closed to most traffic. Lined with Asian delis, bars, boulangeries, cafés and boutiques, the pièce de résistance is a sprawling food and flower market with enormous wheels and wedges of cheeses that you can see and smell from afar. Rue Daguerre is within walking distance from multiple metro stops, the Catacombs, Montparnasse Cemetery and Gare Montparnasse, a train station where you can eat Breton-style, gluten-free eggless galettes.

To enjoy a concert, Macy Gray, Suzanne Vega, Celine Dion and the Gipsy Kings are on the marquees of majestic Paris stages in 2022. Or, choose from French rock or blues artists at the quaint Sebastopol Lille.

Finally, if you can't say no to the Louvre or the Eiffel Tower, go at night for a picnic under the stars. And, pedaling through the Louvre plaza after hours is a blast.

Unveil Venetian splendors

Piazza San Marco is a magnet for couples — and pigeons. I long to sit smack dab in the middle, on the stone paving, and watch the sun rise until the tourists stumble out for their espressos. Then, I'd roam the twisty and tapering passageways of the other six picture-perfect districts filled with inviting places to savor a sugar-free, dairy-free, caffeine-free caffè d'orzo.

While most all food in Italy is delicious, the Venice area, surrounded by water, is a seafood lover's dream. You can easily have a three-course meal of different fish dishes.

For starters, try zuppa di pesce (fish soup) or moeche fritte (fried crabs). Second dishes are often pasta or risotto, and in Venice, the possibilities are endless. Give in to the calling of the sea with spaghetti ai frutti di mare, linguine con gamberi, risotto al nero di sepia or risotto de gó.

I've never been able to eat beyond the antipasti and primi piatti in Italy. If you have room for the main dish, there are always clams, mussels, or prawns. But save room for dessert. If you want to go beyond the gelato, tiramisu or zuppa Inglese, try the biscotti Buranelli. Biscotti is just a generic term for cookies, and Buranelli refers to the island of Burano. These buttery-sweet finger foods are usually shaped like the letters S or O. SOS — you may not be able to just eat one.

In Venice, an urban grid is a delusion. There are bridges, walkways and canals crisscrossing high and low. Use your smartphone pin feature so you can get lost in the seductive scenery without losing your way back to your hotel.

Escape on a speed boat to picturesque Burano, Murano and Torcello. We leisured around for a day on the islands, but I would treasure staying a night or two in Burano with my special someone.

Known for its intricate crocheted lacework, Burano is a place to go camera crazy. Whereas Venice has peeling and weathered walls that are endearing, Burano is a catalog for the boldest of colors. The fishing village's narrow buildings jump with the most vivid hues imaginable. With no homeowners' association rules, exteriors abound in brassy orange joins magenta, scarlet or electric lime.

Murano was the classroom for American glass artist extraordinaire Dale Chihuly. His residency at the Venini glass factory forged his skills and passions. Our Murano workshop and showroom tour didn't turn my life around, except for a genuine appreciation for glassblowing.

Torcello is somewhat of a ghost island with just a lone church dating back to the year 639. Make the most of the peaceful and serene isola. Lure your lover into a romantic tryst. Meditate on a church pew. Read Eat, Pray, Love. Or, fill your journal with poetry or plans for your next trip off the beaten path.

To prepare for the best experiences, double-check the most recent COVID-19-related restrictions and procedures.