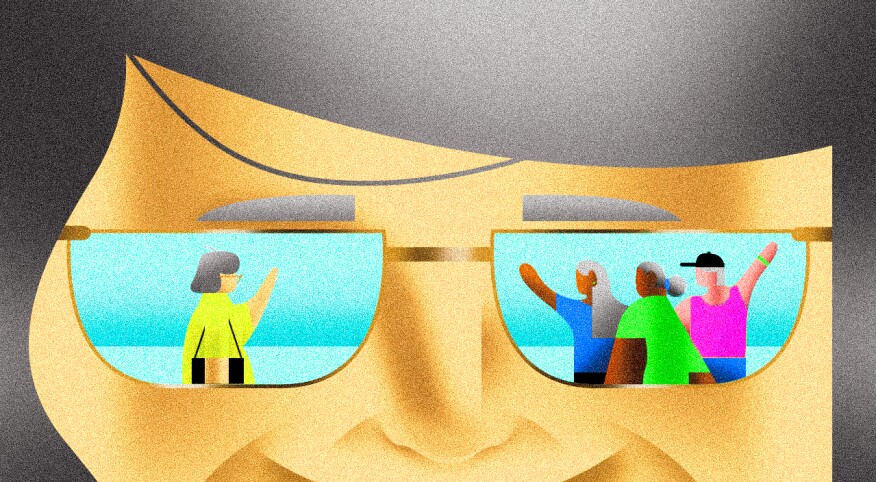 It turns out retirement is full of surprises. I knew it would be liberating, but I didn't know it would be so revealing.

Like many women, my career was not a linear trajectory. In the early '80s, I was a newly minted "yuppie" — a Young Urban Professional. Who can forget those yuppie fashions? Think Melanie Griffith's Working Girl: pin-striped suits, bow ties, commuting sneakers and stylishly naked ambition. Perfect attire for my entry-level jobs in Manhattan. Women were breaking into business en masse — it was exciting.

My girlfriends and I talked shop nonstop. By the end of the decade, many corporations were relocating headquarters out of New York City. I was hired by one of them, as a credit manager for a Fortune 500 company — and lured to Cincinnati. My office community dominated my life, and fortunately they were a wonderful group, the most wonderful of whom I married. Here I faced my first career crisis: motherhood and how to balance work and family at a time when workplaces did not talk balance as a priority. So, it was a proud moment when men in white shirts and ties allowed me a trial three-day work schedule. Three years later, my twin sons' sister was delivered — and so was my resignation.

My stay-at-home years, during which time our family moved to New Jersey, were equal parts exhilarating and exasperating. Many mothers know this story of guilt and contradiction of leaving the job to care for our families — adoring one's children while missing the workplace (or vice versa). The workplace was changing too. These early 2000s found employers striving to be more attractive as well as provocative, instituting Casual Fridays, Ping-Pong tables, wine tastings and team-building retreats in woodsy locations.

So, in 2002, I pounced on a spot at community college in the continuing education division. In time I would become the director of lifelong learning. Among my roles was developing programs and courses for intellectually curious retirees. Thus began 20 years of my life that swiftly passed by.

These are the years my children and my career grew up.

After professional fulfillment, it's no wonder retirement is such sweet sorrow. This I expected. I didn't expect a whole new measure of intentions. No more procrastination protection. For years I vowed I was going to learn to cook — as soon as time permitted. Now that time permits, I'm still heating up frozen pizzas. Ditto my intention to style-up and improve my dull wardrobe. No pizzazz there yet. Small matters both, but proof that retirement is not yet producing the renaissance version of me I once imagined.

I joke that I miss colleagues I didn't even like. I do miss the comfort of those regular workplace conversations. We know that many office friendships dim when the common ground of work is removed. So, I understand that if I want to protect the sanity of socializing, I will need to make new connections.

Intimidating, perhaps, but necessary according to New York board-certified clinical social worker Ronald Rubin, who emphasizes the importance of sharing time with others. "Simply put, humans need contact with other humans," he says. "We are social creatures and function best when we surround ourselves with people."

Still, measuring the impact of work on aging is incredibly complicated. Endless variables abound: health, wealth, culture, lifestyle, occupation, stress, gender and attitude toward work.

Digging to the heart of the matter, the Harvard Business Review in 2016 published You're Likely to Live Longer if You Retire After 65. In this case, retirement was defined as the point when study participants did not work at all, no part-timers. The specific findings were an 11 percent drop in mortality for those who retired at age 66 instead of 65, though a 2020 British Medical Journal study found that early retirement was not associated with a higher risk of mortality.

Related studies are as contradictory as they are interesting. But all agree the goal is to replace essential ingredients of working — a sense of purpose and satisfaction — with fulfilling new sources.

At 80, Carol Smith, retired statistician and dedicated lifelong learner, recommends mental motion. "Don't wait," she says. "Keep learning and don't waste time."

Smith taught math at a university before working as a statistician for a large communications corporation. Upon retirement, she took an art history class that she claims was life-changing. After a career of mathematics, the arts were a whole new world — one that enhanced travel and sparked all new interests.

"Don't be too retiring," she advises about retirement. "Make it your renaissance."

As I adapt to my freshman year of retirement, the sweetest surprise is trading stress for patience. Suddenly, at 62, I have time and freedom — an intoxicating combination. What a treat to spend time with family without the nagging turmoil of workplace demands.

Freedom sparks so much fun stuff: taking my aging parents to a museum, and who knew Tuesdays could be so relaxing? But this expanded free time is even more precious when urgent needs arise — the ability to help when my mom broke her hip and when my daughter broke her ankle. Each of these medical mishaps took months of healing and I was able to really be there.

Then there is the thrill of being somewhere else entirely.

My husband — also retired — and I have a long list of enticing travel destinations. So, the prevailing questions are where to go? What can we afford? When to go? That's easy .... whenever we want!

Have any of you recently retired? What do you love about it? What do you not love so much? Let us know in the comments below.