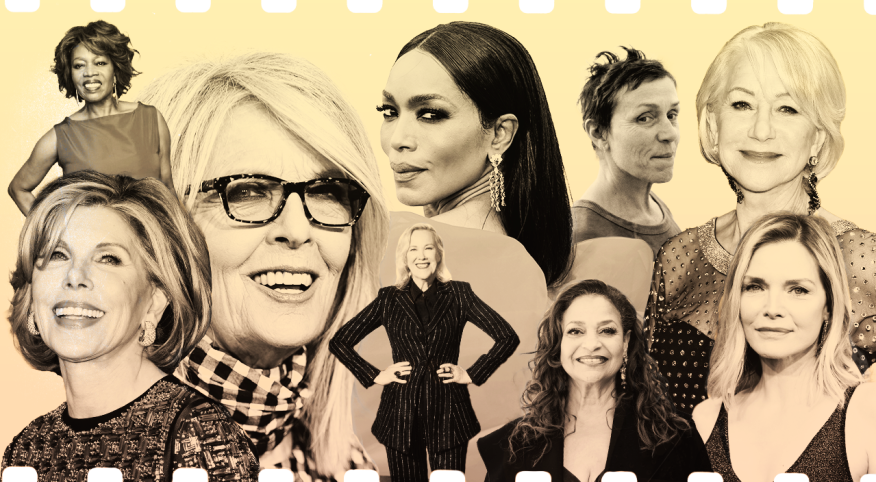 There's nothing like watching a movie or television show and seeing the face of a contemporary staring back. It is heartening and hopeful that women age 60-plus are represented by female actors who are still powerhouses on- and offscreen. Here are some of their accomplishments and reflections, ascertained from the actors' profiles on the Internet Movie Database (IMDb), except for Debbie Allen's and Jane Fonda's, which are from Quote Fancy and AZ Quotes, respectively.

Debbie Allen, 71: "I'm always moving forward," Allen says of a career that started electrifying audiences when she starred in the 1980 film Fame—a production she also choreographed. The Emmy, Tony and Golden Globe Award winner is currently producing and starring in Grey's Anatomy, all while empowering Black and Latino dancers via her nonprofit, the Debbie Allen Dance Academy in Los Angeles. She received one of the highest honors in the entertainment field in 2020, as a Kennedy Center honoree cited for her career as a multidisciplinary artist, choreographer and actress. Allen moves seamlessly through artistic disciplines and is a cultural ambassador for all. The woman who danced into our hearts in Fame is indeed always moving forward.

Frances McDormand, 64: "I've got a rubber face. It has always served me very well and really helps, especially as I get older, because I still have all my road map intact, and I can use it at will." As an opponent of plastic surgery, the wife and mother is saddened when others muck with their road maps: "Joel [Coen, her director husband] has to stop me physically from saying something to people." For the Oscar winner for Fargo (1997) and Three Billboards Outside Ebbing, Missouri (2018), three times was the charm in 2021, when she took home another Academy Award for Nomadland.

Angela Bassett, 63: "I am content that the work that I've done is wonderful." Confidence like this is merited, given that the Golden Globe winner and Oscar nominee has built a career out of playing pioneering Black women such as Tina Turner, Betty Shabazz and Jackson 5 matriarch, Katherine. The mother and wife of Courtney B. Vance can be seen on the small screen on 9-1-1 and will be reprising her role as Ramonda in the Black Panther sequel Wakanda Forever.

Catherine O'Hara, 67: "Actors like me want to do a bunch of different characters. Don't fence me in! Don't lock me down!" That's been the MO of this Emmy winner ever since she was introduced to us as the chameleon of SCTV, impersonating everyone from Tammy Faye Bakker to Katharine Hepburn. It's no wonder the married mother of two was drawn to the wig-wearing Moira Rose on Schitt's Creek, the acclaimed sitcom about inclusion, family and bouncing back from hardship.

Christine Baranski, 69: "I still feel like I have so much left to do. I don't feel there's a period at the end of this sentence yet." The Emmy- and Tony Award–winning character actress has had a 40-year career so far, during which she's played the friend, mom, boss and best friend. At age 65, though, the widow and mother of two garnered her own show, transitioning her supporting role as Diane Lockhart on The Good Wife into the starring role on The Good Fight.

Dame Helen Mirren, 76: "The trick in life is learning how to deal with it." The tattooed Oscar winner began her international career right after graduating from high school, and she has since spanned stage, film and television, in myriad challenging and diverse roles. At age 69, Mirren became a L'Oréal Paris ambassador for the Age Perfect line. Married to director Taylor Hackford, the English actor decided against the "encumbrance" of motherhood because she wished to maintain her freedom.

Alfre Woodard, 69: "I'm a mom and a wife. That's what I do in the world. That's my identity. Second, I'm an actor." And what an actor she is. Beginning in 1978, the Emmy winner and Oscar nominee, who is starring in HBO's See, left Broadway for Hollywood. She has acting and producing projects lined up beyond 2022. At age 58, she was named by People magazine as one of the world's most beautiful people.

Michelle Pfeiffer, 63: "I can't see myself ever retiring. Ever. I feel like I always need to be productive in some way." The grocery cashier with no formal training took on Hollywood to become an Oscar-nominated actress and Golden Globe winner (as well as called out by Bruno Mars in his hit song "Uptown Funk"). Along with acting and producing for her company, Via Rosa Productions, the mother of two and wife of David E. Kelley makes time for charity work, including the American Cancer Society. At 61, she launched a collection of fragrances named for her children, Henry Rose.

Diane Keaton, 75: "When I was younger, I had these enormous vanities about what I expected from myself. Now I see [life] for what it is, so I can be braver and more spontaneous and say to myself, Oh, screw it; just go out there and do it. And the Oscar winner has done quite a bit. Eccentric and free-spirited, she revived the style of women dressing in traditionally male clothing, as seen in Annie Hall, giving what is considered one of the 100 greatest performances of all time by Premiere Magazine. She is an actor, producer and a pioneer director (a job still few women do). The mother of two has never married: "I never wanted to give up my independence."

All these extraordinary women have one thing in common: They haven't slowed down. They are seizing opportunities, as they would have when they were younger, but taking with them everything they've learned along the way—most importantly, their sense of self. Or as actor, political activist and environmentalist Jane Fonda, 83, says: "Aging is a staircase— the upward ascension of the human spirit, bringing us into wisdom, wholeness and authenticity."

Photo credits clockwise from bottom left: Frazer Harrison/Getty Images; Benjo Arwas/Contour by Getty Images; Rodin Eckenroth/WireImage; Chris Pizzello-Pool/Getty Images; BFA/Alamy Stock Photo; Thomas Niedermueller/WireImage; Steve Granitz/WireImage; Paul Archuleta/Getty Images; Elisabeth Caren/Contour by Getty Images.