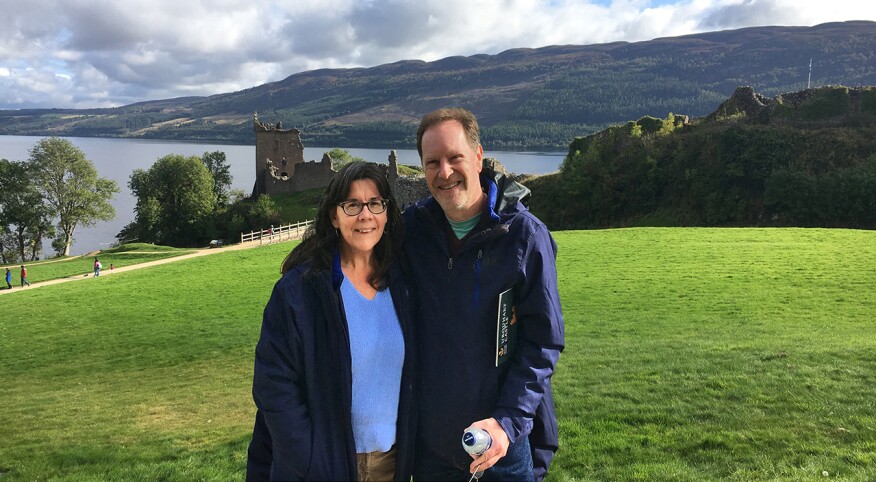 I remember my first steps. I was 5. The casts I'd worn for months were split open, lying on their sides, discarded husks. My small, pale, shrunken legs shone in the florescent light. My bare feet slapped the linoleum floor. My doctor smiled as I approached and gave me a small white square of peppermint gum when I reached him. From that point on I would always associate peppermint with triumph.

A mild case of cerebral palsy had left me with foreshortened Achilles tendons, requiring me to walk on my toes, less like a ballerina, more like a person in constant danger of pitching forward and landing on her face. Tendon release surgery helped me walk, but with a limp.

I learned from my family not to talk about my disability; rather: Ellen is smart. Ellen is special. There is absolutely nothing wrong with Ellen that would require us to commit our tiny store of emotional and financial resources to help Ellen. In the rare times when it was discussed, it was in the form of really sad stories, like the one about my mother watching me walk in metal braces and fall repeatedly on the pavement while tears ran down her face. She was taking the advice of a doctor who said I needed to learn to pick myself up. This message of powering through and the sensation of struggling alone would stay with me forever.

Part of my struggle was that I never saw people like me. I was in my 30s before I met another woman with cerebral palsy. I had seen all the usual images of children in wheelchairs. I didn't think they were brave. I thought that, like me, they just wanted to do their stuff, without notice, pity or admiration.

Michelle was a little younger than me and had a charming smile and a wry sense of humor. Our connection was instant and formed the basis for a friendship that would thrive as we shared stories of falling, physical therapy tips and that latest horrible encounter with people ignorant enough to engage us about our challenges.

One such encounter was about a podcast host who was about to interview me about my short-story collection, Lost Girls, that is full of tales of resilience. When the host heard about my rheumatoid arthritis and cerebral palsy, she jokingly asked if I had run a concentration camp in a previous life to end up with such a fate.

I found cruelty — and, finally, love. My second notable walk was down the longest church aisle in the city to reach my husband at the altar. My husband, who kissed each scar on the back of my legs lovingly, offered a subtle hand when needed and knew when to let me pick myself up.

He is the one who took me to the beach for the very first time. As we walked slowly across the sand, I noticed my footprints, one foot marked by a long drag, then a toe print. I was waiting for some kid to see it and speculate on the monster that rose from the sea to leave her mark.

No one talked about the spectrum of ability back then, and it was easy for me to believe that it was my job to "seem normal" so people would like me. Years of silence left me feeling complicit and ashamed. People could see my limp, but they had no idea of the way it and other mobility challenges echoed through my life. I struggle to find my place on the spectrum. On my worst days, acceptance and self-compassion are hard to come by. I thought I would have figured it out by now.

At 57, in the throes of post–surgical menopause, I am in search of myself. On some days, I am the capable woman who has authored books, built a career, forged strong friendships, cocreated a caring marriage and navigated the challenging medical establishment for years.

On other days, I am the child with cerebral palsy who walks on her tippy-toes, each step a balancing act, playing and singing to herself, making do with the small patch of grass in front of her as she hears the shouts of children playing in the distance, until she can, at last, collapse into the arms of her mother.

When you are young, you can't wait to see who you will become. When you are older, you know that you never stop becoming. I see that small, hopeful, dreamy girl. I see the woman warrior she was told to become. I see my face in the mirror, so tired of the fight, but still hopeful, still dreaming.

On days when the pain is bad, I lie down and do a meditation that asks me to imagine a healing temple. My temple is in the woods but also overlooks the sea. It is decorated with purple tiles and has large windows. The altar of the temple is covered with pictures of me at every age. The smiling 9-year-old, chubby 15-year-old, preening 21-year-old. Filled with too much of me, I summon my tribe in my head: the steady hand of my husband; the constancy and kindness of my sisters; the smarts, humor and insight of my friends, who open the world to me.

As I have gotten older, the questions have changed. I used to ask: Who do I have to be today? Now I ask: What do I need? Where can I find beauty, compassion, diversion? With the pandemic, the mess of politics and increased challenges that come from the combination of rheumatoid arthritis and cerebral palsy, some days my world is small – this dog, this room, this page, this bird's song.

Still, eventually, I venture back out into the world. On my first vacation in two years, I sit by the sea and wonder what will get better and what worse in time. Then I see her, a little girl, walking lightly across the sand on her tippy-toes, the wind blowing her hair, surrounded by sea, sand and sun. The sight is so rare it feels like magic. The world is hers. The world is mine.