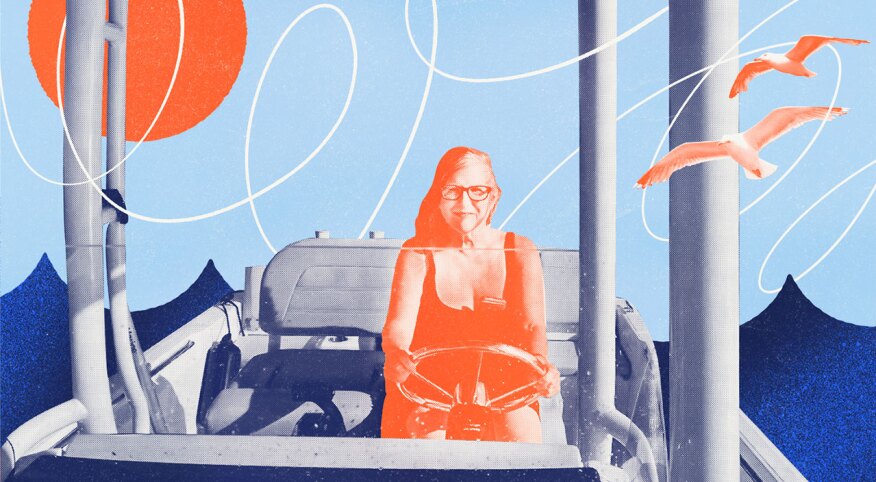 Like everyone else I know in their 60s, I'm looking for some new hobbies because my entire life has been a shaky dance between perfect mom, caring wife and journalist. After that, I was — and still am — a pretty good happy hour partner to my circle of friends.

Whew, I was really busy and I liked it. But I just took it day by day and didn't realize it would all go away, so swiftly.

"What do I want to do next and new?" I wailed to myself.

In my old speedy life, I never even took up a hobby. When I did hit the pause button, first up came things that had to do with the water — swimming, snorkeling or looking at bodies of blue-green waves from boats. Boats with names like the "Jane Bee."

In my search for the next step, I ended up combining all the things I loved about water and became a bona fide boat captain — at the age of 65. They make it look so hard on the Bravo Network television series, Below Deck – though I did it!

I always loved boating, though I've never been the captain at the helm. I'm always sitting in the bow, never bothering to help with the anchor or learn how to steer to avoid colliding with other boats or jet skis.

It had to be Kismet. I was scrolling through my emails while ruminating about having no hobbies and there it was: an invitation to join a boat club on nearby Lake Michigan, as I live in Chicago.

The introductory invitation included a food truck dinner and rides on the club's boats. I saw the sleek, different types of boats lined up, and almost immediately I was hooked. I signed up even though the yearly fee was $4,000 — and there is a monthly fee, too. At this age and stage, I figured this was a good way to spend my money — on me! And so, I was on the way to an exciting next chapter.

There was one caveat. It's a requirement to pass the captain test before you can take out a boat.

My husband of 30 years was equally unsure about hobbies and retirement. He also took the class and we were guided by Captain John in a new 2023 mid-range, red Sea Ray. Our experience prior to boating class was this: we had sat on a bunch of boats but never driven one.

Soon, we were learning channel markers, buoys and imaginary white lines on white-capped Lake Michigan. Who knew our familiar hometown lake was so busy? It's like a highway on the water and you'd better know which way to turn, when to speed up, when to slow down.

We also had to learn how to cross wakes and not beach the boat in shallow water. When it was time to take my captain test, my head was spinning with new knowledge.

As soon as I got in the boat, which was aptly named the "Blind Date," I thought I put it in forward by pushing its handle backward, but that put it in reverse.

"Why would you do such a thing?" asked Captain John with concern.

"Because you go downward to start my 2013 automatic Buick Verano," I said, figuring it was the same with a boat.

After that, I bravely pushed on, even though I was still feeling cowardly. Soon, I had the 10-passenger Sea Ray up to 20 miles per hour. While I was proud of my progress, I was in need of a rest. So, I told Captain John I would finish the test on another day.

"I saw that in your body language," he said, having witnessed my shaky hands.

The most difficult part is docking the boat. It's not like pulling into a parking spot at the mall. The water isn't as forgiving as pavement. Go in a little too fast or at the wrong angle, and the boat will slam into the dock. Thankfully, a boat attendant was there to help guide newbies in.

My husband became a captain a week before I did, as I had trouble getting the manual anchor up on the boat. I wished we had an electric anchor like some fancier boats do.

It wasn't easy, but becoming a captain has really helped me, emotionally and physically. I learned a new skill when I thought I was far away from picking up a new hobby — or learning anything new.

Since I passed the captain's test, I have ferried my family and friends to Chicago's Navy Pier to see the famous annual Chicago Air and Water Show. On one trip, I was wedged between two much larger fancy white yachts, and this in choppy water. The good news is I steered with confidence and we are still alive!

On shorter trips, we head for the sandy, crowd-filled beach areas, anchor, and jump into the water for a swim. For me, it feels like a rebirth every time I feel the cold waters of Lake Michigan water on a sweltering day. My passengers say they get that restorative feeling as well.

When we have fried chicken picnic lunches on board, the food seems more delicious because we're on the glistening blue lake. Then, as we disembark and walk away from the dock, there is no better feeling than coming off a relaxing day of water, sun and each other.

Captain Jane is just the new title I needed at this stage in my life. Between chronic ailments and a less busy life, my husband and I thought we lost our pizzazz. But when we're heading out in our boat, just the two of us, and the sun is setting in a spray of coral and pink, we don't think of loss. We think of the magic of what we have gained.

Have any of you taken up a new hobby later in life? Let us know in the comments below.