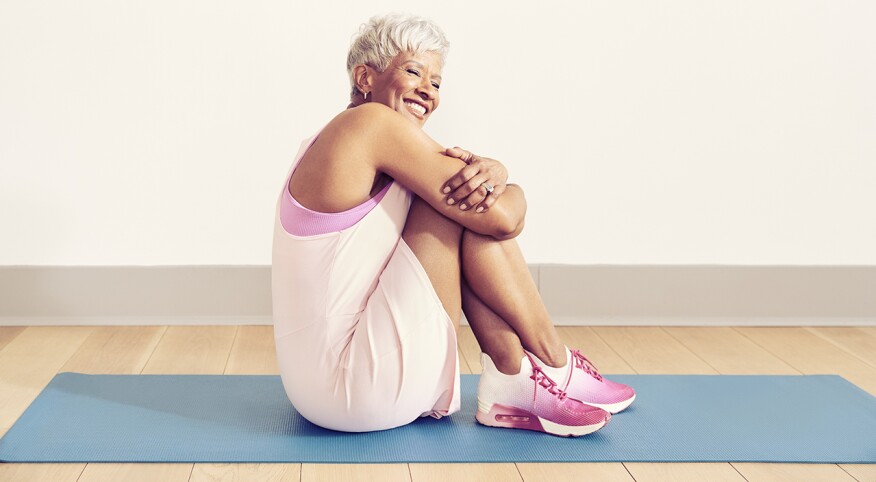 Last night, I wore my sexy Beacon Corset Harness from Free People, which my boyfriend loves, but I squirmed when a construction worker outside the restaurant did a double take. For me, being female and in my mid-50s often translates into this vexing paradoxical desire to be seen and to be invisible, sometimes within the same hour. This makes dressing a challenge, especially at this time of year, when both the sun and more of our skin are out in public.

It's always been this way. Clothes are strategic for women. Even in elementary school, I wore pants to make chasing boys at recess easier. As a young teenager, freshly aware of the effect my blossoming body had on the male species, I had a short list of hot weather favorites — a striped tube top, a purple halter, my older sister's cutoff jeans, a pink string bikini.

Every time I wore each of these items, I ended up whipsawing between praying that the schoolboys and buff lifeguards would notice me and that the creepy older men on the beach and sidewalk would not.

While I was married, I adopted the summer uniform of a devoted mother and wife: my husband's abandoned cargo shorts and T-shirts. They were shapeless and oversized, designed to hide my femininity and signal to the world that I was NOT THAT KIND OF GIRL! I was using clothing to blunt our culture's fierce resistance to the glorious reality of the female physique, which we should flaunt with pride at every age.

Now that I'm single and my teenage body is 56, the warm weather dress code has gotten even trickier. Somehow, no matter how many birthdays or wrinkles I accumulate, I am still that girl who craves a response to my physical presence. But these days, I want certain body parts to be visible, like my sharp collarbones and trim ankles, and others invisible, like my flabby, three-baby tummy.

I enjoy attention, but only the kind that feels positive.

This is normal, says Pilates guru Kelly Griffith while holding a plank at her Fuel Body Lab studio in Washington, D.C. She's a 48-year-old snowboarder and surfer who has transformed the bodies of countless 50-plus women. She has also exposed her body in skintight spandex on social media, holding contortionist poses in exotic locales around the globe.

"Older women feel most self-conscious about three body parts: upper arms, cellulite and the backs of the thighs," Griffith told me. "These are all hard sections to keep toned. My best advice: Be nice to yourself. Don't fight what's hereditary. Fight the parts of aging that you can control. Find what you love in terms of exercise, then do it, and say, 'To heck with a world that is so harshly critical of women's natural shapes.' "

Across from Fuel Body Lab along Georgetown's bustling M Street, Andrea Simmons is cutting hair and dispensing fashion advice at Izzy Salon. She grew up in Bermuda, where the tropical climate made bare skin mandatory. Her neighbors hung frightening girdles and body shapers on their backyard clotheslines. She vowed to never don torture devices simply to conform to someone else's femininity ideal.

After decades working in a popular salon where women are hungry for tips from their stylist, Simmons, 54, has developed these three surefire ways to feel chic, comfortable and sexy — after 50. First, your face and body wear should match in natural ways. An older face paired with skimpy sun wear that exposes a midriff and thighs stretched from time may not be the best look as we move on in years. Ditto for a youthful face overwhelmed by a Queen Elizabeth matchy-matchy outfit or a frilly Little House on the Prairie dress.

Second, don't fight your body's changes. Embrace them and gently disguise them. Stop searching for modern-day girdles. Spanx if you need it and can breathe easily, though it's not necessary. Remember, no one of a certain age has a hotly perfect body, even after rounds of plastic surgery.

Third, highlight one section of your body — not five, not 10 — every time you get dressed. Draw people's eyes to the best part of yourself. Your décolletage? Your gorgeous silver hair? Your snazzy footwear? Jangly bracelet collection? Fuchsia nails? We've all got mojo. However, a fire hose of visual inputs can blind instead of dazzle.

This tactic of drawing the eye to the section you want to show off gives you control. Essentially, you're directing everyone to "look here, don't look there." This is far superior to feeling cringey about your body every time you tiptoe outside or shrinking in the shade to avoid detection.

The weather invites us to take it off, but don't take it all off. We all want to be seen; it's human nature in summer. But it's also human nature to want the "being seen" experience to make us feel valued, appreciated and worthwhile — quite a trial given society's negativity about older women's bodies.

As part of summer empowerment, seek out designers who make forgiving styles for all body types, particularly for older women, like those by Betsy Fisher. Or try stores like Target and Old Navy, where you can find loose and lightweight trousers with drawstring waists, floaty dresses, and bathing suits with fold-over material and matching sarongs to cover the parts you want covered.

Before you shop, spend an afternoon checking out favorite summer oldies in your own closet. Sort through dresses, shorts, bathing suits, blouses and cover-ups. Keep anything that makes you feel hot and happy and proud — about being YOU. Often the clothes we loved and wore, summer after summer, fill us with the spirit of youth, and reveries of beach retreats and steamy nights.