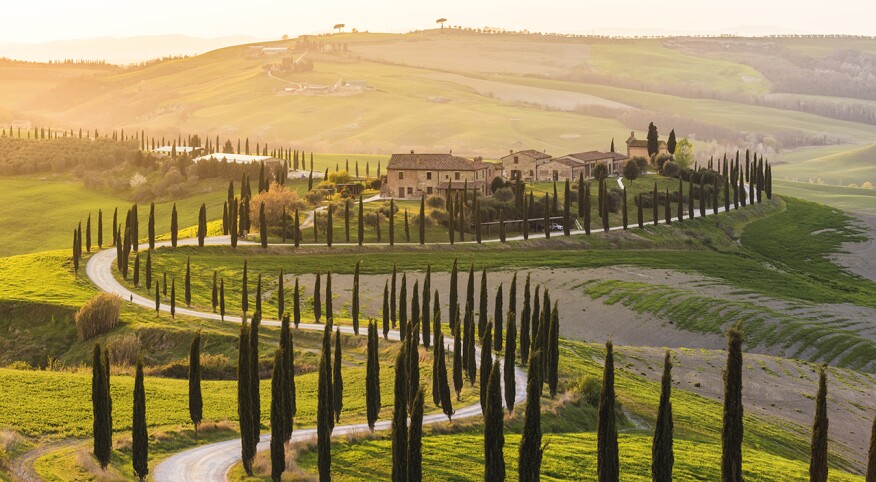 For the record, darn right I'm older and wiser. But three months under the Tuscan sun reminded me that despite my 65 years, I still have much more to learn. That's why I have perennial wanderlust. Frances Mayes' bestseller and movie Under the Tuscan Sun romanticized her years as an expat in Cortona, Tuscany, an idyllic, picturesque region. My experiences exploring the region's historic hilltops, with their imposing Etruscan limestone and sandstone fortresses, were rewarding — and humbling.

Back to Italian 101

Despite having excelled in high school Italian, and despite a nearly yearlong online refresher course prior to my trip, I was tongue-tied in Tuscany. I could understand suave narrators and newscasts. But in daily encounters, my left brain often went on vacation.

One embarrassment was requesting tap water. I dragged the vocabulary out of my faulty memory bank and said acqua di gabinetto rather than rubinetto. I chose the wrong singsong word and requested water from the toilet.

Likewise, I confused the lilting words zingara (Gypsy) and zanzara (mosquito). Fortunately, I didn't tell anyone about Gypsy bites on my booty. Non importa — or not important — that my translations were imperfect. The Italians were so hospitable and usually able to communicate in English. Plus, menus were often bilingual, and there were English-language prompts on public transportation kiosks and ATMs. I basked in the beautiful sounds of different genres of Italian music. I strained to hear my neighbors' favorite CDs and felt comforted hearing tunes in restaurants. Best of all, I found concerts at historical venues.

The Fortezza Medicea in Arezzo, a beautifully maintained fortress that dates back to the 10th century, hosted a series of evening events. That meant incredible views. After dark, it was magical.

Back to potty training

During the 2020 toilet paper shortage, I installed a butt-cleaning contraption that fits right on my gabinetto. It gushes clean water to all private parts. While most Tuscan bathrooms had stand-alone bidets, the water squirted down from a non-flexible nozzle. As limber as I am, I couldn't align the stream to my bum or lady bits. Fortunately, showers were equipped with handheld heads. Better yet, Tuscany has exceptional thermal baths. An Italian friend raved about a resort near Siena, San Giovanni Rapolano, whose amenities include indoor and outdoor and hot and cold water in a formidabile setting. There is a designated relaxation area with piped-in meditative music. The infinity pools reflect the surrounding rolling hills, covered in cypress trees. San Giovanni's bistro serves refreshing juices, salads and pasta dishes inside or in an open-air solarium.

Back to driver's ed

Frances Mayes' years under the Tuscan sun included endless road trips to alluring and isolated spots. When I maneuvered my manual transmission car in Tuscany, I felt like a 16-year-old with a driver's permit.

The country roads were barely wide enough for two mini vehicles. One hairpin turn after another. I did catch glimpses of the spectacular scenery as my car came unnervingly close to cliffs. After a while, I mastered the narrow zigzags. But my engine stalled climbing up a couple of swirling spaghetti streets.

Sometimes I felt like Fred Sanford shouting out "Elizabeth, I'm coming to join you" — a famous line from the '70s sitcom Sanford and Son. Off the beaten path means off paved roads. Off anything wider than squeezing by a group of wild boars. Off the grid, sometimes without GPS. Since I spent an entire summer in Tuscany, I found a small apartment in a tiny town where I got to know the neighbors in no time. My village had no stoplights, no stores and no restaurants. I surprised myself by whipping up simple Italian meals with no recipes, in my own kitchen.

Thankfully, there was an assortment of foods available at the well-stocked grocery store a 20-minute drive away. I cooked noodles in every shape and size, adding fresh squash blossoms and jars of porcini mushroom sauce. My beverage of choice was faux coffee made from the pure barley that was available everywhere, even at the train stations. And of course, you can try a different local bottle of wine at every meal, and none will be a bad choice.

Every day, I hiked for several hours. Sometimes solo, sometimes with a guide. One day we scaled back roads and horse trails and found the remains of a feudal castle and fort from the 6th century. The stone structure appeared out of nowhere, high on a hill. Then I discovered another treasure — a thousand-year-old abbey and monastic complex in perfect condition. There were no light fixtures inside, but tender rays of light beamed into the chapel through stained glass windows. It was heavenly. Savoring every precious find and every interaction with the locals, my summer under the Tuscan sun deserves a sequel. Regardless of my learning curve, I'm headed back next year.

Travelers' tips, if you decide to go:


Pack sturdy, comfortable walking shoes.

Tuscan weather can be changeable, and central air and heat are not a given. Check the weather forecast and, if needed, book accommodations with AC or heat.

Unless you speak like Pavarotti, use a translation app.

Choose TP in the WC and buy a Hello Tushy when you return.

Leave the driving to a driver, go horseback riding or rent a bike. This will ease your stress level on what should be a relaxing vacation.

Talk to friends and travel experts who have been there for advice on where to stay and what to see.

Spending time in these regions of Italy can be addictive. Once is not enough. The older we get, the more important it is to keep physically and mentally active. Enjoying days and nights in a peaceful Italian wonderland is a great way to get in some restorative calisthenics for the body and brain.
Want to know how to avoid those pesky airline fees? Then go here.

Have you ever traveled to Italy? Let us know in the comments below.