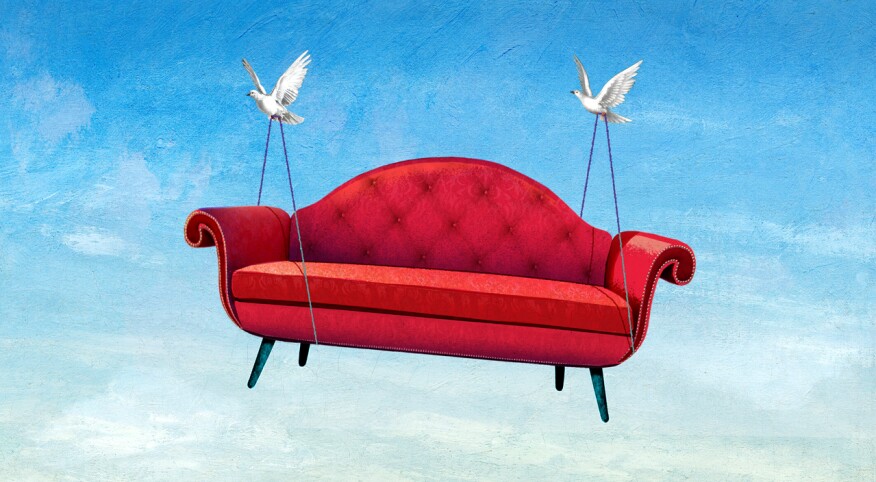 Bit by bit, pieces of my life have been going off to live in new homes. At 66, after a lifetime as an incurable collector, I recently found myself in the unfamiliar place of having to let go of beloved belongings.

My husband and I were moving to a smaller house, downsizing not just my things but my parents' things, too, from the suburban ranch house they moved into in 1955 and never left.

Packing up decades of possessions after the recent death of my parents was an arduous task. The hardest item for me to pass on was their elegant walnut dining room table. All my sentiments about this entire ordeal became distilled in this table, which had been at the heart of my childhood home. At the tag sale we held, it stood ignored. The prospect of donating large furniture was dim. Even relatives had no desire to take any. I feared it would be thrown out.

My older brother, having zero interest in anything, wanted to toss everything in the dumpsters. While I hired a truck to cart furniture and boxes back to my home — where it would soon be repacked for my own move — my brother left our parents' house with half a shoebox of memorabilia.

This dining room table had been the center of my family life for over 60 years. Nearly every person of note in my life had sat there at some point, and every marker of my life had meant a meal served there. It was also the place that our family played Bingo, collaborated on school projects, and traded high-stakes real estate on our well-worn Monopoly board.

It was also the table where my mom sat late into the night, fretting over bills, enveloped in a plume of cigarette smoke. For 55 years, she had protected that table with heavy table pads and linen tablecloths so that now the bare wood, with nary a scratch, belied its age.

At the zero hour, it was sold for the price of a Starbucks Grande Latte. I never got to see what was not sold, as that was whisked away by our professional tag sale service before I could survey the leftovers.

When it came time to sell off my own precious possessions that would not fit in my new home, I needed my experience to be different. Although I, too, held a tag sale — suffering the indignity of strangers traipsing through my home, picking over the remains of my life — I made sure that whatever was not sold would be left in the house for me to donate or sell online.

Selling goods online was time-consuming, but I was not prepared for how I would feel when I recently had to say goodbye to the antique mahogany chairs that had graced my dining room table for 20 years. Like my childhood dining room table, this one tugged at my heart.

We all know that line from Sigmund Freud: "Sometimes a cigar is just a cigar." But as New York psychologist Sara Glass explained to me, "If that cigar is attached to memories of a loved one, the scent of an experience we have had, then it may be much more than a physical object. The most mundane of items can take on the meaning that becomes lodged in our sympathetic nervous system or in our psyches."

Not mere utilitarian furniture to me, the chairs were the seat of so many, many memories. These were the chairs that my mother had sat in, smiling at me adoringly and at the well-set table decked with family heirlooms. My father regaled us with stories and toasts in those seats, and my niece and nephew grew up with them, starting with booster seats.

Though the gold silk upholstered cushions were always wiped clean, they still bear the faintest remnants of good times past that may be visible only to me. More tangible evidence exists in the faded wine stains of boozy dinner parties with friends that ran late into the night.

It might take a magnifying glass, but the tiniest hint of chocolate from a special Mother's Day cake is still visible to me. And while a golden drop of roasted pumpkin soup from a Thanksgiving meal is almost imperceptible, the memory is vivid.

It was in one of those chairs that I sat, alone, in the dining room after I buried my parents while the crush of the shiva went on in other rooms.

The chairs are gone now — but not discarded. They had been listed online for months but had drawn scant interest. Not unlike my parents' dining room table, they were the dreaded "brown wood" nobody wanted. Then, unexpectedly, I was contacted by a woman who messaged me that these were exactly the chairs she was looking for. Please, she begged, hold them for me. The gratification of knowing these were objects that would be cherished was priceless.

When she came to get the chairs with her mother, I learned that this 40-something woman named Jill had gone through her own recent challenges. Divorced at the height of the pandemic, she was trying to rebuild her life with her two sons in a new house in a new town. Her mother had lost her husband a month earlier. Now they would share a home together in a life neither expected.

Jill, it seems, had a table she loved but no chairs, and longed to have seating to entertain. My hope for her is that these chairs will be filled with friends and family, love, and laughter — as they were for me. Given the sparkle and tears in her eyes, which matched my own, I have no doubt they will be. The gratification of knowing these objects had found a second loving home was priceless. I sold the chairs. I kept the memories.