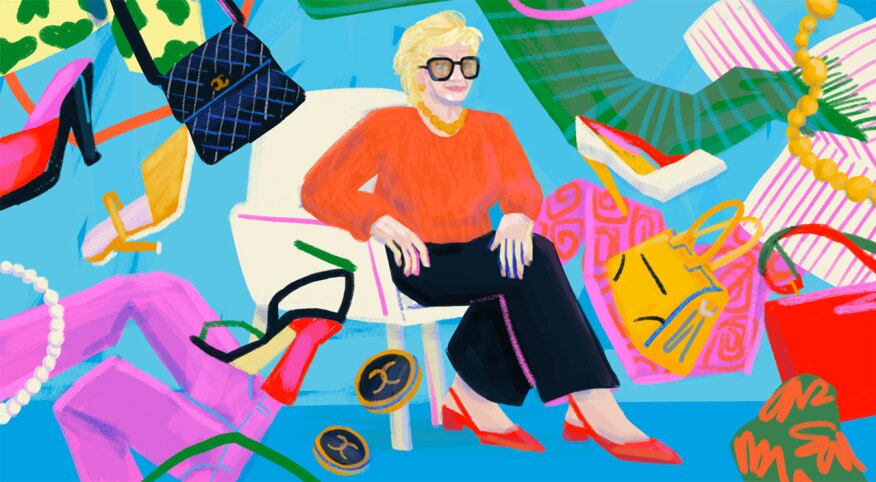 Seven months shy of her 100th birthday, my mother finally decided to part with her cherished collection of high heels.

"Hello, everyone," she announced to her fans on TikTok, standing next to the boxed display of 50 pairs of shoes. "At 99 years old, I can no longer wear heels. I have every color. I have name brands like Charles Jordan, Louis Vuitton, Gucci, Ralph Lauren and every Italian designer. Whenever I went on a trip, it was my pleasure to buy shoes in every country. I hope you get a good look at all these shoes. I am going to donate them to a charity so someone else can enjoy them."

In a torrent, comments started streaming in, and soon this nearly centenarian mother of mine had been viewed on TikTok 18,000 times. Some of the notes read: "She's the real Imelda Marcos." "This rivals Carrie Bradshaw's collection!" "There is probably a story to go with each pair!"

And I was thinking, Yes, if only shoes could speak.

Mom has always been a fashionista. Back in 1959, for my eldest brother's bar mitzvah, she decided to dye her hair green to match her dress. She has, and had, a flair for putting herself together from top to bottom in original and creative ways. Her closet is packed with a range of styles from thrift store bargains to haute couture, including garments from designers such as Vera Wang, Prada and Versace. For each outfit, she'd always have shoes and a purse that matched.

And then she adds accessories — colorful silk scarves and jewelry — to punch up her look. On her 99th birthday, she celebrated the milestone on a cruise. The captain came over to congratulate her (she was the oldest person on the ship) and take a photo with her.

Mom was wearing a long, powder-blue Italian silk top over white leggings with matching white shoes — stylish Crocs, perfect for strolling on a wet dock. To add a little pizzazz around her neck, she wore her double-sided gold Omega necklace.

With a lot of encouragement from me, she finally was ready to part with her prized shoe collection — though only those with high heels. As for the rest of her crammed closet, this fashionista still holds on to all her oldies. She has dresses, belts and all sorts of separates going back to before my brother's birth in 1946. One day I asked her if she had a belt I could borrow, and she pulled out an old leather one that started to fall apart in my hands.

Of course, it wasn't her Karl Lagerfeld belt, an accessory not to be borrowed.

I remember a day not too long ago when she coordinated another stunning look with a pair of great shoes that had a slight heel. "I better be careful because the sole is coming off," she informed me.

"Mom, don't wear them. You could have an accident and fall," I pleaded.

My words fell on deaf ears, and she left the house in her ancient shoes. I made sure to stay close by as she walked.

To my mother, looking good is more important than feeling good. Although she is nearing 100, she still lives by that policy. The only thing that has changed, and it is due to COVID, is the way she took care of her hair. She would never miss her weekly beauty parlor appointments.

By the time she walked out of the salon, her short, ash-blond, pumped-up hair was sprayed so heavily it could withstand a hurricane in Florida, the state where she lives. Finally, now, she has reached a point where she longer cares that her hair is not rolled, teased and sprayed. These days, she washes it herself and adds a couple of rollers for height, pops those out, gives her hair a comb and is out the door. But she still bleaches her hair blond.

Her wardrobe is a different story — little has changed. There is barely any room left in her closet, though I have fought hard to start sorting and giving away. Mom has shrunk a couple of inches, and now at 5 feet tall, she must use a grabbing stick to retrieve clothing from the upper rack.

Next to her nightstand, she has a shelved wardrobe packed to the brim with her knit tops in every color. And did I mention that after my father died, she took over his closets too?

My films have played in numerous festivals all over the world, and she still has all the T-shirts with the venue logos. Mixed among these freebies are casual shirts from Marc Jacobs and Ralph Lauren.

This woman who gets supreme joy from wearing new designer outfits has joined me on my secondhand store excursions. During a shopping day, we might start at a boutique, where she buys rhinestone pants at full retail price, and then zip over to the thrift store, where she leaves with a bag filled with assorted fancy tops and scarves, all for five bucks. One day as she was flipping through a thrift store rack, she discovered a Vera Wang dress.

Seeing how passionate my 99-year-old mother still is about new fashion finds and head-turning outfits keeps me going as much as it does her. Along with her appearance, her spirit is also inspiring.

She still lives alone and drives short distances. I do worry about my mom on the road, though she assures me, as she heads out in her black Mercedes: "Gayle, this is the safest car out there." And then she is off, in jeans and a billowy silk blouse. She had her eye makeup tattooed on 20 years ago, so she only needs to add pink lipstick for her fashionista finish.

As for her shoe collection, since she is a size 8 and I'm a 6½, many of those gorgeous castoffs went to my niece, who, like Cinderella, was a perfect fit. My mom exemplifies the saying "Shop until you drop." And she knows the secret to being a true fashionista: It takes a sense of style but not a lot of money to look like a million bucks.

How did your mother inspire you? Let us know in the comments below.