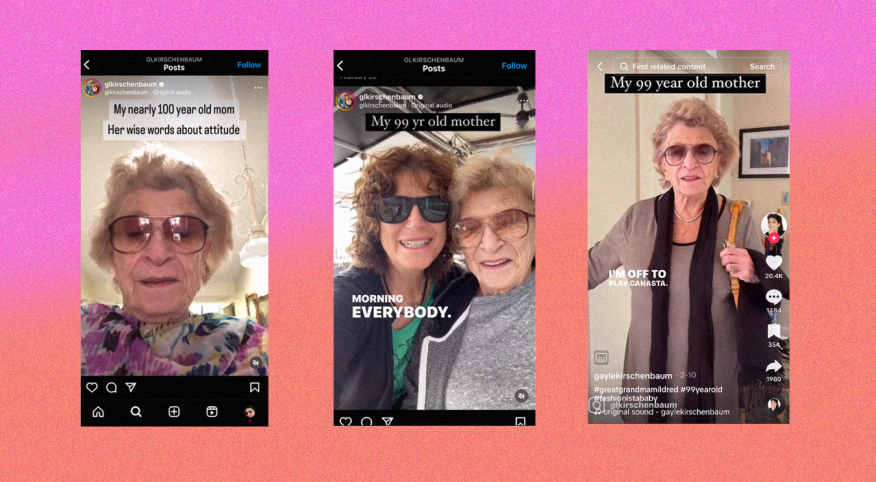 Yesterday, I was on my morning call from New York with my nearly 100-year-old mother in Florida when she said, "Gayle, I wasn't going to tell you this. Last night when I came home, I turned off the alarm and dropped my keys. Then I tripped on them and fell down." Mom lives alone in a small house.

She was okay, just slightly bruised, and shared how she was able to get up. She remembered what the physical therapist told her to do: Scoot on her butt to a place where she could lean her knees on a pillow or something soft and where there is a ledge, table or something sturdy she could grab to lift herself up.

"Mom, make a video about this," I told her. "This is a great tip for your fans." Over the phone, I then taught Mom how to shoot her own social media videos with her iPhone. She sends them to me, and I edit and post on my Instagram, where at this moment, she/we have 38,000 followers.

Mom's story of how she scooted on her rear to the sink, where she has a thick mat that cushioned her knees, then held onto the sink and pulled herself up has over 68,000 plays on Instagram and 233 comments.

I also posted on TikTok and Facebook, where I noticed people are continually sharing this video giving helpful advice from my elderly mom.

Mom is a fashionista, and a while ago I shot a 22-second video of her dressed in a long tan top and black leggings as she was leaving her home to play cards with her girl gang. Yes, she still drives (though their card games take place in her clubhouse less than a mile away). I posted it on Instagram, and it now has more than 3 million plays and the number keeps growing.

Four years ago, I launched my Instagram account to showcase my photography. It was slowly increasing. Then last summer when we were celebrating Mom's 99th birthday, I posted a video of her talking about turning 99. It went viral. That was the beginning of our journey into social media influencing.

We share videos that range from Mom's chicken soup recipe to our adventures together at local restaurants or on vacations. And in between, you can find postings on Mom's secrets to longevity and on our transformed relationship from volatile to forgiveness to becoming best friends. We've come a long way.

Mom shocked me when she made a video for Yom Kippur, the Day of Atonement for Jews. I encouraged her to talk about our story of healing after years of challenges.

I had spent decades hearing her constant criticism, about my hair, my nose, my body and my lifestyle, and for many years felt intense anger. I chose not to become a teacher, something she was telling me to do since I was 5 years old. Instead, I embarked on an award-winning creative career, working in many disciplines.

By the time I hit middle age, I knew I had to let of go of my resentment, and documented this personal story of forgiveness in a feature film called Look at Us Now, Mother!

I am now in my late 60s, and we have enjoyed this last lap of both our lives in a close and invigorating relationship. We Facetime, Zoom and chat several times a day. Together, we hit happy hours, stores and museums and traveled the world.

Our adventures included two trips exploring India — with rides on elephants and having our hands dyed with henna. Before sunrise, we climbed onto a small rowboat in Varanasi on the Ganges River to watch a cremation ceremony. After visiting Abu Dhabi and Dubai, we boarded a cruise ship to Jordan, where we hopped on a rickshaw and had a bumpy ride to Petra.

Moving through her 90s with vigor and an open mind, there wasn't anything Mom wouldn't do. She always said "yes!"

As she inches toward 100, still living alone, increasingly I'm becoming her go-to person, caregiving when needed. This is a role I am happy to accept.

Nudging her to do a post for the holidays, Mom made a video that spoke honestly about our relationship. Looking right at the camera she said: "Gayle, you came into this world as an artist with a strong personality and I guess I didn't know how to handle it. Somewhere along the line, I went off track, and hurt you. Badly.

"You are an extraordinary filmmaker and a wonderful artist. You know how proud I am of you. But, yes, I was very harsh in so many ways and for that, I ask your forgiveness. In my heart, I know you forgave me but now I am trying to forgive myself. I love you from the day you were born until the day I die and then I will watch you from afar."

I was so touched by this powerful message, and her fans went wild. Since I posted this earlier this year, there have been 20,000 plays on Instagram.

In August, Mom becomes a centenarian and to celebrate this milestone, we are booked on a luxury cruise Mediterranean Sea adventure that will take us to Italy, Greece and Croatia.

What is most touching and endearing are the comments both on our thread and the many that are sent to me privately. Such as these: "Your mom is our rockstar" and "Thank you to both of you for sharing your love, wisdom and joy with us each day."

We get messages from followers all over the world, spanning Nigeria to Australia to Spain, and throughout the Middle East.

Today, I can't imagine life without her. As Mom often says in our videos, "We are not only mother and daughter, we are best friends." And thanks to social media, we are touching people across the globe I never thought possible to reach.

Who do YOU follow on social media? Let us know in the comments below.