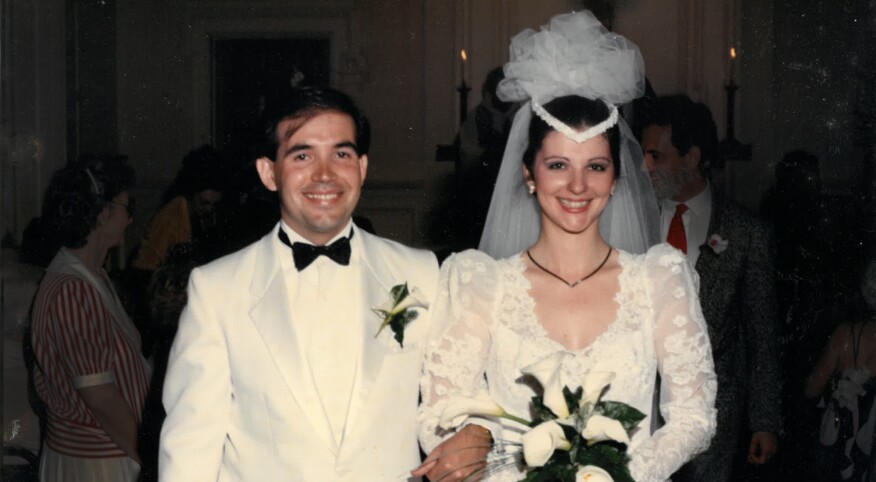 My wedding gown has been sitting in the attic preserved and boxed since 1986. Now I'm contemplating the fate of that white satin gown with poufy shoulders and long lacy sleeves.

I last came upon the box in 2009, when I was donating Robert's clothes. After 23 years of marriage, I suddenly found myself a widow at 49. You rarely see tomorrow coming, but you do feel its wake. Not long after Robert died, my niece became engaged and I considered offering her my gown. What stopped me was the stigma attached to the dress, as fixed as the beading and lace appliques. My marriage had an unhappy ending: a death shrouded in secrecy and shame, a closet drinker succumbing to alcoholic hepatitis that wreaked havoc on the last years of our marriage.

Would a dress that walked down the aisle and into a troubled marriage with an alcoholic be unlucky? I imagined the awkward pauses, my niece searching for a diplomatic way of saying: I'd rather walk down the aisle in my crappiest PJs.

Now, 10 years after being widowed, I find myself thinking about wedding dresses. I'm getting married.

With my friends Iyna and Claudia, we searched for gowns that didn't scream MOB, bridesmaid or Forever 21, while avoiding those that didn't feel bridal enough, harboring the threat of a guest showing up in the same dress.

"I love the back!" Iyna said about a mermaid gown that made the first round, but not the final cut.

"Game changer!" Claudia exclaimed, as I stepped out wearing the second favorite of the day.

When I finally put on the dress, I exited from behind the curtain as a bride. Claudia and Iyna each let out a little gasp and grinned. There were a few seconds of silence before a rush of Oh-my-Gods and oohs and aahs."Step all the way out here," directed Claudia.

I didn't walk so much as glide, each hand holding folds of material, the connection between bride and dress immediate. It's a sleeveless, off-the-shoulder, V-back gown with a fitted bodice in a shimmering champagne embroidered fabric embellished with subtle swirl designs and tiny crystals. The crinoline lining beneath the A-line skirt gives the gown movement — it's designed to dance. Drawn to a larger wall of mirrors than the dressing room offered, I saw myself sweep into view, my 60-year-old Cinderella self smiling back.

Sold.

My new dress hangs in a zippered garment bag, awaiting the big day. My 1986 wedding gown is folded in a big box with a clear blue-tinted window showcasing the bodice, awaiting its fate. It reminds me of a packaged doll from yesteryear, standing tall and stiff behind a pane of cellophane. Frozen in time. Yet still wanting to dance.

I vowed to liberate the gown from its box and find it a bride-in-need. Despite changes in style over the years, these once-worn gowns have common threads. Searching for organizations that accept donated wedding gowns, I came across Here Comes the Guide. The site lists several nonprofits encouraging the recently married to "Give the gift of your gown! You already said 'I Do.' Now you can proudly declare, 'I Donate!'" But each organization noted the same criterion — no more than five years old. I glanced at the beaded bodice through the box's window; it seemed blissfully unaware of its age.

Determined to find it a home, I called Goodwill.

"Do you accept wedding gowns?"

"Oh, yes," the woman on the other end answered.

"Can it be old? It's from 1986, but cleaned and preserved in a box." My voice laden with apology.

"Absolutely."

The next day as I walked out of the Goodwill shop, I felt hopeful that my old wedding gown would delight a new bride. Alterations will inevitably be made for size and style (goodbye poufy shoulders). When she walks down the aisle, she'll have no knowledge of the gown' s history.

And then it dawned on me: I no longer viewed the dress as cursed. Saving it all this time and going to the trouble of finding it a home spoke volumes about my gown — and my marriage. Robert and I had many wonderful years, more good than bad. When I'd first thought of giving away the gown, I'd been too close to the bad years. Now, in the comfort of hindsight and starting the next chapter of my life in love with Billy, I'm able to put Robert's alcoholism and its impact on our marriage into perspective — instead of automatically defaulting to the sting of our final chapter.

On Nov. 9, 2019, Billy and I had a picture-perfect wedding with beautiful speeches by his daughters and Iyna, and a Love Actually surprise orchestrated by Claudia, with dear friends popping up to the tune of "All You Need Is Love" during the reception. The day was full of special times, including my Cinderella moment walking down the aisle.

My old wedding dress is positioned to take on another life. Perhaps it will walk down the aisle again. Or find a home in community theater, entertaining people. Or its material repurposed. But my heart wants it to be taken home by a bride. I'd like to think my gown made someone's wedding day extra special. Thinking back — beyond the bad — I remember how special it made me feel. Liberating my old gown from the attic liberated me from my past. We're both getting a second chance to dance.