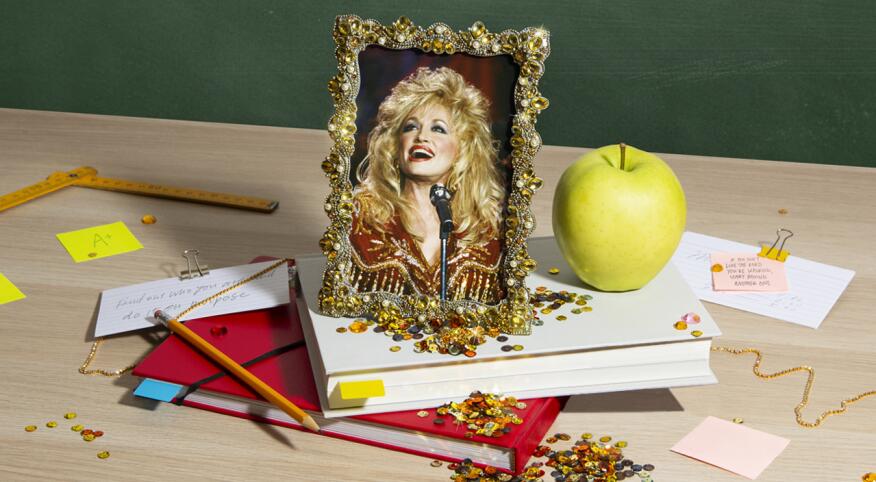 A few years ago, when I was not quite yet of AARP age, I lost my job and got divorced in the same year. Those two events rank in the top five of the "life change stress index." Combine that with two kids to care for and most of the medical and mental health community would probably agree I should have gone off the rails.

When I went to the office my former company had hired for an exit interview, the woman asked me how old I was and what my plans were. When I told her I was going to be a freelance writer and spend time with my kids she responded, "If I were you, I'd be out there trying to get another job right away because in two years you will be unemployable." Note: she was older than I was. And … is that legal?

When I found myself not knowing where my next dollar was coming from and starting to feel down on myself, I found inspiration from an unexpected place: Dolly Parton.

Everyone seems to love Dolly Parton, and while I liked her music and knew the basics of her ascent, suddenly she started showing up everywhere I went — on a jukebox singing, on TV or on the cover of magazines. One night I had a dream where she was shaking me awake and said: "Pick yourself up and get at it! What would Dolly do?"

I woke up and started taking notes. I read every imaginable thing I could find about her and discovered Dolly Parton was made of a lot more smarts and grit than the glam she puts on. The fourth of 12 children, she grew up in a two-room cabin with no electricity or running water. By the time she was a teenager, she was making enough money singing on the radio to support her entire family. Dolly was bullied in high school and stuck it out, becoming the first member of her family to graduate. She then started a scholarship fund that kept kids in school and helped them through hardships — like bullying — that might make them drop out. She is a self-taught musician who doesn't read music, plays eight instruments and has written more than 3,000 songs.

Along with her unforgettable voice, another of her most significant accomplishments — she has been married to the same man for over 50 years, a man she met outside the Wishy-Washy Laundromat her first day in Nashville at age 18. Dolly is also one of the world's biggest literacy advocates and is most proud of having founded the Imagination Library, which has now given away well over 100 million books to children.

And at the age of 77, she is still fully engaged in her writing, touring and performing — and her philanthropy. She is constantly pursuing new things and taking chances. Dang, if she could do all of this, then I could certainly pick myself up and move forward with my life. Here are the central lessons I learned from Dolly Parton, a woman I never met and who transformed my life with these lessons.


"If You Don't Like the Road You're On, Start Paving Another One."
Especially when we're going through challenging times, it's important to be able to imagine a brighter future. As children, we have dreams and aspirations and as we get older, we can get stuck and forget we are still capable of starting over. I was always a writer, but I had to get out of my comfort zone — and cushy career — to finally pursue the creative life. It was risky and scary, but once I committed to that path, I found great satisfaction in broadening my horizons. It was often a bumpy road, but I built it, and that gave me a new confidence. You only live once so why not chase those dreams when you're in a transitional period? As Dolly says, "if you never try, you ain't never going to win."


"Let Your Determination Be Stronger Than Your Fear."
Whenever starting a new endeavor there are moments of self-doubt and insecurity. In those times, I would reread Dolly's stories of overcoming adversity and find solace in her hard-earned wisdom. She keeps rising to the next challenge.


"If You Want the Rainbow, You Have to Put Up With the Rain."
While Dolly's career is stronger than ever, there have been periods when she has faltered. She has endured health problems and depression. During 17 of what she calls her "middle years," she did all her own promotion, as she didn't have a manager. No road is smooth, she teaches us time and time again. I realized at my age I still had a couple of decades — at least! — of professional challenges and joys and creative opportunities ahead of me. And I wasn't going to let unfounded prejudices on age dictate to me what I was capable of accomplishing. As Dolly says, when things don't work out as planned, "Well, maybe God's got something better for me."

For five years, I supported myself and my children as a writer, spent precious time with them during their crucial middle school years and flexed my creativity, writing What Would Dolly Do? and two other books. I had the focus and confidence to return to my original career. Proudly, a year ago I was appointed executive editor of Hachette Books, and I feel like I'm just getting started!