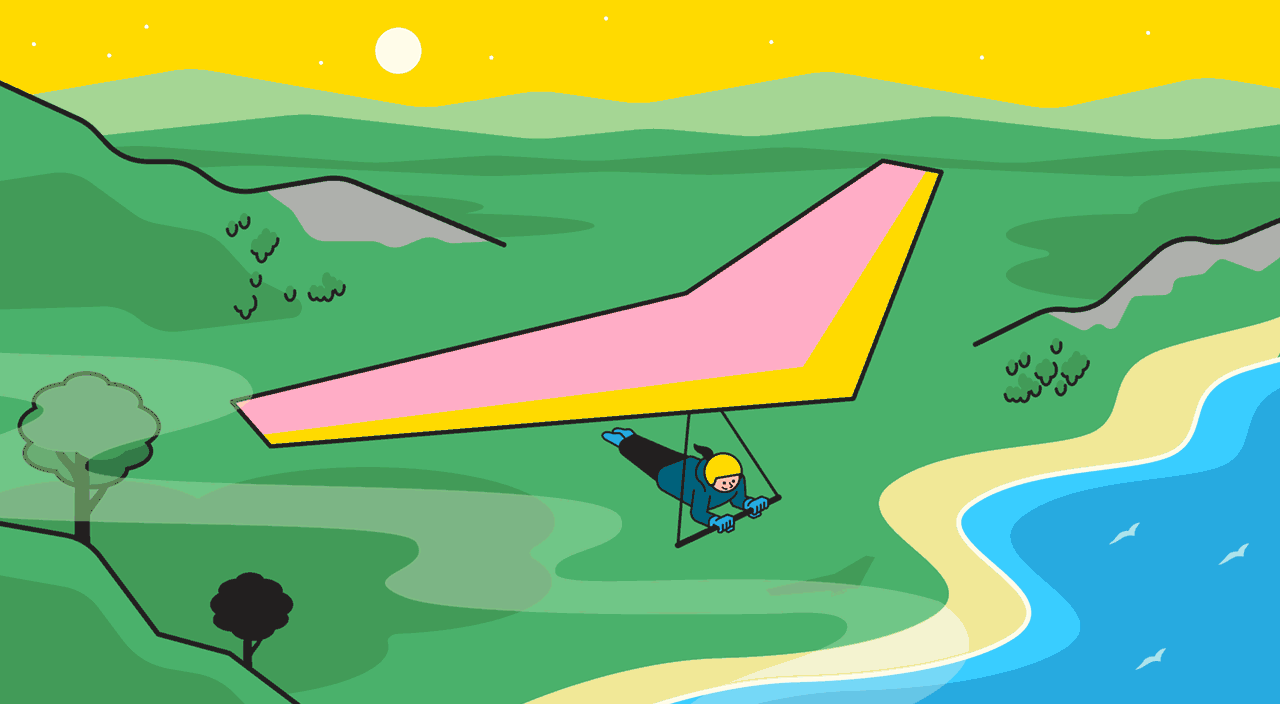 I'm too afraid of heights to parachute, and nightmares about getting trapped in a cave put scuba diving beyond my reach. All the same, dopamine — the neurotransmitter considered the pathway to pleasure — is my rush of choice.

What this means is I have lots of experience chasing thrills but chasing them sensibly. Just think of me as a very tame thrill-seeker. It started innocently enough, when I was a quiet, bookish 13-year-old. I tagged along with my dad when he visited a local gliding club. My father wanted to take an introductory glider flight with an instructor, and thinking I'd decline, he suggested I take one too. I was hesitant — peering over bridges or ledges terrifies me — but my father dared me.

He went first, while I watched from the ground and wavered about how I'd feel in an aircraft that didn't even have an engine. A towplane pulled his glider up, and once they'd become a small speck in the expansive sky, the instructor released the tiny aircraft from the towplane. I was hypnotized, watching the glider circle above us, and finally accepted the dare.

Once I was airborne, the instructor showed me how to perform some simple maneuvers, and my stomach never churned. Gliding is quiet and peaceful, and the sensation of doing elegant turns across the sky offered the perfect dose of nervousness and excitement, while simultaneously making me feel contained and safe. Being a pilot gave this awkward schoolgirl some swagger.

The lesson I learned from flying was to tag along on someone else's adventure because I might have one too.

More recently, I found myself speaking in public often. For me, as an introvert, it was nerve-wracking, standing in front of a large group, trying to engage and sustain their interest. I felt stiff, dull and uncomfortable. A friend suggested some theater training, so I signed up for a course called Improv 101, My class was mostly young performers, all trying to bolster their acting CVs.

With my background as an engineer, I found the in-class exercises alien and strange. Singing a few lines of a song? I never did that in physics class. Pretending to be a talking cat or an expert in time travel? Really? But the talented instructor knew how to get left-brain types like me to loosen up. Enthusiasm became as critical as talent. Ultimately, it dawned on me that if I could improvise publicly about topics where I had zero expertise, I could speak about topics in which I had considerable knowledge. Our final improv exam was a group show in front of friends and family, and my pulse raced faster than when I first flew solo.

Improv taught me to embrace being a beginner and, like flying, to push through my fears. This lesson is one that continues to lead me to new frontiers.

My friend Amy and I were itching to try something new, and together we selected a four-day rafting trip on the Yampa River in Utah. I'd never rafted and had barely camped, but the trip was organized by a highly regarded company with all equipment provided. Even our meals would be organized and prepared by staff.

So I felt reassured that the pros would be sweating all the details of keeping us safe, warm and fed; all we had to do was hold on tight to the raft and enjoy the ride. The rafting provided many moments of nervousness and adrenaline, but we also had delicious meals, including a celebratory steak dinner on our final night on the Yampa.

The rafting trip reminded me that tour companies are great resources when you want to challenge yourself to move beyond your comfort zone. I've counted on these professional adventure outfitters to take me to Mount Roraima in Venezuela and to the Everest region in Nepal.

Organized trips are especially well suited for solo women travelers. On the most off-the-beaten-path trips, you'll find like-minded strangers who become friends. I was never lonely, even when I traveled by myself to places like Rwanda.

So don't wait any longer. Take a couple of steps toward your thrill, whatever it is. The practice of pushing through fears pays dividends in amazing views, growth experiences and new relationships formed.

Start the way I did — tag along on someone else's adventure. Seek out an organization that specializes in group travel for women. I still have no interest in parachuting or exploring caves, so I'll leave those thrills to others. But I now realize the joy of experiencing those moments when it feels like my heart is in my throat.

Where to next? The Akodessewa Fetish Market in Togo has captured my imagination, so perhaps a West Africa trip? I've found a reputable outfitter that organizes trips to that region, and now I'm on the company's mailing list.

Visualizing possible adventures — and doing your research — transforms dreams into updating a passport and taking off!

These dopamine rushes challenge and change us, even us scaredy-cats. Especially us scaredy-cats. Eleanor Roosevelt was right. "Do one thing every day that scares you." Some days, of course, you may want to do more.

What's something you've done lately that initially scared you? Let us know in the comments below.