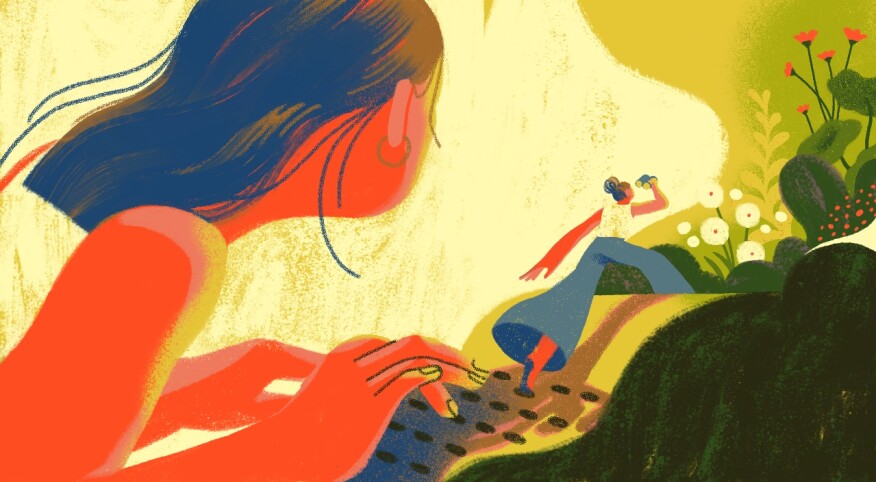 In my youthful dreams I imagined myself an actor, a farmer, a writer and an owner of a charming inn or bed-and-breakfast. I wanted to live in a big, exciting city (for the acting part of my life), then in the countryside (for the farming decades) and, finally, somewhere in between, where my bed-and-breakfast would sit perched on a hill overlooking some body of water. I recall regretting that we only have one life, since clearly, I'd need several to fulfill my dreams.

Or did I?

Despite the funk my marriage was in, it was a shock when my husband insisted on divorce when I was 45. As a teenager in Norway, I never dreamt of marriage, children or a house in the suburbs. I was 19 when I arrived in America, and had only planned to stay for a year as an au pair to perfect my English and see the country.

I never thought I would actually end up here, nor did I ever, in my wildest agnostic fantasy, imagine I'd have a Jewish wedding and raise a Jewish family. Yet all that kind of just happened.

I'm 55 now, and was 23 when I converted to Judaism and married a gregarious man from Connecticut. I got hitched so young and very contrary to my mother's Gloria Steinemesque idea of not getting married until I had "seen the world." She was well traveled, 29 and already pregnant when she got married.

I've wondered about how much setting intentions matters in how our lives turn out. This, in turn, has made me realize how going with the flow (of the universe, of opportunities, of chance) — like I feel I did until I was in my 40s — can bring many gifts, often the ones that remain, despite inevitable changes and losses.

For me, what remains are my three now-grown sons, a solid Jewish identity and the priceless life experience gained from all those non-dream "accomplishments." But when I reached my mid-40s, having been swept along by ideals and trajectories shaped by things exterior to myself, it set me up for a more mindful second chapter. It wasn't a pretty transition, and there was pain. A lot of pain.

I voluntarily moved out of our large suburban villa into a condo down the street, and we shared custody of our three sons. During a tenuous period filled with emotional ambiguity and rising lawyers' fees, I cried a lot and drank too much in an effort to not feel the pain. In this cloud of misery, I wrote thoughtless texts, emails, and blogs that hurt feelings and ended relationships. My ex-in-law family that were my beloved tribe disowned me.

Through yoga, meditation, therapy and writing, I turned inward for my own guidance, and slowly found my footing and began to reimagine a path forward. I actively mined those youthful dreams by putting them front and center in my imagination. When I went to bed at night, I returned again and again to elaborate fantasies and asked myself, Where can I go? What can I learn? How can I grow?

By the time my three sons launched from the nest, I had won awards for my teaching, and realized that to successfully turn students into a captivated audience required skills used in acting. Despite my stage fright, I challenged myself to dive into live storytelling and improv theater.

My new partner, a native of Maine I had known since my college days and reconnected with, pulled me northward, toward a rugged climate and state where I felt right at home. Not only is he also a convert to Judaism, he's a passionate gardener, and I've become his dedicated sous-gardener. Today kale, tomatoes, apples, peppers and herbs thrive on our modest but lush lot. I'm not raising prize pigs or organic eggs, but I live closer to the rhythms of nature and cultivate the soil.

In mid-coast Maine where we live, we converted our raw barn from 1865 into a unique Airbnb, and during our busy summer months, I relish offering extra touches for our guests: a fresh bouquet of cut flowers from the garden, a locally milled soap, Maine blueberry muffins from the farmers market. My own little inn by the sea.

Writing became a way for me to metabolize all the changes and unknowns I faced during and after my divorce, and I eventually found the courage to submit a few personal essays. As some were published, I noticed I was beginning to live my childhood dream. How good and natural it felt, as if I had come home in myself. I wanted to take my writing to the next level, so I enrolled in a low-residency MFA program.

Writing is a powerful survival tool. It enables us to slow down in and into the lived experience, to sit and breathe for a moment in the way it matters. In making sense of life on the page, we also breathe out how we may imagine moving forward.

While cultivating my garden and writing, I also realized the only dream of mine left unchecked was to experience life in a big city. The kind of place where the energy of people of all backgrounds feeds a certain existential experience of being part of something bigger. That chance is in the cards now, as my partner and I plan to divide our time between this quiet corner in New England and the dynamic urban Tel Aviv.

Manifesting our dreams can be a powerfully life-affirming experience. Twenty years ago, I would never have imagined that losing so much could be the beginning of my girlhood dreams realized. I've learned that sometimes we need to lose and get lost in order to find our way.

In fact, the more I think about it, I'm pretty sure we always have to lose and get lost, because it's really only the crack in the broken part of us that allows light to shine on that vulnerable, tender spot where, eventually, new growth and new beginnings will sprout.