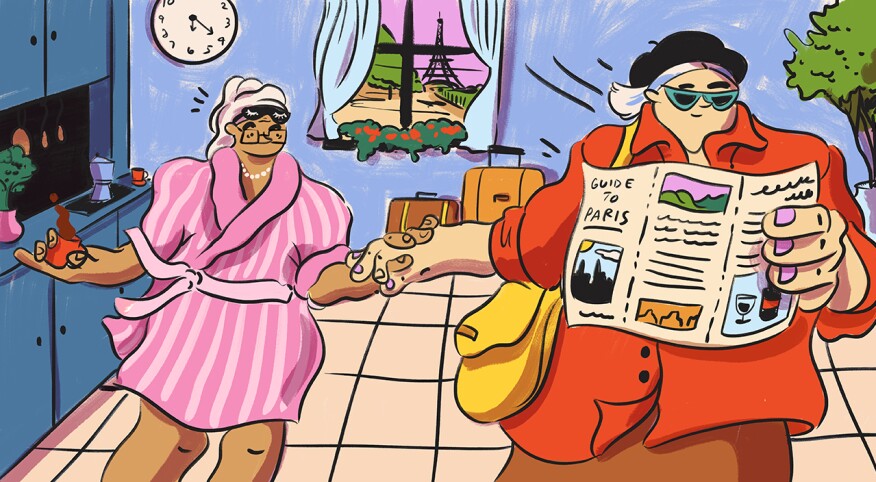 Years ago, when my friend Denise and I were planning our trip to Prague, Vienna and Budapest, we made sure to discuss big things like budget and must-dos in each city. What we failed to discuss was alone time. I knew I wanted it; Denise didn't.

So, one afternoon, as I prepared to go off solo to explore Budapest's vintage shops and leave Denise to visit her own chosen attractions, I found myself arguing with my dear friend over the day's activities. Denise had no interest in the flea markets and consignment stores that I longed for, but she also claimed to have no desire to split up either.

A somewhat heated argument eventually led to my convincing Denise it was perfectly OK — healthy even! — to spend time apart and reconvene later. Over dinner, as we each shared our day's discoveries, she thanked me for insisting we each do our own thing. It was a breakthrough moment in our friendship and one that led to many successful future trips.

Seasoned traveler and certified travel coach Francesca Elisabetta Owens, who describes herself as "independent emotionally and an experienced worldwide traveler," believes planned space apart is essential. It's especially useful if and when tensions inevitably arise, says the Italy-based operator of Travel From the Inside Out, a private Facebook group that caters to women 55+. Owens, who was embarking on adventures with her pals long before becoming a coach, formally stipulates to all her travel partners her need to be alone two days a week on any given trip.

The reality is that no trip, no matter how well planned and executed, is going to be perfect. Yet, there are a few key things to keep in mind for a smooth journey.

Get on the same page

Compromising is important, but "getting the destination right is key," says Sarah-Leigh Shenton, marketing director at the travel company Red Savannah, based in the United Kingdom.

Owens agrees that figuring this part out is important, as is being honest about what you like and don't like to do while vacationing. As she advises, compare preferences, such as: "Active city or quaint town? Shopping versus art classes? Friends will always say, 'Whatever is fine,' but later, the risk of conflict is high."

Divvy up the main responsibilities

My husband is in charge of flights, and I handle the accommodations. I also tend to make restaurant reservations, while he'll get us tickets to a game or a show. It makes sense to divide and conquer, with whomever your travel partner may be.

Speak openly about who's responsible for what. If the trip involves visiting several countries in Europe or a few cities in Germany, you might leave it to one person to figure out the transportation, whether that's buying train tickets in advance during high season or reserving a rental car. The other person takes charge of the accommodations. This way, if something goes awry with how you're getting to a place or where you are staying, one of you is armed with the necessary details to work through the problem.

Make a payment plan

Thanks to the ease of apps like Splitwise, Settle Up and Tab that help divide costs, it's never been easier to split things fairly and hopefully avoid any sticky financial conflicts. But not every friendship requires an app to manage money matters, and this is also something to discuss in advance, advises Shenton.

"Will you create a 'kitty' and simply split things, just divide costs as you go along and pay independently, or a combination of both?" Shenton asks. "Ironing these things out in advance can save misunderstanding later."

Owen's trick is to "carry small change always." When my friend Paula and I backpacked around Greece, Italy and Spain years ago, this worked tremendously for us, right down to every last euro.

Be yourself

Are you a night owl? Do you like a heavily air-conditioned, pitch-black room for sleeping? Do you prefer walking around a city as much as possible, or would you rather take public transportation, taxi cabs or hire a driver?

There are no right or wrong answers, unless you pretend to be an early bird when the thought of waking up before 8:30 a.m. is ludicrous to you. The important thing is to discuss these odds and ends up front, particularly if you're sharing a room. Differing sleep habits (not to mention snoring tendencies) are one reason many seasoned travelers recommend getting a room of one's own.

Nicole Hunter, a retired attorney who now runs a travel blog called Go Far Grow Close is a big advocate for not sharing a room on the road. If this isn't possible, she recommends getting granular when discussing the shared sleeping arrangement: "Anything that you anticipate could cause conflict, try and talk about it to see if you can find compromises from the outset."

Respect each other's travel styles

It's OK if you crave an afternoon siesta while your friend is committed to checking off every single tourist site on her list. You don't need to do everything together, and understanding this in advance can help avoid frustration when your friend announces their desire to spend the afternoon at an outdoor café.

In fact, doing different things when you're otherwise spending 24/7 with someone makes sense. "Vacations can be quite intense," explains Shenton, adding that a half day or even a full day apart to each do your own thing "can give the vacation a welcome boost."

This is exactly what happened with Denise and me. Instead of agreeing for the sake of being agreeable, we felt empowered to follow our passions and later gush to each other about what we saw, ate and did.