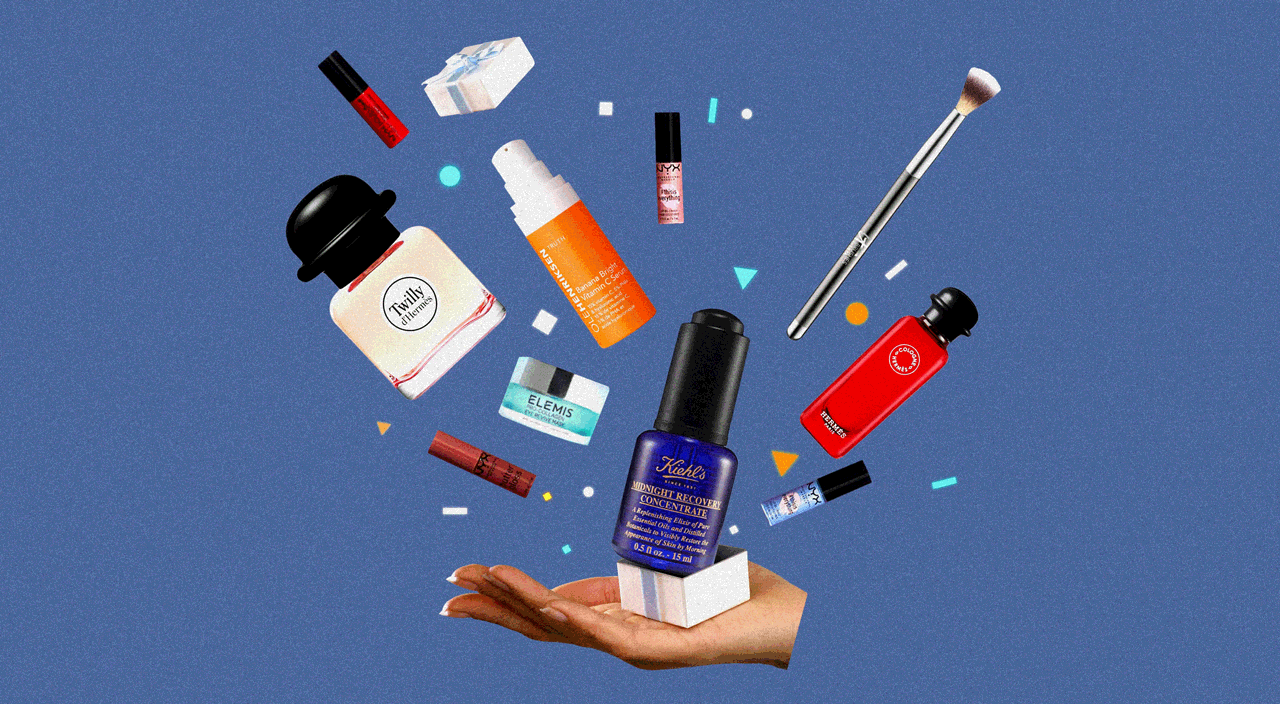 What shines brighter than the mall Christmas tree? The cosmetics counters at department stores and online beauty retailers. This is the time of year when you can find some of the best buys and fantastical offerings in the beauty universe. So whether you're looking for a small present or a statement gift, we've got options to suit any bestie and any budget.

12 Days of Beauty

Whether your BFF is counting down to Christmas or New Year's, these clever calendars are sure to please with 12 fun discoveries. For the lipstick obsessed, there's NYX's Diamonds & Ice Lipstick Calendar ($21 at Amazon), with a dozen shades wrapped in a sparkly pink display. If relaxing in the tub is more her thing, Spa Life packages an assortment of 12 fizzy bath bombs in its Fizzle All the Way Bath Bomb Calendar ($15 at Amazon). Skincare beginners to pros will find something to glow about in Origins' set of 12 beauty and body treats that includes brightening serum, frothy face wash and 10 other fan favorites ($70 at origins.com).

Age-Defying Treats

More than most, this year deserves the gift of a youthful glow. And lucky for us, top-tier anti-aging brands are offering up their curated sets of lotions, serums and creams just in time for the holidays. StriVectin's Power Starters Tightening Trio features its best-selling cream for neck and décolleté paired with an eye serum and its Peptight Serum for the face ($89 at striVectin.com). Ole Henriksen packages a toner, brightener and moisturizer together in its 3 Mega Wonders combo that's available in mini or full sizes ($25 to $74 at olehenriksen.com). Elemis includes its cult favorite Marine Cream as part of the Pro-Collagen Anti-Aging Trio that also contains a cleansing balm and eye mask ($75 at ulta.com).

Name-Droppers

For some, it's all about the name on the bottle or the compact. You know who they are, and we know what to get them. These three options, beautifully packaged by some of the primo fashion houses, are sure to satisfy even the most brand-conscious on your gift list. Tom Ford's limited-edition Iconic Eyeshadow and Lip Set ($88) delivers four shimmering and matte shadows and two mini lipstick hues in an exclusive compact available only at Nordstrom. Carolina Herrera packages a trio of her best-selling Good Girl scents in stylish stiletto bottles that earn bonus points for presentation ($45, exclusively at Macy's). Hermès tucks four distinctive fragrances into the brand's signature orange box and offers them as the Mini Replica Coffret Set ($55 at Sephora).

Beauty Sleep

Help your multitasking BFF make the most of her shut-eye with rest and replenishment options. Start her dream sequence with Kiehl's Midnight Recovery Sleep Set, a travel-size collection of nighttime essentials for cleansing and moisturizing, complete with a soft eye mask ($29 at ulta.com). The right environment is key to good sleep, so make sure her head rests on the very finest soothing silk. For sweet dreams, Slip offers a luxurious pillowcase and light-blocking eye mask crafted from mulberry silk that promises to minimize frizz, breakage and even wrinkles ($122 at Sephora).

The Brush Off

The right tools make all the difference, so upgrade a cosmetics kit with a new set of makeup brushes. You can find highly rated sets with a range of pieces and prices. She can put her best face forward with the Sephora Collection PRO 6-Piece Brush Set, which includes a half dozen best-selling face and eye brushes ($85). For the traveler who doesn't want to downsize on the road, IT Brushes creates the Your Superheroes Full-Size Travel Makeup Brush Set exclusively for Ulta, with six foundation-to-eyeshadow options ($50). With its elegant pink handles, the Bombshell Beauty set from BH Cosmetics makes a decidedly glam statement and features 10 brush essentials ($26 at ulta.com).

Tub Time

If you have a friend who doesn't miss a self-care Sunday, consider gifting a tub tool or two. At the top of the list is a bathtub caddy to provide a safe resting place for everything needed for a relaxing soak — whether it's a wine glass, book or scented candle. Options include Royal Craft Wood's Luxury Bathtub Caddy Tray ($42 at Amazon) and Belmint's Freestanding Bath Caddy in bamboo ($36 at Wayfair). Or you can gift a luxurious bath pillow to protect tender backbones from hard porcelain tubs. Top-rated cushions include Symple Stuff's Poche Freestanding Bath Pillow ($23 at Wayfair) and Gorilla Grip's Spa Bath Pillow ($27 at Amazon).

Do-It-Yourself Samplers

Don't worry if sellouts and supply chain hiccups thwart your best gift-giving intentions. We've got this. With the wide range of travel-size offerings for everything from hand creams to eyeshadow palettes to hair gels, you can customize a gift set for anyone on your holiday list. Find items at beauty stores, big retailers and even organic supermarkets that sell rich seed oils made of almonds and apricots. Then wrap each item in colorful tissue paper, tie with a ribbon, package in an artful cosmetics bag, and tuck in a card directing the lucky recipient to extract one each day for a beauty-filled holiday.