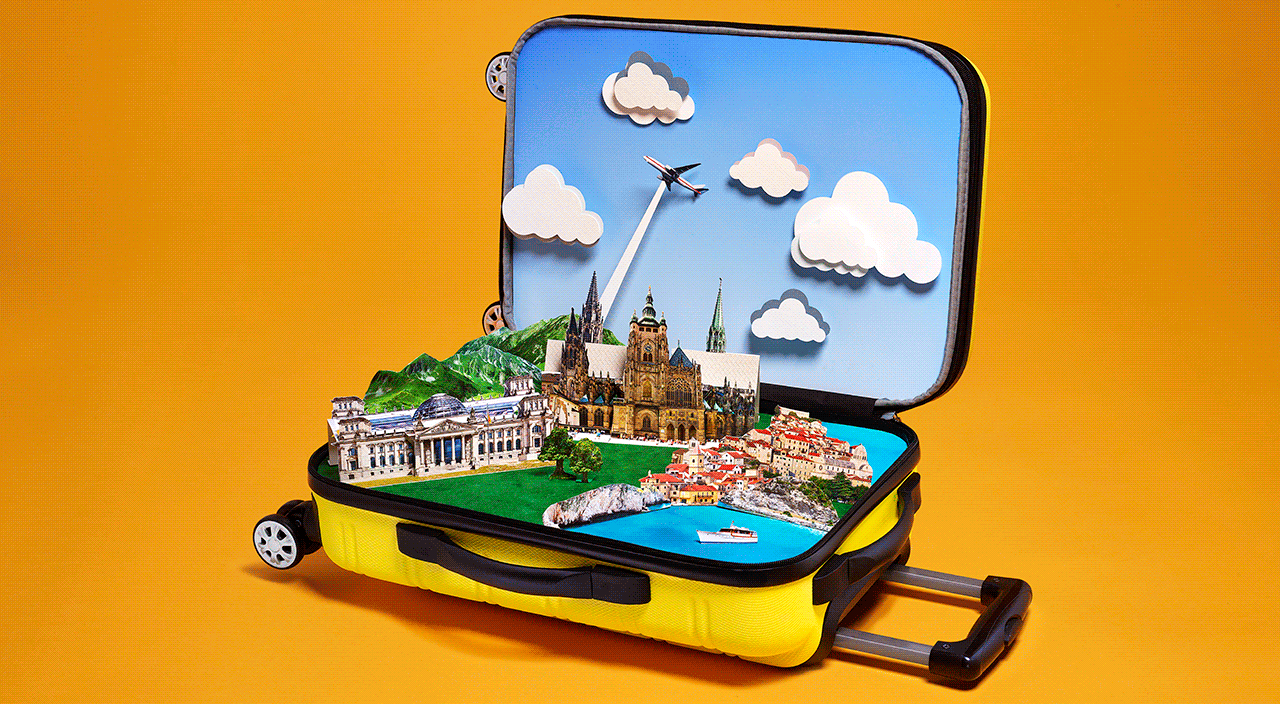 For this Thanksgiving week, we're showcasing a few of our favorite articles from the past few years in this special issue. Enjoy! We hope you have a wonderful holiday with family and friends. We so appreciate each and every one of you.

International travel used to be the province of men and the rich. But in the 1960s, guidebooks like Europe on $5 a Day and Let's Go Europe enabled young women to start seeing the world for ourselves. We Euro-railed from Amsterdam to Nice, slept in dormitories, and lived on cheap Chianti and cheese as the Continent opened before us.

Nowadays, youth hostels and backpacks are less appealing — and the world's woes make travel daunting. But if you're longing for the adventurousness of your youth, take heart! Thanks to senior discounts and local budget airlines, older women can travel through Europe independently, comfortably and affordably, with the same spirit of discovery.

Berlin, Prague and Croatia — three destinations once out of reach behind the Iron Curtain — now offer an itinerary rich in culture, history and surprises. They're easily navigated in English. And if you travel in fall or spring — when crowds and prices are lower — it's possible to visit all three in two weeks with one suitcase.

Start where the Wall came down. Today's Berlin is a cosmopolitan Janus, looking forward and backward. Home to a dynamic art scene, it's full of futuristic architecture, graffiti murals and hip riverside cafés. Visit the revamped Reichstag, with its panoramic glass dome. Take in iconic photography exhibits at the Helmut Newton Foundation (Liz Taylor bathing with emeralds, anyone?) Gape at the Gates of Babylon at the innovative Pergamon Museum.

Despite its progressive vibe, Berlin refuses to gloss over its past. Memorials to the Holocaust and Cold War are everywhere, from Checkpoint Charlie to remnants of the Wall to the Topography of Terror and the Memorial to the Murdered Jews of Europe.

Berlin makes it clear: Everything happened here. The city is a testimony to both the worst and best of humanity, serving up a gripping feast of history — and hope.

When you're literally hungry? Dine on traditional continental cuisine at elegant Café Einstein or modernist German fare at the trendy acht & dreissig restaurant. For hotels, stay contemporary: The NH chain offers reasonably priced rooms in central locations.

From Berlin, take a four-hour high-speed train to dreamy, magical Prague. This Baroque city rivals Paris and Venice for most romantic in Europe. Linger in the Old Town Square beneath the Astrological Clock, then follow the tourists across the landmark Charles Bridge to explore the charming lanes of medieval Malá Strana. Prague Castle is a must-see. So is a guided tour of the old Jewish quarter. During World War II, Hitler preserved the neighborhood so he could convert it into "a museum of an extinct culture." Today, three-centuries-old synagogues, a Jewish cemetery and a small community are still standing, poignant and triumphal.

Prague's much-hyped Sex Machines Museum will provoke your curiosity. Don't waste your money yawning over a bunch of ho-hum dildos while wondering what your grandchildren will think. Instead, head to the lovely art nouveau Mucha Museum, then to the oddly entertaining Museum of Communism. Hungry? Indulge in coffee and pastry at Cafe Slavia, a Prague institution.

At night, attend an opera at the National Theatre or the State Opera. Affordable tickets can be booked online or in person, and both venues are exquisite. Then, as the city lights bathe the Vltava River in gold, head to the Hotel Bishop's House to sleep in a historic building by the Charles Bridge.

After Berlin's urbanism and Prague's poetry, round out your adventure at the seaside. Fly the Czech budget airline, Smartwings, nonstop to Split, Croatia.

Croatia was once part of Yugoslavia, and the country's Dalmatian Coast is an unexpected trove of historic walled cities, lush islands, Venetian churches, aquamarine beaches, vineyards and, for better or worse, Game of Thrones memorabilia (key scenes were filmed in Dubrovnik).

Start at Diocletian's Palace, Split's UNESCO heritage site. This magnificent, white walled city-within-a-city is full of Roman temples, cisterns and courtyards. Book a walking tour or opt for the market, food and wine tour at GetYourGuide.com. Explore Split's labyrinthine Old Town crammed with boutiques, then recharge at nearby Park Marjan or at one of the local beaches — easily accessible by foot or bus.

Rooms or apartments inside Diocletian's Palace are available via Airbnb or Booking.com, though many of have flights of stairs. A great alternative with an elevator is the rococo Central Square Heritage Hotel in the Old Town. Added benefit? Amazing gelato from Ela's and Gelateria Emiliana is right outside.

High-speed catamarans run from Split to Dubrovnik, stopping at four islands en route: Brac, Hvar, Korcula and Mljet. Each is enchanting and distinctive. Spend a night on one of these Adriatic gems before heading to your final port of call.

Dubrovnik's medieval Old Town is a short bus or taxi ride from the ferry. Perched above the sea, the walled, 700-year-old UNESCO World Heritage city looks like the fortress on a Hollywood set — which it now is. Its tiered limestone streets are for pedestrians only. GuruWalk.com offers great free walking tours with locals.

Dubrovnik's big industry today is tourism. Surrender to it! Ride the cable car above the city. See the famous folkloric show, Lindo. Visit the tiny Love Stories Museum. Ignore the Michelin-starred restaurant and instead try Dubravka 1836 and Orsan Restaurant near Pile Gate, which offer delicious food and stunning views for less.

Accommodations in the Old City consist mostly of private guesthouses and apartments. Tranquil Angelus Rooms is a great choice at ground level. For a full-service hotel, you'll pay dearly to stay in luxurious Pucic Palace. But one benefit of being older is that you may be willing — and able — to splurge. Besides, you can finish your adventure affordably. Budget airline Easy Jet has direct flights from Dubrovnik back to Berlin. Book a window seat, then watch the world glitter below as you rise.

*Traveler's tip: Europe's regional budget airlines are often cheaper than standard carriers and faster than trains. Check out Easy Jet, Eurowings, Ryanair, Smartwings, Vueling and Wizz Air. The further you book in advance, the cheaper the flights. Be prepared to pay extra for checked bags, legroom, seat selections.

Don't want to visit Europe? Here are five great getaways — all in the Caribbean.