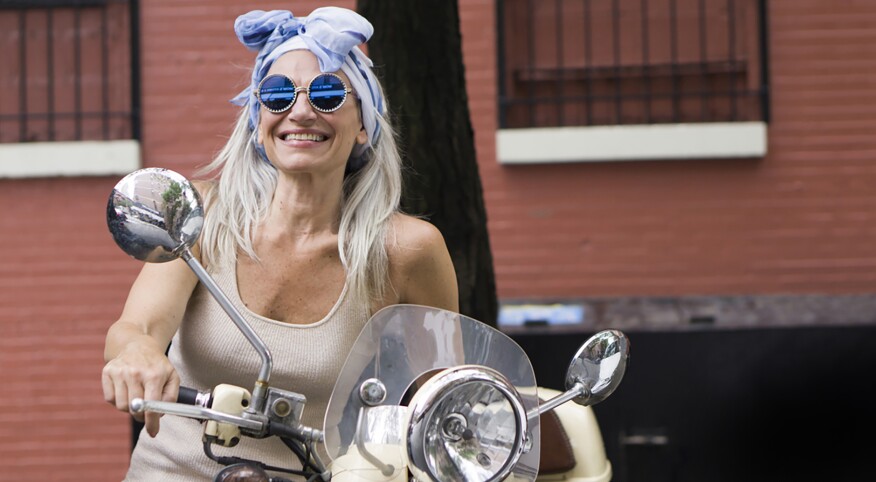 Please join the Online Community as we're pleased to have join us AARP Age Disruptor and special guest, Dian Griesel (@DianGriesel). Dian — a successful author, model, actress, entrepreneur and influencer — created Silver Disobedience, a network of people who've come together around the theme of aging consciously. Ask a question now thru June 5, she's eager to hear from you and answer your questions.

In the spring of 2017, I was told the Wilhelmina modeling agency was looking for a model with natural silver hair, so for fun, I grabbed the chance to be considered for representation.

Ginni Conquest, an agent with a 35-year career highlighted by her representation of some of the biggest models in the industry, asked me all kinds of questions as she considered how my "look" might translate with advertisers seeking "older" models.

Her debate over whether or not I was model material was really unsurprising because I had never been one! Instead, I had spent more than 30 years as a businesswoman with my own communications agency, advising more than 1,000 people — including more than 350 CEOs — on important business decisions, crisis situations and everyday life: everything from how to handle executive burnout to balancing kids to health issues and beyond.

So when Ginni decided she would like to sign me with Wilhelmina's Icon division because I had "a relatable look and the kind of energy people respond to," I asked her to pinch me as I blushed with excitement … and shock! I immediately started reflecting on having two very different careers at the same time — and in my 50s, when some people begin to think about retiring.

Would my agency's clients think I was having a midlife crisis? I began reflecting on the idea that changes in life do not mean we have to substitute one thing for another or that all decisions must be binary. Rather, life can unfold in unimaginable ways, yet still all fit together while we remain true to ourselves.

Contemplating these concepts and more, I started writing about them in a blog that I named @SilverDisobedience. Before long, my clients and thousands of others began reading my essays covering a range of societal beliefs about aging, as well as attitudes toward life and relationships after age 50.

While there can be meanness on the internet, I have found it can also be a place for kindness, expression and exploration of ourselves in ways we might not do ordinarily.

Today, while I still consult with clients and have appeared in more than 25 national brand campaigns, I post daily essays to the SilverDisobedience.Rocks website, which are then shared on my branded @SilverDisobedience Instagram, Facebook, Pinterest, Twitter and LinkedIn pages.

I must say I've been awed and intrigued by how quickly the Silver Disobedience community has grown in just under 18 months and, most importantly, how passionate, kind, welcoming and supportive my followers are not only to me but also — and especially — to each other.

After daily requests by the community to share my essays in print, I thought about all the self-help best-sellers I had read over the years. To me, it seemed they all had a common theme: magical transformation. Many of the books in this genre promise that if you start at the beginning and read very closely all the way to the end, a marvelous change will occur.

The pitch is always positioned as if someone else — not the reader — has all the answers. And of course, they suggest we need those answers revealed to us so that we, too, can become as evolved and enlightened as the authors.

I sure didn't want to write that kind of book. I don't ever want to position myself as an all-knowing expert or guru. I'm married, almost 20 years, a mom of teenagers, working full time and challenged just like everyone else is, to one degree or another. Further, I wholeheartedly believe that nobody needs a guru, but maybe a little camaraderie and encouragement instead.

Why? Because you, dear reader, are already a one-of-a-kind, never-to-be-replicated, freewheeling, original-thinking gift to the universe, a lovable and enlightened being. Yup, that's you. And me. And the coffee barista, the mechanic who fixes your car, every teacher you've ever had, the plumber who keeps your toilets flushing, the firefighters, financiers, marketers, doctors, nurses, moms, dads — basically anyone and everyone you've ever encountered. We're all our own version of a one-of-a-kind creation.

That is why in my new book, The Silver Disobedience Playbook: 365 Inspirations for Living and Loving Agelessly, there are no rules. The book is intentionally designed as a "read-it-any-way-you-want" affair. My hope is that the meditative essays will collectively serve as a gentle reminder of what we already know in our hearts regarding our powers and strength. Reminding us that the essence of who we are inside doesn't change very much as we age.

We're all 20-somethings in our hearts, and we each look in the mirror wondering, What the heck happened? And that we really are lucky to be alive, learning and growing daily — a fact that deserves to be honored, as age and aging are embraced by becoming the people we were always meant to be.

Together we are redefining what "older" is, what "older" lives like, what "older" wants and needs, and — by the way — in basically every consumer market as well. It's something every smart company should heed if it wants to earn the loyalty and business of our enormously powerful and important demographic.