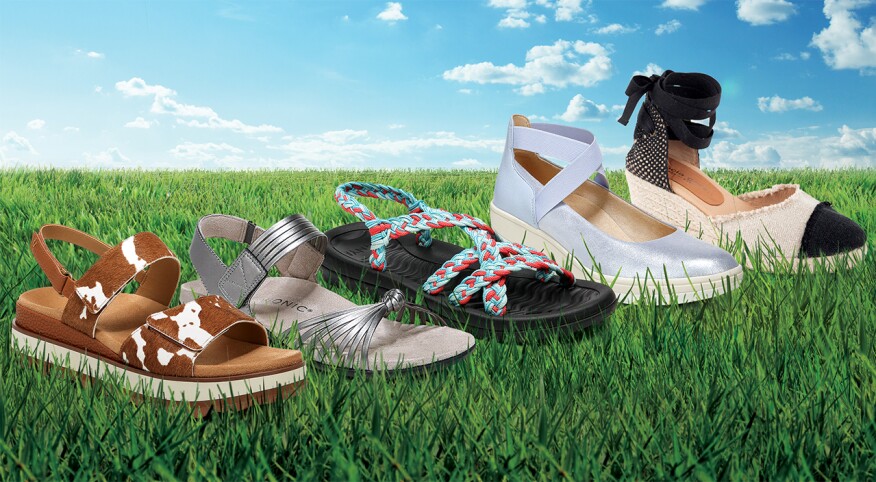 Do you have calluses, bunions, arthritis, hammer toes or other foot-plaguing problems? My guess is yes, because over 24 percent of people older than 45 suffer from foot pain — a number that soars to 50 percent for those who reach age 70, according to the American Podiatric Medical Association.

I have a litany of foot problems too long to list, and lament that I have never in my life worn stilettoes. Because now that I can't, I mourn the occasions when I could have donned 4-inch killer high heels. It's kind of like being childless and finding out you're in menopause. I'm in shoe-a-pause. But I'm not that obsessed; in fact, the advice from a "famous New York foot doctor" who suggested fusing my feet into a slanted position so I could wear high heels sent me running from his office. Nobody's turning me into Barbie.

Besides, tottering heels don't look as fashionable as they once did. This is a criticism some women level at the shoes that our beloved Sarah Jessica Parker wears in the new Sex and the City sequel, And Just Like That. Stilettoes just seem like you're trying too hard, not to mention the discomfort of wearing them. Plus, these days fashion runways are filled with supermodels strutting in bulky Birkenstocks, Tevas and puffy power-walking Chanel sneakers. I believe this trend has gathered momentum thanks to fellow boomer designers, with their own foot problems.

I consulted two experts for advice: well-known New York podiatrist Emily Splichal, M.D., and Robert Goldberg, owner of Harry's Shoes, an emporium in my Manhattan neighborhood on the Upper West Side that specializes in shoes that are comfortable and chic.

Read on for the best summer styles.

No pedicure? No problem. Closed-toe fisherman sandals were all the rage last summer, going for as much as $1,000 at fashion houses like the Olsen twins' The Row, and they're poised to be just as popular this year.

The Alegria Women's Pesca not only costs a fraction of its higher-priced sister ($119), but it is made with comfortable memory foam and a cork sole, so it's especially good for plantar fasciitis sufferers. The shoe also curves upward at the front, producing what Splichal calls a "rocker" toe, which, she says, "causes the foot to roll faster off the heel, limiting the motion of the ankle and mid-foot, and they're a good choice for people with arthritis."

The Aravon Josie Two-Piece ($139) is another closed-toe fisherman sandal, and it comes in medium, wide and extra-wide — a real plus for the more than half of American women who have bunions.

When it comes to flat footwear for summer, flip-flops, which lack support, are a no-go. Instead, Splichal recommends the Xero Z-Trail EV ($79). Developed by husband-and-wife team Steven Sashen and Lena Phoenix (he's a Masters All-American sprinter; she's an avid hiker), these sandals are made from recycled water bottles and, because they don't have padding, they're low to the ground, forcing the foot to support itself, which encourages better balance in the same way that running barefoot has been shown to do.

The braided Megnya Woman's Walking and Hiking Sandals ($49) are more traditional arch-supported shoes. Made from rubber and hand-woven nylon cord, they're water resistant, have adjustable straps. They're also popular, with 3,000-plus Amazon customers giving these Teva-like shoes five-star reviews.

Looking for a strappy sandal? With orthotic footbeds, Vionic's Talulah ($69), in silver with spaghetti cross-straps, will add sparkle to any summer outfit while providing good traction and the extra security from those straps. The Taos Beauty 2 ($75 to $119) is made of a soft, velvetlike leather called nubuck, has a built-in cooling foam to keep feet dry in the summer heat, and that rocker toe that Splichal endorses. The model comes in several colors, but I'm partial to the metallic white and the faux snakeskin, each of which adds panache.

Wedges are always a summer favorite, not to mention a great way to add a couple of inches to your height (although Splichal warns that they should never be more than 3 inches high). Unlike flat sandals, wedges offer more evenly distributed pressure throughout the foot as well as better arch support, which helps in avoiding knee, hip and back problems.

Ara's Calabasas wedge ($150) has a pretty cutout metallic weave and 2-inch cork heels; straps in the front and around the back of the ankle offer optimal fit. "They're sporty, fuller in the toe box, comfortable and fun," Goldberg observes.

If you're looking for great arch support, pick up a pair of Vionic's Brielle ($71 to $114), which sport a 1.75-inch heel and are right on target for this year's chunky-sandal trend. And they come in a fun cowhide pattern.

Vionic's Ellery ($71 to $119) has a 2.25-inch heel and looks like a cross between a ballerina flat and a wedge. The elasticized strap will be a boon to those looking for support, but perhaps a negative if you have neuromas or swollen feet.

Naot Arataki sling-backs have the same closed-toe appeal of fisherman sandals and boast cork and latex footbeds for flexibility. They come in suede, which molds to the shape of the foot. Available in wonderful colors like a red-ochry "rhumba," blue "ink" and shimmery gray, the shoes aren't cheap, at $179, but their decorative cutouts mimic those of designer offerings that are much pricier.

When it comes to flats, Splichal is a fan of Dansko's Rhonda ($125), with its memory-foam footbed and the rocker toe that's especially good for people with arthritis. It also has a cork heel, which absorbs impact as you walk and is particularly good if you're pounding the pavement or spending a lot of time on your feet, she says. The model looks particularly chic in white, or, depending on your skin color, opt for tan, black or brown, which gives the illusion of extending the length of the leg.

An espadrille refers to a light, (usually) canvas shoe with a jute or fiber-plaited sole. Espadrilles can be slip-on flats, sling-backs or wedges that have ties to wrap around the ankle. They're classics, and you'll see them everywhere from Target to Chanel, at price points ranging from $20 to $1,200.

Like Goldilocks, I'll pick the midrange-priced espadrilles by Patricia Green; these feature padded insteps, light rubber soles and come in almost too many colors and styles to choose from. Check out the Abigail slip-on, $218; Peep-Toe sling-back, $248; and the Elle cap-toe lace-up, $199. For comfort and style, they're good investments.

Paying the price for quality shoes that look and feel good on our feet is worth every dollar. And every so often, you might even find these styles online for sale.

Finally, I'd be remiss if I didn't point out these two more affordable styles. While flip-flops can be hard on the feet and are not hiking shoes, FitFlops are comfortable and durable — designed with ergonomic cushioning and that upturned toe that Splichal likes. They come in a range of colors and are priced at $32 and up.

Dr Scholl's slip-on espadrilles, which have cushioned insoles and come in a range of colors, patterns (leopard skins are particularly cute) and textures (the perforated upper design on some allow for breathability), are another warm-weather find. At $21 to $54, these have fiber-plaited soles that may not last for long, but who cares? They're a great alternative to more expensive styles — call them your summer fling.